It's the festive season for Hindus with Navratri leading up to Dushehra and Diwali. It's the time when guest lists and menus are prepared in full swing. Gatherings are the norm during this time in India and even for us living abroad, this is a busy time of the year with various parties to celebrate these festivals. As you can imagine, there will be lots of food and cooking going on in every household. Food consists of mostly traditional delicacies both sweet and savory. I'm looking forward to all of that in the coming weeks!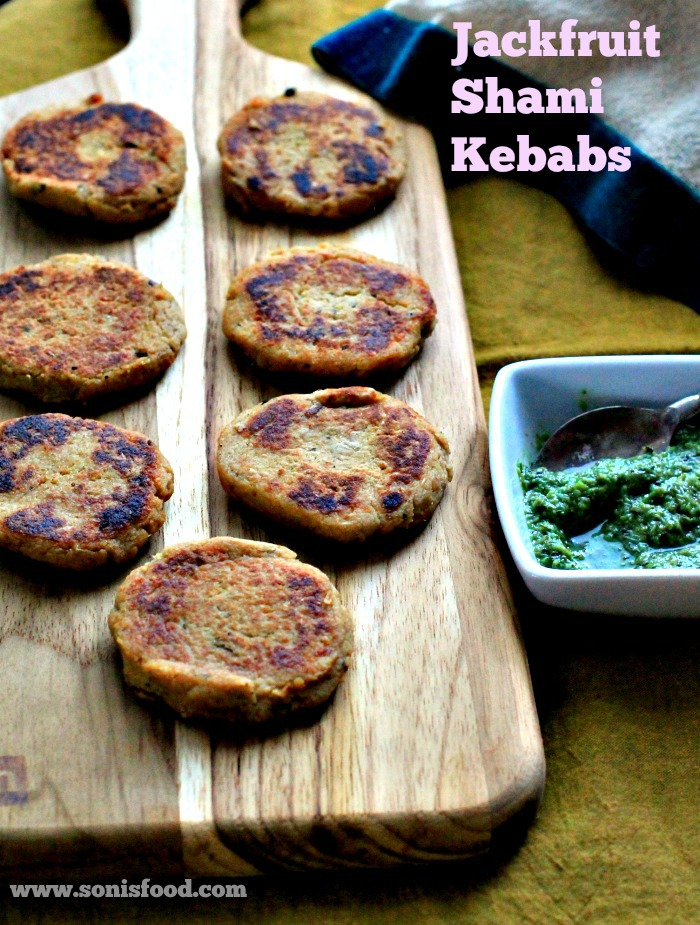 My recipe today is a delicious vegan twist on a traditional kebab that's typically made using mutton or chicken.My Dad made the best Mutton Shamis that I've ever had and I've used his recipe and substituted meat with jackfruit here.It tastes out of this world and you just cannot stop at one!Its one of those special recipes that needs to be added to your repertoire when you need an impressive appetizer for your guests.Your vegan guests will surely be pleased but so will the meat eaters!They won't miss the meat with this one :).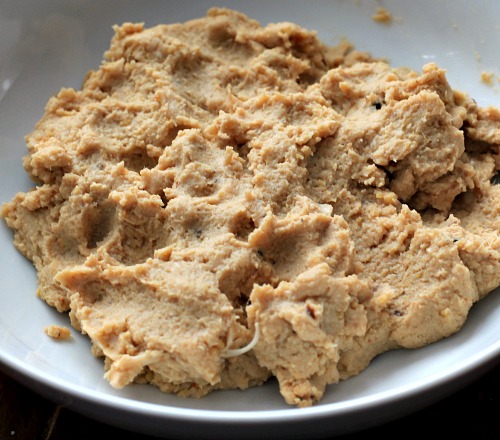 Jackfruit whilst technically a fruit can be eaten ripe or unripe but unripe jackfruit tastes very different from the ripe.Unripe jackfruit is cooked along with different spices to make mouthwatering savory dishes in North India and the ripe ones are eaten as a fruit and used in desserts in South India. Due to its meat like stringy consistency, it is an ideal meat replacement and takes on different flavors very well. Whole Foods sells them fresh but chopping them is a pain since the skin is pretty hard and oozes out sap that can be very sticky. I prefer their ready to use pack, since all the work is done for you and you can create your recipes instantly. You can also find canned unripe jackfruit in Asian Stores or your local Indian grocers.Curries using unripe jackfruits taste amazing and I will be adding them on my blog but first lets talk about my Jackfruit Shami Kebabs.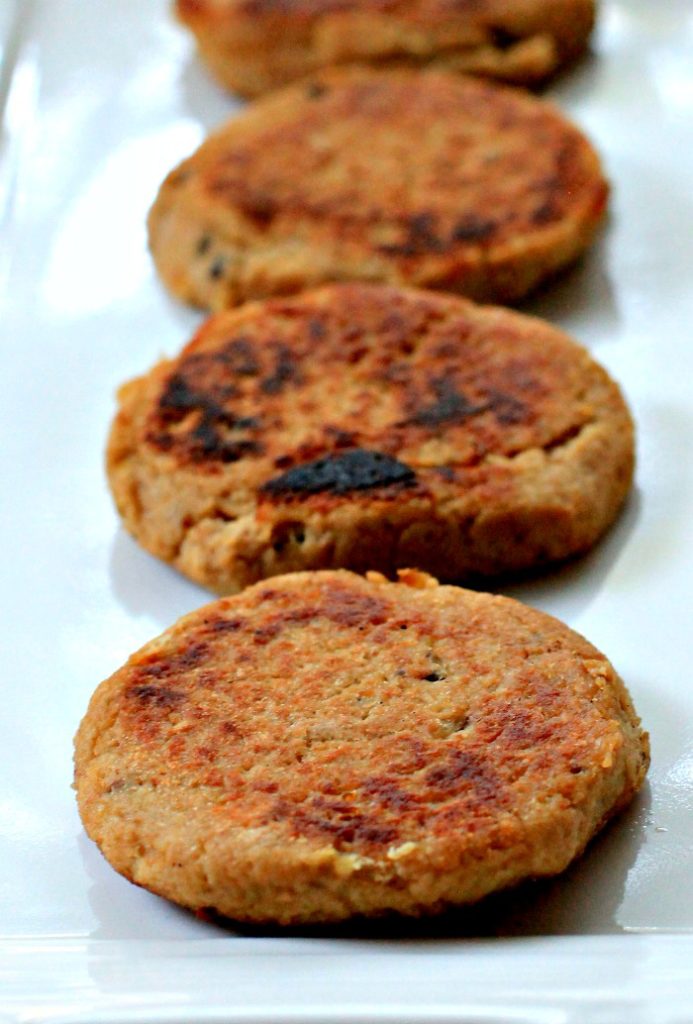 These soft melt in your mouth kebabs have a unique flavor profile from earthy spices like black cardamom and cloves and taste amazing.An easy crowd pleasing recipe that can be made ahead, these look delightful and are pretty easy to prepare.The use of chana dal or bengal gram (available at your Indian grocer) is what differentiates these from other kebabs and also adds as a binding agent here.The process is very similar to making traditional shami kebabs where all the ingredients are boiled and then blended. The mixture is then formed into patties and shallow fried until slightly golden.They are meant for special occasions such as this festive season, so make a big batch and serve these beauties with green chutney.Enjoy and Happy Dushehra to you all!
Jackfruit Shami Kebabs (Kathal ke Shami Kebab)
Ingredients
1 20oz can of green jackfruit
Onion-1 medium chopped
Ginger- 1/2 inch chopped
Split pea Lentils (chana dal) soaked for 4 hrs or overnight-1/2 cup
Coriander Seeds-1 tsp
Cumin Seeds-1 tsp
Black Peppercorns-3
Whole Cloves-3
Green Cardamom-3
Black Cardamom-2
Salt-to taste
Water
Oil-1 tbsp and more to shallow fry
Instructions
In a deep skillet heat a tbsp of oil and add chopped onions,ginger,coriander,cumin,peppercorn,black and green cardamoms,cloves,chili,chana dal and jackfruit.Add sufficient water just enough to cover the jackfruit and some salt.Let it come to a boil.
Cover and reduce the heat.Let it cook for about 15mins.
Transfer the mixture into the food processor without any liquid.
Blend into a paste.Add a few drops of water if too thick.
Empty into a separate dish.Add chopped coriander leaves and check the seasonings.Shape into round patties.
Heat some oil in a pan and shallow fry the patties until golden on both sides.
Serve with your favorite condiment.
http://www.sonisfood.com/2017/09/jackfruit-shami-kebabs-kathal-ke-shami-kebab.html
www.sonisfood.com