Growing-up in a North Indian family, Parathas were the order of the day.At mealtimes Mom often served us hot Parathas with a dry vegetable or meat dish.Parathas are very common in the Indian sub-continent.They're made by kneading whole wheat flour with some water to form a dough.You then roll out the dough, shape it and pan fry on a tava or pan.I use a non stick pan because it uses less oil.Traditionally in India they're made using ghee, but I use canola oil to cut out the fat content.Parathas are packed with energy and perfect for a filling meal for either breakfast, lunch or dinner!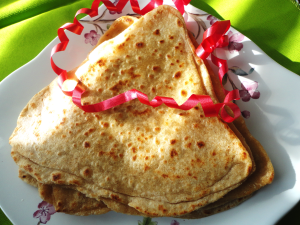 There are many variations of Parathas in the Indian sub-continent.You can make them plain like I've done here or you can make  stuffed parathas using potatoes,cauliflower,paneer or even ground chicken or lamb.Stuffed parathas can be eaten on their own with a knob of butter and some yoghurt.Plain parathas require some dry vegetable or meat dish.They can be round, triangular, or square.
Nothing feels better than a nice hot paratha with a steaming hot vegetable or meat on a cold winter day to warm you and fill you up.
Parathas (Pan fried Indian flatbread)
Print this Recipe

Ingredients:
Whole Wheat Flour-2 cups (easily available at your Indian Grocer's)
Some water
Oil-2-3 tbsps
Process
You start by taking about 2-3 cups of flour in a deep vessel.Make a hole in the center and fill it about 3/4 of a cup of water.Start mixing it with your hands, add more water little-by-little until it starts coming together and forms a dough.The dough should not be too wet or too dry.It should be soft to touch.Once done cover it and put in the refrigerator for about 30 mins.

When you're ready, take it out and flour your surface.Take a small amount of the dough in your palms and make into a ball.Flour it on both sides, flatten it a bit and start rolling it on the surface to get a circular shape.

 Spread some oil evenly all over and fold it from the middle.Spread some oil all over and fold once again to make a triangle.This is the shape we need since we're making the staple parathas in my house that are triangular. Start rolling the dough until you get a decent size triangle.Don't forget to flour your dough after every fold and as you're rolling.
The paratha is ready to go into the tava or pan.Heat the pan to medium high and place the paratha. Oil the side that's up first and flip it over.It should now puff up.Oil the other side as well and just cook until you get nice golden spots telling you that its cooked.Press it all over with a spatula so that its cooked evenly.Your paratha is ready!Serve it hot with my Aloo Gobhi (which was also my first blog post,so please excuse the pics!)or any vegetable of your choice!