The excitement has begun since it's 'the most wonderful time of the year'! Holidays are almost here and I'm sure you all have wonderful plans of spending it with family and friends. There's something magical about December, wouldn't you agree? I cannot think of a more magical month that gets everyone so excited!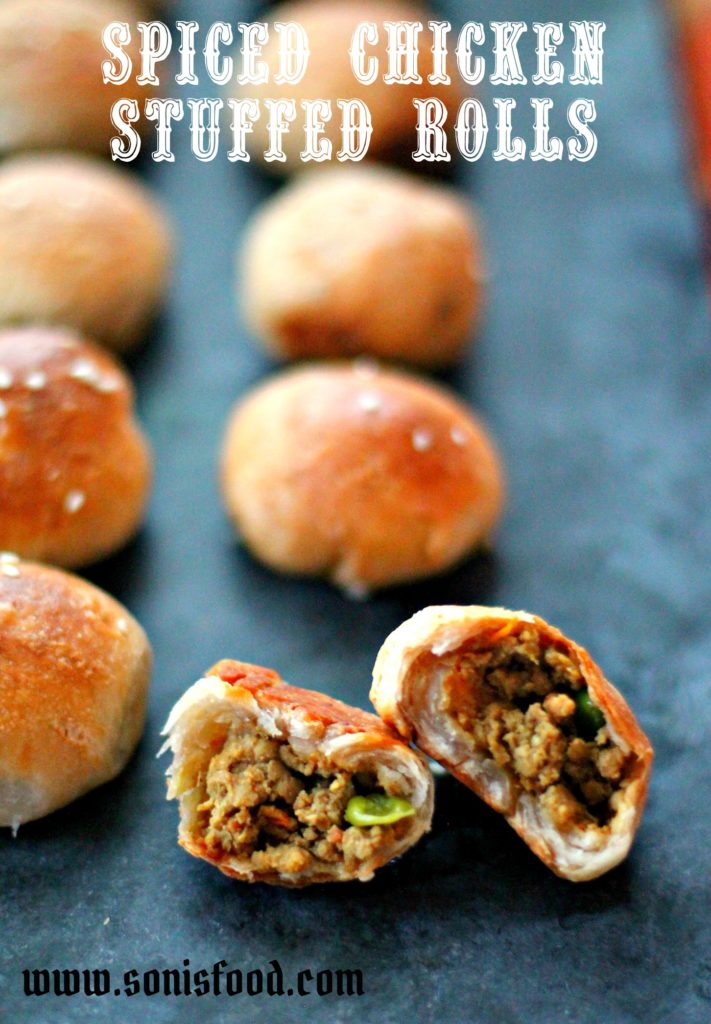 Keeping the holidays is mind I've come up with an easy appetizer that your guests will love. My Spiced Chicken Stuffed Rolls are delicious, flavorful and fun to eat! They take literally minutes to prepare and you can make the filling a day ahead. The ground chicken is first cooked with some spices and the mixture is then stuffed into store bought flaky biscuit dough! Yes, we're using just that and it makes for an amazing holiday appetizer! Stuff them and bake just before your guests arrive! It's that easy.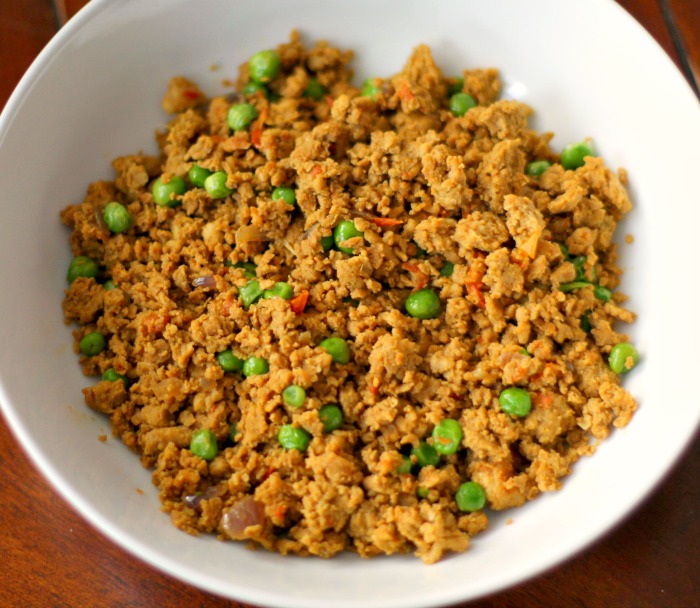 Ground chicken is sautéed with onions, some ginger, garlic and few spices until cooked. I've also added frozen peas towards the end. The mixture must be dry and you have to make sure that all moisture has evaporated.The spices add layers of flavors to amp up the deliciousness quotient here.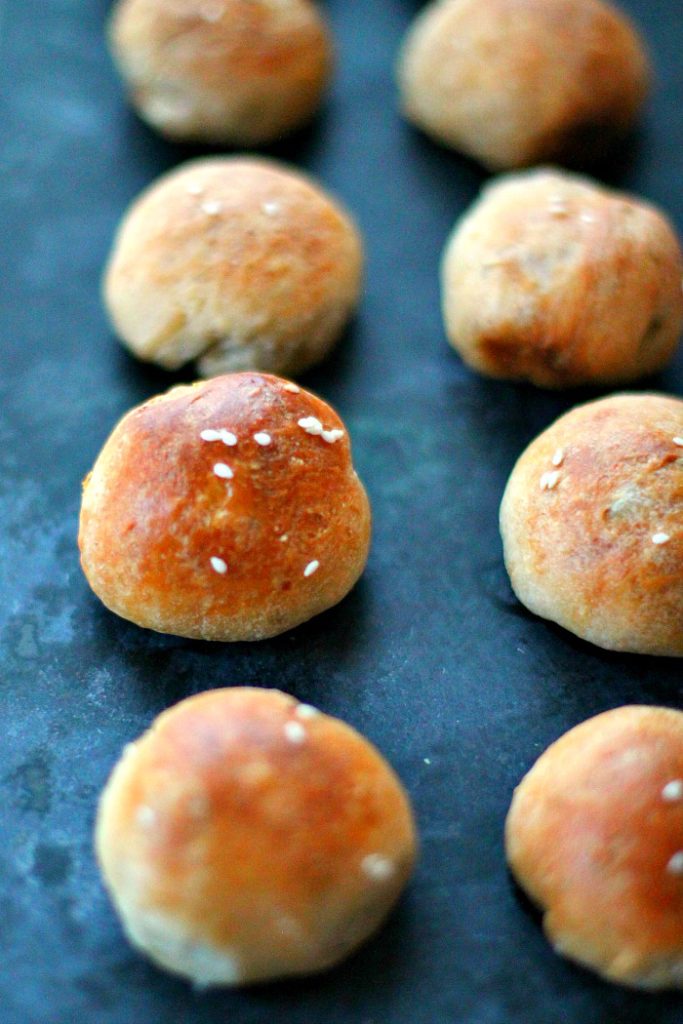 These warm fluffy rolls are just the hand held food you need at your party!And to think that all you did was just make the filling. These soft rolls with a surprise Indian Inspired filling are sure to wow your guests and also great for a crowd. Enjoy!
Spiced Chicken Stuffed Rolls
Ingredients
1 package Flaky Biscuit Dough
1/2 lb ground chicken
1/2 cup frozen peas
1 small onion
1 tsp crushed ginger
1 tsp crushed garlic
1/2 tsp ground cumin
1/2 tsp ground coriander
1/2 tsp garam masala
1/4 tsp turmeric
1/4 tsp red chili (optional) or paprika
1 tsp tomato paste
1 small tomato chopped
salt to taste
2 tbsp oil
Instructions
Thaw the biscuit dough if frozen.
Preheat the oven to 400 degrees F.

For the filling

Heat oil in a pan and saute the onions until slightly golden.
Add the ginger and garlic and continue to cook for about a minute.
Add the spices and the tomato paste.Add 2 tbsp of water if it sticks to the bottom.Add the chopped tomato.Mix well and cook until they become soft and the mixture comes together.
Add the ground chicken along with some salt,cover and cook until fully done.
If there's water in the pan take the lid off and make sure all moisture has evaporated while stirring every few minutes on a medium heat.
Add the peas and mix it well.
Check the seasonings and continue to cook for another 5-6 minutes.
The filling is ready.Let it cool down a bit before you start to fill.

For the Rolls

Take the discs out and tear each disc in half with your hands.You should have 16 small discs.
Take one disc and stretch it out from all sides using your fingers to make it big enough to stuff a little amount of the filling.
Take a tsp of the filling and bring all the sides together.
Roll it into a round shape and keep it face side down onto a baking sheet or pan.
Repeat for all the other discs.
Brush them with an egg wash (optional) or melted butter.
Bake them in the center rack in the oven for about 12-14 mins or until the rolls are golden.Keep an eye to make sure to not burn them.
Arrange them on a tray and serve hot with your favorite condiment.
http://www.sonisfood.com/2017/12/spiced-chicken-stuffed-rolls.html
www.sonisfood.com