Nutella Swirled Cheesecake Bars have been on my to-make list for so long and I finally made them! These bars are just the size you need them to be to satisfy your sweet cravings and can be made a day ahead since they do require some chilling time before being cut into squares. They're perfectly sweet and the swirls look so festive!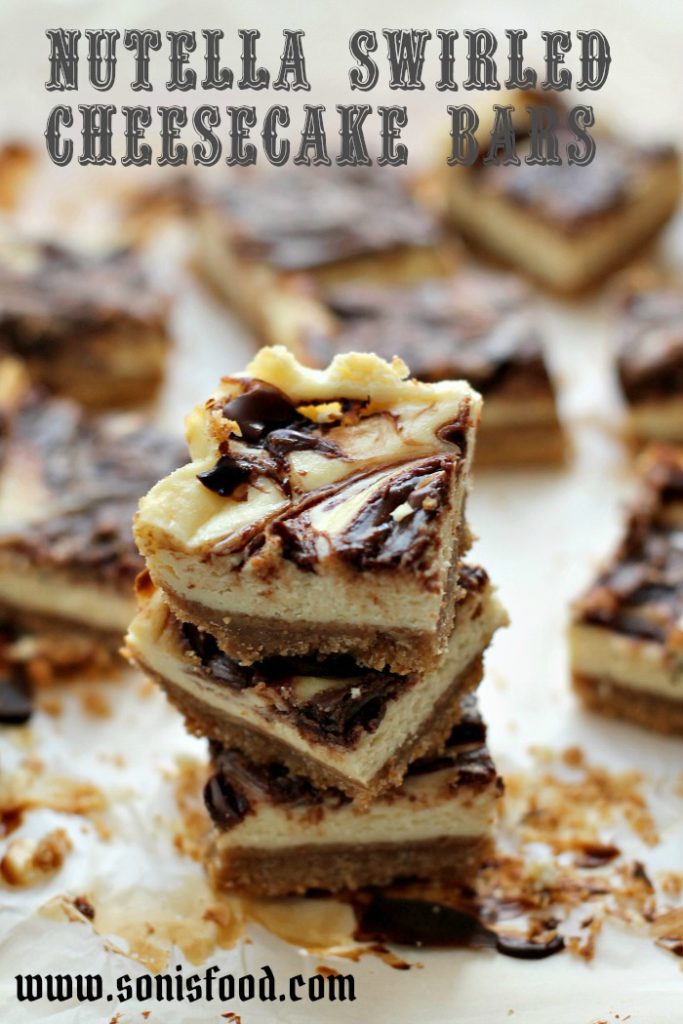 This is a Nutella lover's dream and tastes phenomenal. The buttery graham cracker crust topped with a delicious cheesecake filling topped with Nutella is the kind of dessert meant for special occasions such as the holidays. I omitted the sugar in the crust in this recipe and it came out perfect. The hardest part is waiting for it to chill so you get to bite into these beauties. I left it to chill overnight in the refrigerator. My kids got to try these after school the next day and their verdict- "the wait was worth it"! 🙂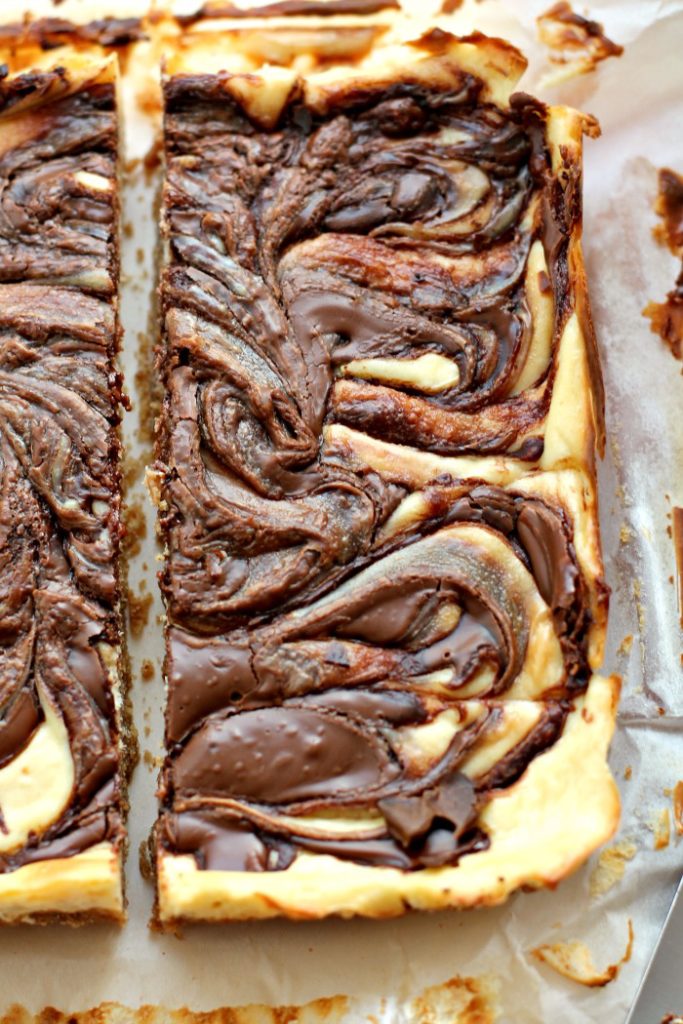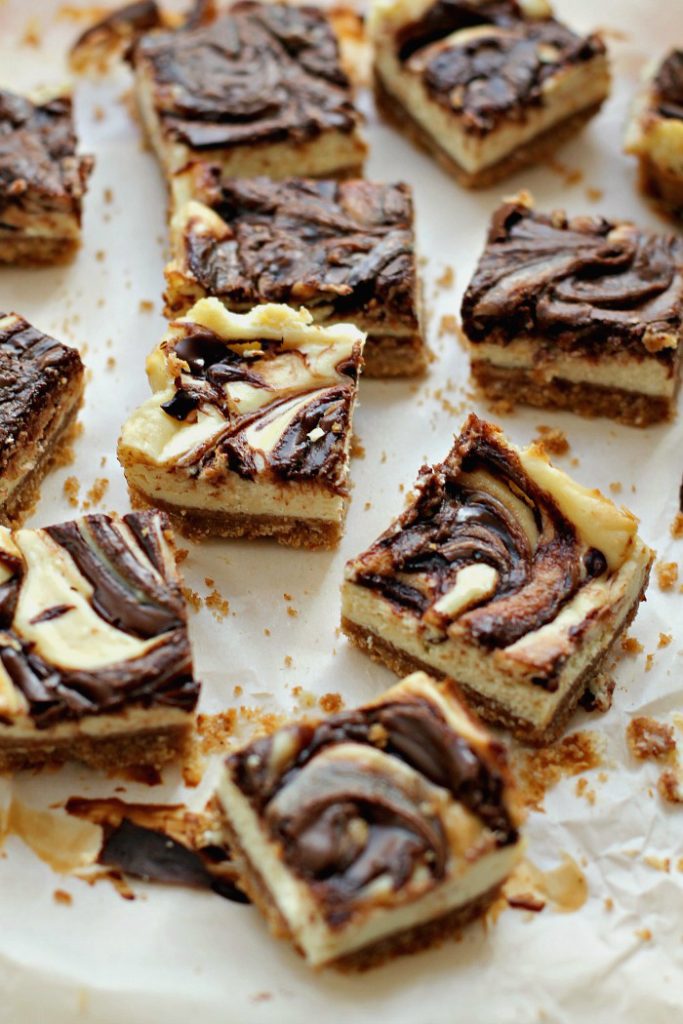 You know that they're ready when you see the edges turning slightly golden.The best part-spreading the nutella!Just make sure that its slightly warm, makes it easy to swirl.This is not your average dessert but a decadent indulgent treat for you and your guests.Great for a crowd (makes 16 small bars) and super easy, this is one dessert that any Nutella lover will devour!Enjoy and wishing you all a great holiday season!
Nutella Swirled Cheesecake Bars
Ingredients
For the crust

10 full sheet Graham Crackers or 1 1/2 graham cracker crumbs
6 tbsp melted stick unsalted butter

For the cheesecake

16 oz (2 bars) cream cheese (room temperature)
1 egg
2 tsp vanilla
1/4 cup granulated sugar
1/3 cup nutella (slightly warmed)
Instructions
Pre heat the oven to 350 degrees
Line a 8x8 baking pan with parchment paper with overhanging sides

For the base

In a food processor, process the graham crackers into fine crumbs.
Add the melted butter and pulse to fully incorporate.
Pour into the lined baking pan and gently even with hands or base of a measuring cup. Bake for 5 mins.
Remove from oven and let it cool.
Pour cream cheese mixture on it.

Cheesecake

While the base is baking, place the cream cheese and sugar in stand or electric mixer
Beat for 2 minutes until light and fluffy.
Add egg and vanilla and beat to combine until the mixture is smooth
Pour mixture onto the baked graham cracker crust and smooth into a single layer. Drop large spoonfuls of Nutella on top of filling and swirl gently with a knife.
Bake 30-35 minutes or until the center only slightly jiggles.
Remove from the oven and cool completely then refrigerate for at least 3 hours or overnight
Once set, remove from pan using the parchment lining and slice into bars.
http://www.sonisfood.com/2017/12/nutella-swirled-cheesecake-bars.html
www.sonisfood.com