There's something about the Tikka Masala that just makes it such an addictive dish!The bright orange colored, smooth and velvety sauce with bits of marinated chicken or paneer is just pure heaven!I had my first taste of the Tikka Masala when I went to England for the first time and I just fell in love with it!Although it reminded me of the Butter Chicken back home it was different and more creamy and so delicious!Chicken Tikka Masala as we all know is a 'British National Dish' and considering how popular the 'curry' is in the UK, its not surprising at all!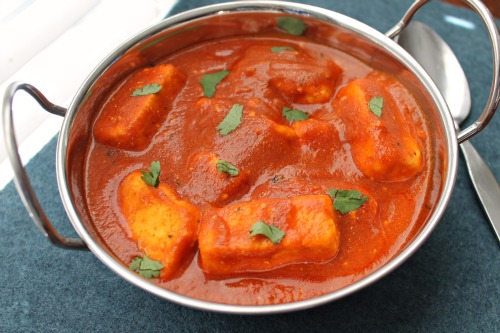 I've made this amazing dish using Paneer here since its hugely popular in my family and my kids and hubby love anything that has Paneer in it!My Paneer Tikka Masala is super easy to make and one of my staple dishes when I have guests!You can also substitue Paneer with Tofu,Chicken or Fish!The Paneer is marinated in a yoghurt mixture and broiled until golden.The sauce consists of canned tomato puree with some spices and a dash of cream at the end to finish off the process.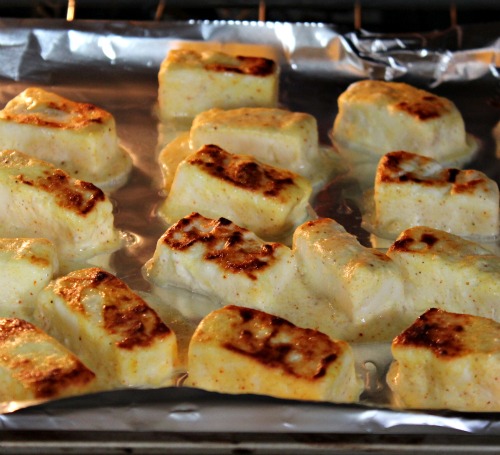 The paneer is then added into the sauce to soak up all the lovely flavors and you can serve it with Naan or Rice!Paneer and Kasoori Methi (dried fenugreek) is easily available at your Indian Grocer.If you haven't explored your local Indian stores then now is the time to do so 🙂
Creamy,easy and a healthier version, this is one dish you've got to try 🙂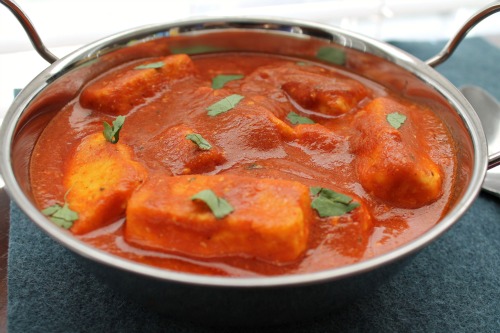 Ingredients
For Paneer Tikka Marinade

Paneer- 400 gms (cut into bite sized pieces)
Thick Yoghurt-2 cups
Lemon Juice-1 tbsp
Crushed Ginger-1 tsp
Crushed Garlic-1 tsp
Garam Masala-1 tsp
Turmeric-1/2 tsp
Red chili/paprika-1 tsp
Salt-to taste

For the Sauce

Canned tomato puree-3 cups
Crushed Ginger-2 tsp
Crushed Garlic-2 tsp
Ground Cumin-1 tsp
Ground Coriander-1 tsp
Garam Masala-1 tsp
Turmeric-1/2 tsp
Sugar-1 tbsp
Water-1/2 cup
Light Cream-1/3 cup
Kasoori methi (dried fenugreek)-1 tbsp
Butter-1 tbsp
Oil-1 tbsp
Salt-to taste
Instructions
In a ziplock bag marinade the paneer along with all the ingredients and let it sit in the fridge for 2 hrs.
Place the marinated paneer onto a foil lined greased baking sheet and broil until golden.Keep aside.
In a pan heat the butter and oil and add the ginger and garlic.
Saute for 1-2 minutes until the raw smell disappears.
Add the tomato puree and all the spices, salt and sugar.Cook on medium for about 4-5 minutes.
Add the water and continue to cook for about a minute.
Add the cream and kasoori methi.Check the seasonings.
Add the broiled paneer into the sauce and simmer for about 8-10 minutes until well incorporated.
Enjoy with Naan or Rice!
http://www.sonisfood.com/2013/04/easy-paneer-tikka-masala.html
www.sonisfood.com