As a follow-up to my two previous posts namely my Salmon Tikka Wraps and Tandoori Gobhi, I've got for you a Naan recipe that you can make to wrap these delicious fillings in!But mind you these are not your usual Naans.These require no yeast and are made using Whole Grain Flour!Healthy, soft and so so delicious, you're going to love them them 🙂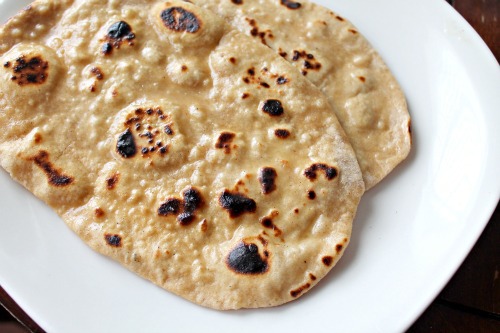 I've always wanted to make my own Naans but kept putting it off due to the yeast requirement, since I've never worked with yeast!Maybe one of these days I'll surprise myself and bake my own bread,because  every time I see a bread recipe or those soft Dinner Rolls I'm tempted to try them,but then again the yeast comes into the picture.Maybe its not a big deal after all!Anyways on my quest to find an easy no-yeast recipe I stumbled upon this website called Sailu's Kitchen that had exactly what I was looking for!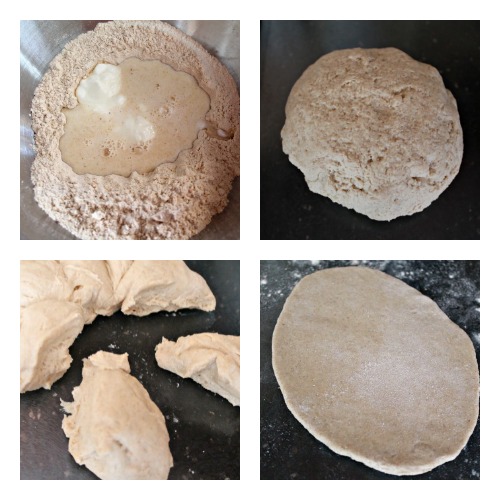 I've used Whole Grain Flour instead of All Purpose Flour to make it more healthier.I get my Whole Grain Flour from my Indian Grocer.You can use any flour of your choice.Once ready the warm soft Naans just melt in your mouth and a knob of butter while serving does its magic!You can add any toppings of your choice once you've rolled these.You can use Cilantro or Garlic or Nigella Seeds or make a simple Butter Naan like I've done here.Serve these with my Cabbage Koftas or use these as a wrap for your tikkas or make Naan Pizzas!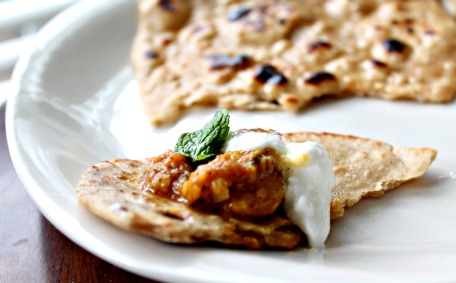 No Yeast Whole Grain Butter Naan
Ingredients
Whole Grain Flour-2 cups
Baking Powder-3/4 tsp
Baking Soda-a pinch
Salt-1/4 tsp
Sugar-1 tsp
Warm Milk-1/2 cup
Yoghurt-1/2 cup
Instructions
In a mixing bowl mix the flour,baking powder,baking soda,salt and sieve two times.
Make a well in the center and add the milk, yoghurt and sugar and mix until it comes together to form a soft dough.
Cover with a damp cloth and leave it for two hours.
After two hours knead the dough again and cut into 6 equal balls.
Sprinkle some flour on a flat surface and start rolling the ball into an elongated or round shape.Could be small or large.
Heat a pan on high.
Brush one side with water and put it wet side down on the pan.Look for bubbles forming and gorgeous golden spots appearing on the side down.Flip it over.
Do the same for the other side too.
Spread a knob of butter/earth balance all over.
Serve hot!
http://www.sonisfood.com/2013/02/no-yeast-whole-grain-butter-naan-healthy.html
www.sonisfood.com