Hurricane Sandy destroyed so many people's homes, towns and communities and many are still facing difficulties.Although we didn't suffer any damage to our property, there were power outages in our area for 4 -5 days.But for those who've lost their homes, their lives were torn apart in a span of a few hours.We've decided to help out the victims of Hurricane Sandy by offering them comforting meals to make them feel better and also providing you with relevant links to donate to the cause and make a difference in the lives of those affected by it.This event is hosted by our very own Liz of That Skinny Chick Can Bake!
If you want to make a donation,these are a few of the organisations that we recommend:
I'm making these comforting Cabbage Koftas (dumplings) in a tomato gravy.It can be made ahead and frozen or refrigerated to be heated before its served.I've also added some dried sweetened cranberries( instead of raisins to give it a Holiday feel) and cashews to the cabbage balls that give it a lovely sweet and nutty flavor.This dish is a very popular North Indian dish and its made in many different ways using lots of different vegetables (like spinach, zucchini) or meats.It goes very well with Naans, Rotis or even Rice.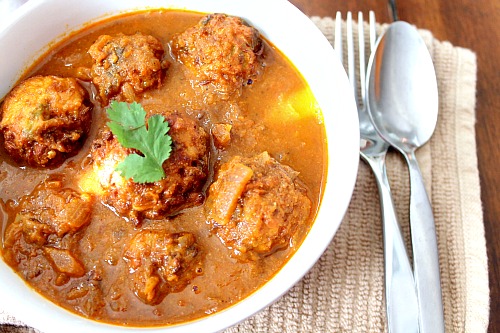 The process begins by shredding the cabbage.In my case I just got the shredded cabbage from Trader Joe's which made the process a lot easier.You then add the spices and gram flour (besan) which also acts as a binder.The trick is to fry these balls immediately after you've added salt and the spices otherwise cabbage tends to release a lot of water which then makes it difficult to fry.Once the balls are fried until golden, you can start the gravy.The gravy is a traditional North Indian curry base for making almost any curry using vegetables or meat.The balls are slowly simmered in the gravy,just before you serve the dish.A succulent rich Indian Cabbage Kofta that's comforting in any situation.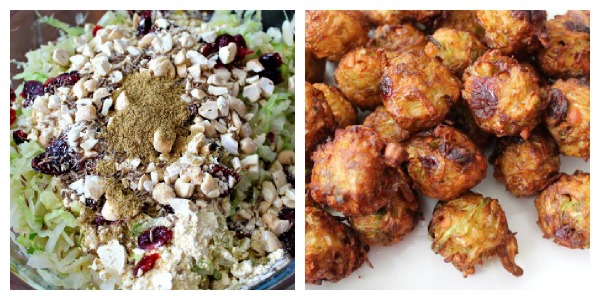 Cabbage Koftas ~ Helping Hands for Hurricane Sandy #SundaySupper
Delicious Indian Spiced Cabbage Balls/Dumplings simmered in a Tomato Gravy!
Ingredients
For the Koftas

Cabbage Shredded-2 cups
Gram Flour (Besan)-3/4 cup
Crushed Ginger-1 tsp
Dried Sweetened Cranberries-1 cup
Cashews chopped-1/2 cup
Ground Coriander-1 tsp
Cumin Seeds- 1tsp
Salt-1 tsp
Oil-to deep fry

For the Gravy

Onion Medium-1 finely chopped
Crushed Ginger-1 tsp
Crushed Garlic-1 tsp
Medium Tomatoes-3 (pureed)
Ground Cumin-1 tsp
Ground Coriander-1 tsp
Garam Masala-1 tsp
Turmeric-1/2 tsp
Red chili powder-1/2 tsp
Salt- to taste
Sugar-1 tsp
water-1 1/2 cups
Oil 2-3 tbsp
Coriander leaves- for garnish
Instructions
In a deep fry pan heat oil on medium.
In a microwave safe dish soften the shredded cabbage for about 3-4 minutes.
Mix all Kofta Ingredients and roll into small balls.
Deep fry the balls in the oil in batches until golden on all sides and keep aside.
In a separate pan heat the oil and add onions.
Fry for about 4 minutes until golden and add the ginger and garlic.
Add the tomatoes and spices and cook until oil starts to separate from the sides.
Add the water, bring to a boil.Lower the heat and cook for about 3-4 minutes.
Adjust the seasonings.Your gravy is ready.
When its time to serve, just add the balls into the gravy and cook for about 7-8 minutes. Garnish with Coriander.
Serve hot with Naan, Roti or Rice.
http://www.sonisfood.com/2012/11/cabbage-koftas-helping-hands-for-hurricane-sandy-sundaysupper.html
www.sonisfood.com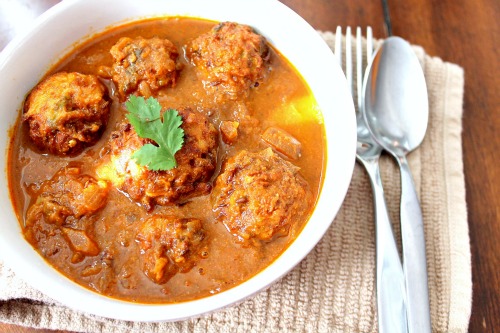 Please check out all the wonderful ideas from the helping hands of my Sunday Supper friends. And  consider a monetary donation if you have the resources…every dollar helps and many folks have lost nearly everything. Thank you!!!
Breakfast and Brunch:
Comforting Casseroles and Entrées:
Warming Soups and Sides:
Sweet Endings:
Please join on us on Twitter for #SundaySupper today, November 25, 2012, throughout the day.  In the evening, we will meet at 7 PM EST for our weekly #SundaySupper live chat.
We'd also love to feature your recipe ideas for #HelpingHands on our 
#SundaySupper Pinterest board
 so we can share them with all of our followers. Thanks to Isabel, of 
Family Foodie
, for leading the mission to bring families back to the Sunday dinner table. Stop by her blog if you'd like to join us.