Meatballs are the ultimate comfort food! And this week with the temperatures dropping again, they seem like the perfect dish to cook!My Chicken Koftas are Indian Spiced Meatballs with aromatic spices that can make any mealtime special.They're easy and so flavorful and pair very well with Naan or Pulao or just plain rice!I've used ground Chicken here, but you could use any ground meat for this preparation.Its a great dish for entertaining since it can be prepared ahead of time.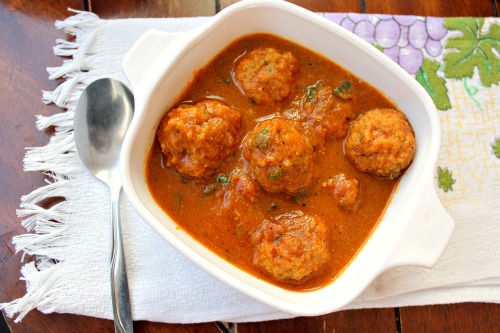 To give a lovely color to the koftas I've fried them in a little oil before adding them into the sauce.The addition of coriander adds that freshness and the yoghurt makes them moist!You could skip the frying part and add them straight into the sauce if you wish.The sauce is a tomato based sauce with some cumin and garam masala for those lovely Indian flavors.You just have to let the koftas simmer in the sauce for a few minutes to absorb all the delicious flavors!A great tasting dish for these cold days and nights!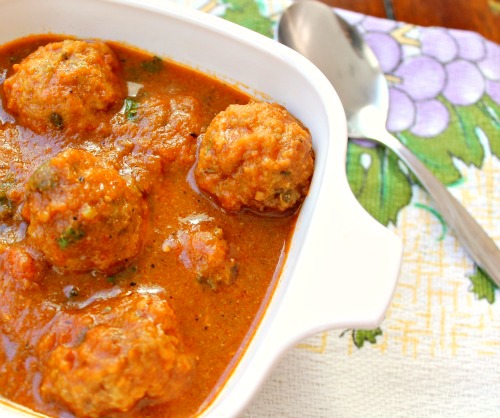 Ingredients
For the Koftas

Ground Chicken-1 lb
Yoghurt-1 tbsp
Crushed Ginger-1 tsp
Crushed Garlic-1 tsp
Garam Masala-1/2 tsp
Fresh Coriander-2 tbsp
Salt- to taste

For the Sauce

Oil-3 tbsp
Cinnamon stick-1/2 inch
Green Cardamom-3
Cloves-3
Onions-2 medium finely chopped
Tomatoes-3 chopped
Crushed Ginger-1 tsp
Crushed Garlic-1 tsp
Yoghurt-1 tbsp
Turmeric-1/2 tsp
Ground Cumin-2 tsp
Ground Coriander-2 tsp
Garam Masala-1 tsp
Red chili-paprika-1 tsp
Sugar-1 tbsp
Salt-to taste
Water-2 Cups
Instructions
Mix all the kofta ingredients and make small balls.
Shallow fry if you want a golden color.If not just keep the balls aside to add into the sauce.
Heat oil in a deep skillet and the cinnamon,cardamom and cloves.
Add the onions and a little salt and saute until golden.Add the ginger,garlic and spices and saute on low for a few minutes.
Puree the tomatoes and add them into the onion mixture.Add the salt,yoghurt and continue to cook on medium heat stirring every now and then until oil starts to separate around the edges.
Add water and bring it to a boil on high.Check the seasonings.
Slowly add the koftas and reduce the heat to medium.
Let the koftas simmer in the sauce for about 10-15 minutes.
Serve hot!
http://www.sonisfood.com/2013/03/indian-chicken-koftas.html
www.sonisfood.com