If you are anything like me,you don't enjoy Turkey and would settle for anything else but.I've never  really enjoyed Turkey and there's this after taste that's not very pleasing to my palette.Hence,I always look for alternatives during Thanksgiving and this time I chose these little Cornish Hens.I haven't really worked with them a lot but I find them more manageable because of their size and in my opinion the smaller a bird, the more flavorful it is.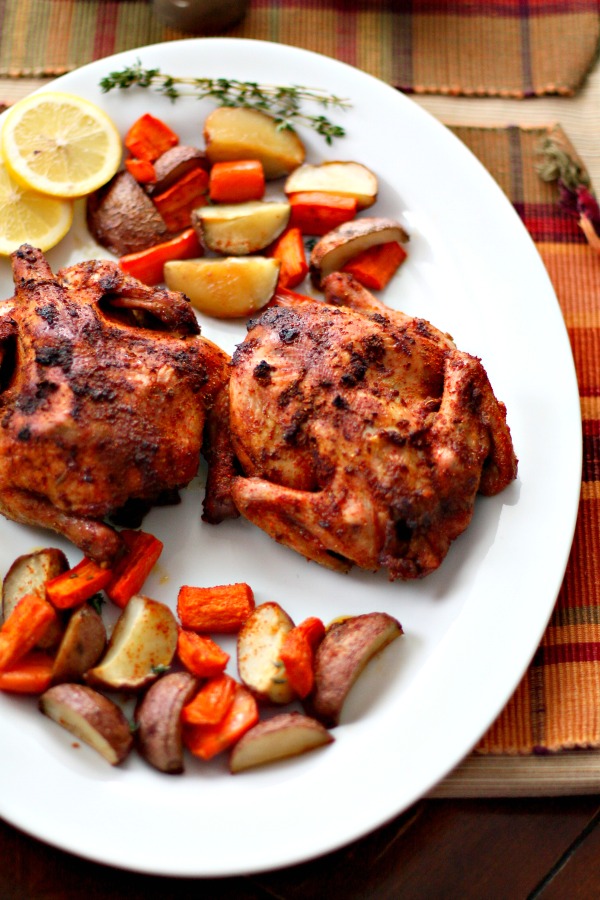 As usual I've given my Indian twist to a roast dinner and why not.The addition of Indian spices liven up any meal and for those of you who're new to cooking Indian food, this would be a great recipe to start with.My Indian Roasted Cornish Hen has been rubbed with fragrant spices,some crushed ginger,garlic and lemon juice to add tons of flavor and its a great way to spice up your holiday table.The spices are subtle and do not take away from the dish.You could use the same marinade for Turkey or Chicken.You could also marinate the bird a day in advance and refrigerate.Roast it just in time for your guests.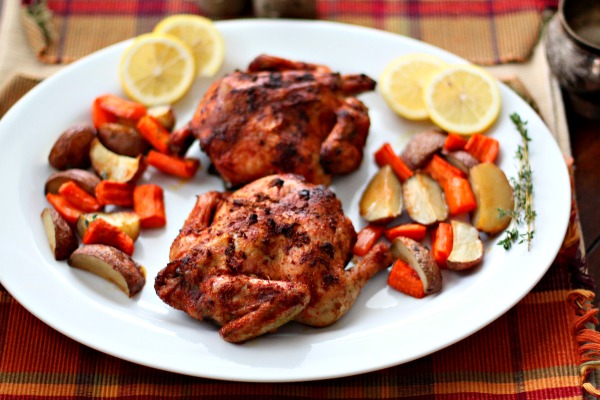 The potatoes and the carrots roast in the juices from the Hens and are perfectly moist and delicious.Serve this dish alongside my Sweet Potato Cranberry Casserole with Almond Coconut Streusel to complete your Thanksgiving menu.
Wishing you all a Happy Thanksgiving!
lndian Roasted Cornish Hens
Ingredients
Cornish Hens-2
Carrots-3 peeled and cubed
Red Potatoes-4 cubed
Ground Cumin-1 1/2 tsp
Ground Coriander-1 1/2 tsp
Garam Masala-1 tsp
Paprika-1 tsp
Turmeric-1/2 tsp
Crushed Ginger-1 tbsp
Crushed Garlic-1 tbsp
Juice of one lemon
Salt-to taste
Instructions
Preheat the oven to 350 degrees.
Mix the cumin,coriander,garam masala,ginger ,garlic,paprika,lemon juice and salt in a bowl.
Pat dry the cornish hens and rub the spice mixture generously all over and under the skin of the bird on both sides.
In a greased roasting tray place the potatoes,carrots and the cornish hens.Drizzle some oil all over and, bake for an hour and half until fully cooked.
Arrange on a serving tray and serve hot!
http://www.sonisfood.com/2013/11/lndian-roasted-cornish-hens.html
www.sonisfood.com