Today I've got for you a recipe that I could easily call one of the 'best things I ever made and ate' :).It can be made ahead and frozen or refrigerated to be baked at the last minute to get all lovely and golden.The secret to my recipe here is ginger that adds a great depth of flavor to this dish.
The streusel consists of Almond Flour and some shredded coconuts for a crunchy nutty topping and boy was it good!!I'm so glad I used Almond Flour instead of all purpose flour since it gave it so much more body and flavor.The sweet aroma of coconut filled my kitchen as it was baking in the oven.It tasted phenomenal and had the perfect amount of sweetness!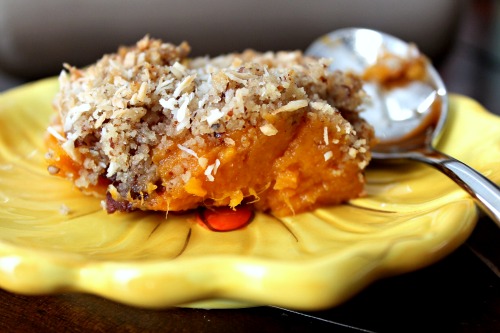 The cranberries gave it the perfect tartness and the coconut worked like magic!! A lovely Casserole that's easy, healthy and the most delicious!
Sweet Potato Cranberry Casserole with Almond Coconut Streusel #CookedInTranslation
A delicious Casserole using Sweet Potatoes and Cranberries topped with an Almond and Coconut Streusel makes for a great Holiday Side Dish or even Dessert!
Ingredients
Sweet Potatoes-2 lbs
Dried Sweetened Cranberries-1 cup
Packed Brown Sugar-1/2 cup
Freshly Crushed Ginger-2 tsp
Sea Salt-1 tsp
For the Streusel
Almond Flour-1 cup
Unsweetened Shredded Coconut-1/2 cup
Packed Brown Sugar-1/4 cup
Instructions
Preheat oven to 350 degrees.
Wrap the sweet potatoes in foil and bake in the oven for 50 min-1 hr until cooked.Let cool.
Peel off the skins and mash the sweet potatoes with the next 4 ingredients and mix.
Mix the Streusel ingredients and keep aside.
Coat a medium sized square or rectangular baking dish with cooking spray and spread the Sweet potato mixture evenly.
Cover with the Almond coconut mixture and bake it in the oven for about 40 minutes until golden.
http://www.sonisfood.com/2012/11/sweet-potato-cranberry-casserole-with-almond-coconut-streusel.html
www.sonisfood.com
Our Cooked In Translation group is celebrating a Fusion Thanksgiving and this event is hosted by the lovely Stacy @ Food Lust People Love!! We're recreating traditional Thansgiving dishes but with our own little twists :)Please check out other interesting recipes on the table!!