Truffles are one of my all time favorite desserts.Bite-sized perfect little decadent bites in a myriad of luscious flavors.They're also great as home-made gifts for the holiday season.I love bite-sized desserts because they're just enough-to tantalize your taste buds,to be passed around with ease, to make a mark.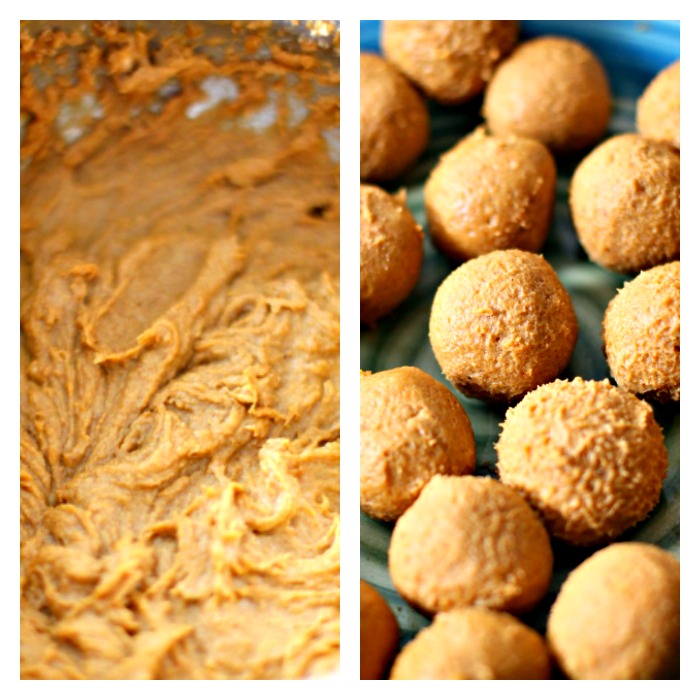 And, you can never get enough of them, so make a big batch!ALWAYS!
This Thanksgiving make these dainty little Pumpkin Pie Truffles that capture the flavors of the season and are a breeze to put together. I absolutely love them and they've been a big hit with the crowd, young and old.If you're a pumpkin dessert lover then this dessert will blow you away.The flavor, the aroma, the rich filling, the decadent chocolate coating, its truly a dessert for special occasions.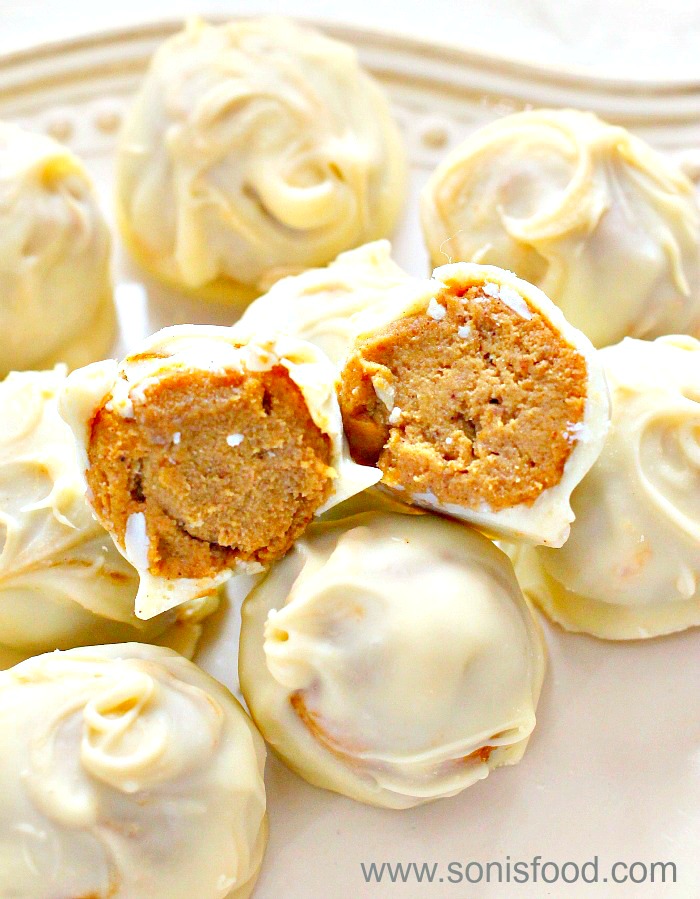 All it requires,is mixing all the ingredients and some chill time in the fridge for it to set.The filling is super easy and it's a great make ahead dessert that actually tastes better a couple of days later since the flavors get a chance to amalgamate.You can garnish these beauties with some cinnamon sugar or a drizzle of melted semi-sweet or dark chocolate.I've kept it simple here (tried to get the swirl effect with my fingers). A sinfully delicious Fall Dessert.Enjoy!
Pumpkin Pie Truffles-makes around 35 truffles
Ingredients
2 ounces full-fat cream cheese, softened to room temperature.
2 Tablespoons confectioners' sugar.
1/3 cup pumpkin puree.
1 and 3/4 cups digestive biscuits (Goya or McVites) or graham cracker crumbs
1 teaspoon pumpkin pie spice.
1 teaspoon ground cinnamon
1 tsp vanilla
4 ounces white chocolate, coarsely chopped and melted

Coating

12 ounces White Chocolate coarsely chopped
Instructions
In a mixing bowl beat cream cheese and confectioners sugar using the paddle attachment of your stand mixer or hand mixer until smooth.
Add the pumpkin and mix well.Follow with the biscuits,pumpkin pie spice,cinnamon,and vanilla.
Melt 4 ounces of white chocolate in a double boiler on the stove top and add into the mixture and mix until all combined.
Place the mixture in the refrigerator for a couple of hours.
After 2 hours grease your hands with a little melted butter and start rolling the mixture into even sized balls.Once done place it back in the fridge for an hour.
Melt 12 ounces of white chocolate in a double boiler until smooth.Let it cool for about 5 minutes.
Place a large parchment paper on a baking tray.Roll the balls into the melted chocolate and arrange on the parchment paper.
Carefully lift the tray and place in the fridge to set for a few hours for the truffles to completely set.
http://www.sonisfood.com/2016/11/pumpkin-pie-truffles.html
www.sonisfood.com
Recipe Adapted from Sally's Baking Addiction.