Nothing excites me more these days than seeing the monthly flavor kit of different spice mixes from Raw Spice Bar. Such a unique concept and having tried two of their kits so far, I highly recommend them. They only cost $7/kit for a year's subscription and you get to try freshly ground spice mixes/spices and flavors from around the world with recipes included in the kit.
Last month's Pondicherry Kit had the flavors screaming my name!
Vaarangal ("Welcome" in Tamil)! You've landed in Pondicherry! The weather is warm and the coastal breeze is refreshing but a Chai tea won't hurt. The Romans, the Chinese, the Dutch, the English, and the French have all been here and their influences remain present. Warm Vadouvan odors collide with buttery smells wafting from kitchens in the French Quarter. With colonization cuisine changed; however, the complex layers of Indian spices shine through each French inspired dish.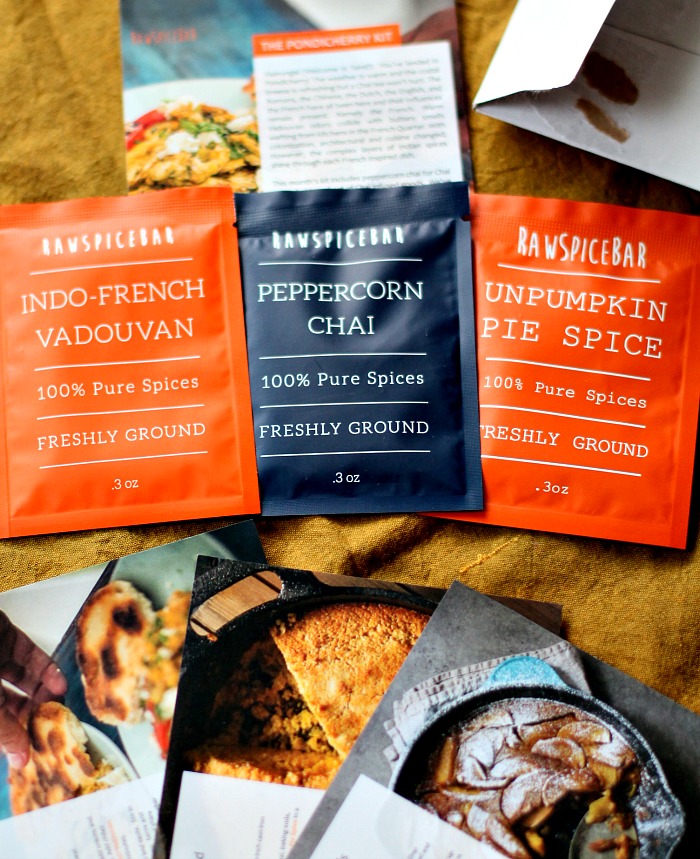 Pondicherry Kit comprises of the following spice blends:
INDO-FRENCH VADOUVAN- Toasted cumin, toasted coriander, turmeric, fenugreek, yellow mustard seeds, brown mustard seeds, green cardamom, aleppo pepper, cayenne, nutmeg, cloves, spices-Looking forward to making a lamb curry using this one!
UNPUMPKIN PIE SPICE- Ginger, allspice, cinnamon, nutmeg, black peppercorns, star anise, spices-Pumpkin Pie Truffles are always a hit with my friends and I'm going to be making lots more using this.
PEPPERCORN CHAI- Toasted black peppercorns, ginger, cinnamon, green cardamom, cloves, nutmeg, star anise, spices-Apart from my masala chai, Apple Clafoutis is what I've made using this one!Delicious!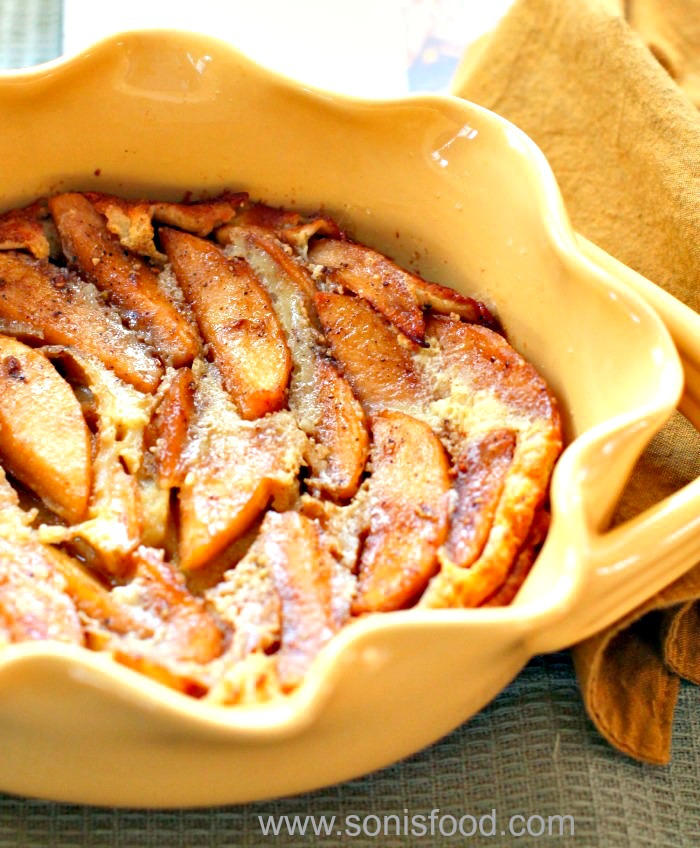 Apple desserts are a big family favorite especially during this time of the year when you crave for a comforting dessert with warm spices. I went straight for the Peppercorn Chai and followed the recipe for the Chai Spiced Apple Clafoutis. Clafoutis or Clafouti is a French Dessert using fruits suspended in a pancake like batter.The result is a soft fluffy custardy pudding which in this case is the perfect bed for the spice glazed apples.The flavors were spot on for a spice and chai lover like me.The peppercorns, fennel, cardamom and other chai spices work really well with apples.All it needed was a dusting of sugar.A satisfying dessert for these cold days that I'm certainly going to be making over and over again.Enjoy!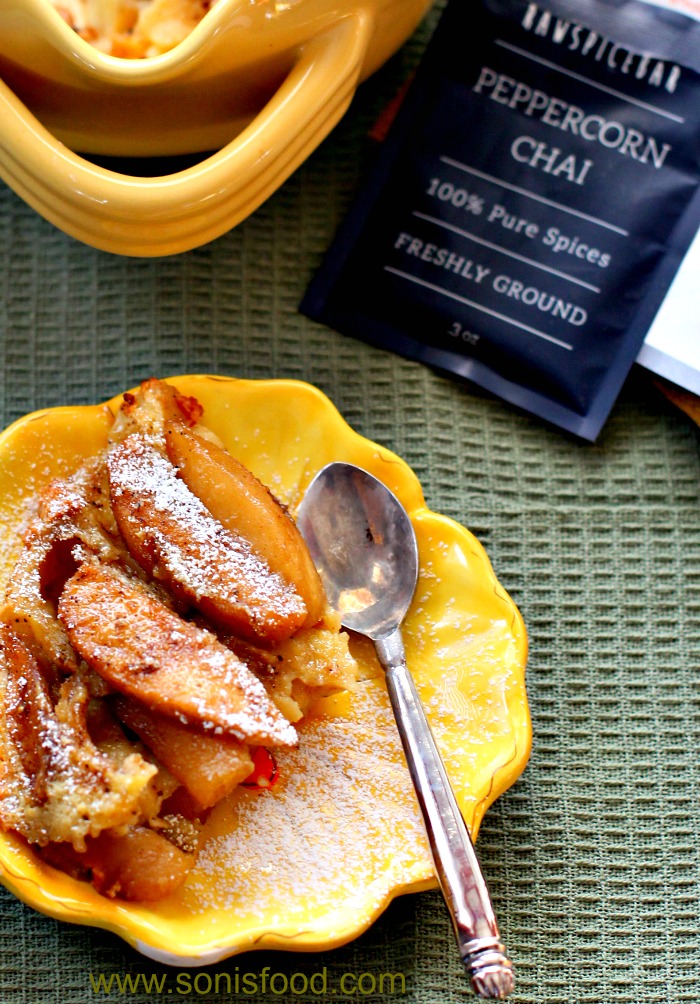 Chai Spiced Apple Clafoutis
INGREDIENTS
RawSpiceBar's Peppercorn Chai
3 eggs
1 cup milk or heavy cream
12 tbsp. butter
1 tsp. vanilla extract
2⁄3 cup all-purpose flour
1⁄2 tsp. salt
4 tart apples, peeled, cored, and sliced
1⁄2 cup plus 2 tsp. sugar
3 tbsp. brandy
DIRECTIONS
Preheat oven to 400°. Combine milk, eggs, 6 tbsp butter, vanilla, flour, 2 tsp sugar, and salt in a small bowl and whisk until smooth.
Melt 4 tbsp butter in a large skillet. Add apples, 1⁄2 cup sugar, RawSpiceBar's Peppercorn Chai and brandy. Cook until apples are glazed, about 5 minutes.
 Add half batter to greased pie plate. Arrange apple slices on top, reserving juices, then pour remaining batter over apples. Sprinkle remaining sugar on top and bake until golden, 25-30 minutes. Drizzle with warmed reserved apple juices.
Disclaimer:I was provided with a free sample of RawSpiceBar's Pondicherry Flavor Kit and all opinions are my own.