With the abundance of Pumpkins this season, its always a challenge to come up with new and exciting recipes that are easy to make, yet different and of course taste delicious.My recipe today is the result of exactly that, an experiment that was successful and received a thumbs up from the taste testers aka hubby and kids 🙂 We recently went Pumpkin picking and got ourselves some gorgeous looking pumpkins in two different sizes one large and one small.The smaller pumpkin is what I've used here today.It was unripe and I would recommend using unripe Pumpkins for this preparation, since they are not overly sweet.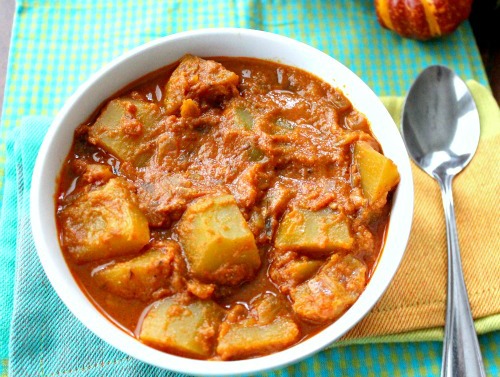 On a recent twitter chat when some friends asked about some good pumpkin recipes to try, I recommended Pumpkin Curry!My friends immediately wanted recipes and that gave me the idea to come up with an Indian inspired Pumpkin recipe on my blog.So here is a savory Pumpkin recipe that will totally blow you away with all the different layers of delicious flavors.Its savory, spicy, tangy all in one and its totally different from the sweet creations thats normally associated with Pumpkins.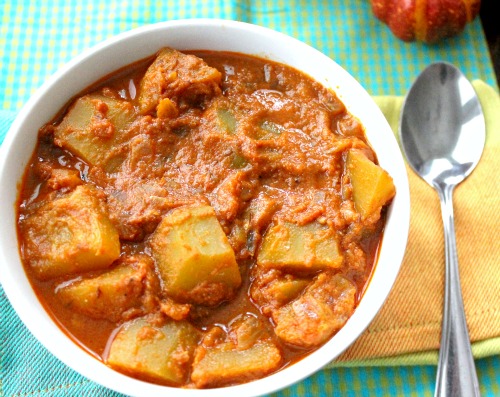 Indian Spiced Masala Pumpkin
Ingredients
Small Unripe Pumpkin- 2 cups Cubed
Onions-1 cup chopped
Crushed Ginger-1 tsp
Crushed Garlic-1 tsp
Jalapenos/Green Chili-1 chopped
Large Tomatoes-2 (pureed)
Ground Coriander-2 tsp
Ground Cumin-2 tsp
Garam Masala-1 tsp
Turmeric-1/2 tsp
Red Chili Powder (Cayenne)-1 tsp
Water-2 cups
Salt- to taste
Oil-3 tbsp
Instructions
In a skillet, heat oil and add the onions.
Saute until slightly golden and add the ginger and garlic.
Add the spices and saute on low heat for about 2 minutes stirring constantly.Add the jalapeno/green chili
Add the tomato puree and continue to cook on medium heat, until the oil begins to separate from the sides (about 8 minutes)
Add the pumpkin pieces.Stir and mix well.Add salt and water.Mix well, cover and cook on medium until fully cooked (about 10-15 minutes)
Serve hot!
http://www.sonisfood.com/2012/10/pumpkin-masala-spiced-pumpkin.html
www.sonisfood.com