Paneer is a fresh cheese commonly used in Indian cooking.Its a good source of protein for vegetarians.Its such a versatile product that can be used in a thousand ways, sweet and savory.This dish is a very popular North Indian appetizer that you will find in most Indian restaurants.I love this dish for its simplicity, flavor and its appearance.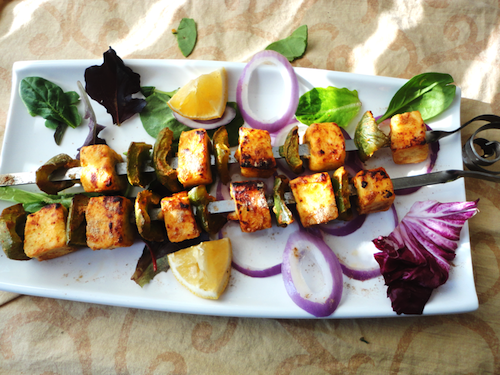 Paneer is easily available at your Indian Grocer's.It can also be made at home by heating a Gallon of Whole milk and when it comes to boiling point just add 2 tbsp of vinegar or 4 tbsp of lemon juice to curdle it.Collect the curds in a cheesecloth and squeeze it.Tie at the top and leave it hanging so that all the whey has strained out.You can then set the curd in a rectangular shaped dish in the refrigerator and once it has set, cut it into pieces and use it to make all kinds of preparations.If you're not prepared to do all the effort,you can just get store bought paneer from your Indian Grocer or even Whole Foods!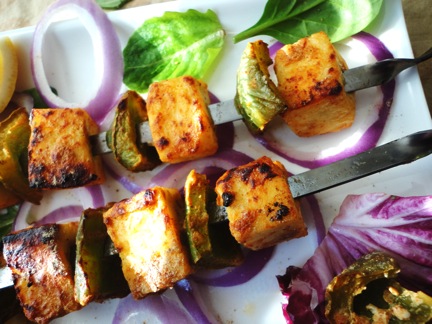 The key to making good Tandoori Paneer Tikka is to marinade it for about 4-5 hrs at the least, so that the flavors penetrate.You will also need to soak some skewers in water for about 30 minutes (if using wooden skewers) before putting them in the grill.Its a great make-ahead appetizer for parties, gatherings and potlucks. Marinade it the day before and grill it just before the guests arrive!!
Ingredients
Paneer 300 gms- cubed 2" (I use store bought)
1 medium Green Bell Pepper(Capsicum)-cut in squares
Thick Yoghurt-2 cups
Ginger Garlic Paste-1 tbsp
Tandoori Masala-2 tbsp(available in most stores)
Lemon juice-2 tbsp
Chaat Masala(readily available in Indian Stores)-2 tbsp
Oil-2 tbsp
Instructions
In a zip lock bag put all the ingredients except chaat masala and tightly seal it.Mix the contents well together and leave it in the refrigerator for 4-5 hrs or overnight to marinade.
Place the marinaded Paneer and Bell Peppers into skewers on an aluminium foil on a baking sheet and broil(grill) on high heat for about 8-10 mins turning once until its all golden around the edges, but not overcooked.Sprinkle some chaat masala over the top.
Arrange the Paneer with or without skewers in a serving tray with salad and lemon wedges.Serve hot with Coriander Chutney!
http://www.sonisfood.com/2012/01/tandoori-paneer-tikka.html
www.sonisfood.com

Also sending this entry to