As promised some time back I'm promptly back with another Quinoa recipe!This is a salad served in Endive Boats.Absolutely delicious and perfect for today's gorgeous spring weather.As the weather gets warmer shedding those extra pounds off our body is not a bad idea.After all, we've got to get into those summery outfits, don't we?This recipe will not only help you shed those extra pounds but will also do your body A LOT of good!Quinoa as we all know is extremely healthy, low in carbs, full of vitamins and minerals, a light and nutritious meal that is good and good for you.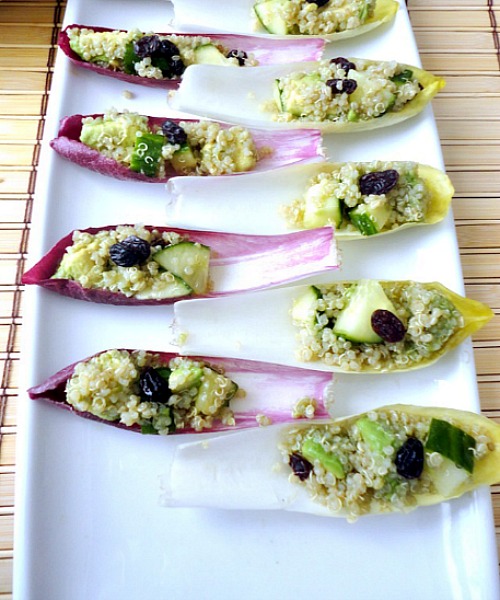 This salad has a range of flavors and looks very elegant.Ideal served as your lunch or as a salad for a party.The contrasting textures from the crunchy Endive and Cucumber and the soft and creamy Avocados and Quinoa itself makes for a very interesting mix.The Balsamic dressing and the Raisins add the sweet and acidic hit to the salad.Overall a winner 🙂
Quinoa Endive Boat Salad
Print this Recipe

Salad Ingredients:
Quinoa-1 1/2 cup cooked 
Cucumber-1 cup cubed
Large Avocado-1 cubed
Raisins-1/2 cup
Endives-2 heads (makes about 20)

Balsamic Dressing:
Balsamic Vinegar-1 tbsp
Honey-1 tsp
Salt-1 tsp or to taste
Pepper-1 tsp
Olive Oil-2 tbsp

Process:
Cook the Quinoa according to the instructions.Keep aside.
Cut the bottoms of the Endive heads (about 1/4inch).Separate the leaves and arrange on a platter.
Whisk the dressing together.
Mix all the salad ingredients and drizzle the dressing all over.Toss the salad.Take a spoonful and fill the Endive Boats with the salad.Serve chilled!
March is #Greenslove month and I'm glad to be co-hosting this bloghop with these fabulous blogger friends.Please make sure to check out their blogs while you're here!
Al Dente Gourmet ~ Aldy ~ @AlDenteGourmet
ASTIG Vegan ~ Richgail ~  @astigvegan
Badger Girl Learns to Cook ~ Kimberly ~ @BdgrGrl
Baking and Cooking, A Tale of Two Loves ~ Becky Higgins
BigFatBaker ~ Erin ~ @BigFatBaker
Bon a croquer ~ Valerie ~ @Valouth
CafeTerraBlog ~ Terra ~ @CafeTerraBlog
Cake Duchess ~ Lora ~ @cakeduchess
Cheap Ethnic Eatz ~ Evelyne ~ @cethniceatz
Easily Good Eats ~ Three Cookies
Georgiecakes ~ Georgie ~ @georgiecakes
Kitchen Belleicious ~ Jessica ~ @kbelleicious
Mis Pensamientos ~ Junia ~ @juniakk
My Twisted Recipe ~ Dudot ~ @mytwistedrecipe  
No One Likes Crumbley Cookies ~ TR ~ @TRCrumbley
Oh Cake ~ Jessica ~ @jesshose
Queen's Notebook ~ Elizabeth ~ @Mango_Queen  
Rico sin Azucar ~ Helena ~ @ricosinazucar
Savoring Every Bite ~ Linda ~ @Spicegirlfla
Simply Reem ~ Reem ~ @simplyreem
Soni's Food for Thought ~ Soni ~ @sonisfood 
Sprint 2 the Table ~ Laura ~ @Sprint2theTable
Teaspoon of Spice ~ Deanna ~ @tspbasil 
That Skinny Chick Can Bake ~ Liz ~ @Thatskinnychick
The Art of Cooking Real Food ~ Laura ~@TAofCRF
The Spicy RD ~ EA ~ @thespicyrd 
The Wimpy Vegetarian ~ Susan ~ @wimpyvegetarian
Vegan Yack Attack! ~ Jackie ~ @veganyackattack
Vegetarian Mamma  ~ Cindy ~ @VegetarianMamma