Today I'm going to share with you the new found love of my life, the 'Fruit Cobbler'.How else would you explain the fact that in the past month I've made it not once or twice or thrice but 5 times!! I'm not kidding!Its THAT good and with Berry for our theme for this month's bloghop, I knew exactly what I was going to be making AGAIN. 🙂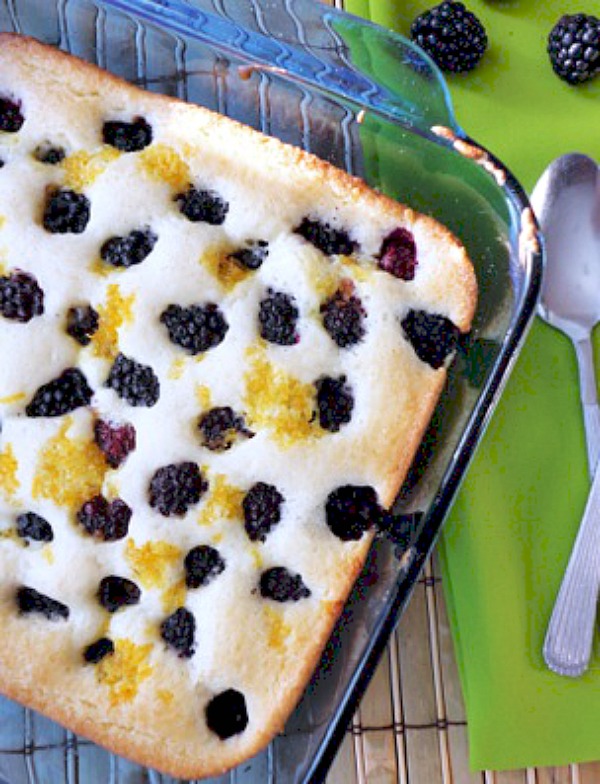 Cobbler is a classic American deep-dish fruit Dessert where the fruits are either enclosed in a thick fluffy pillow of a butter batter or have a drop biscuit or crumb topping.While I've had the fruits with crumb toppings before, the fruits enclosed in the crust was new to me.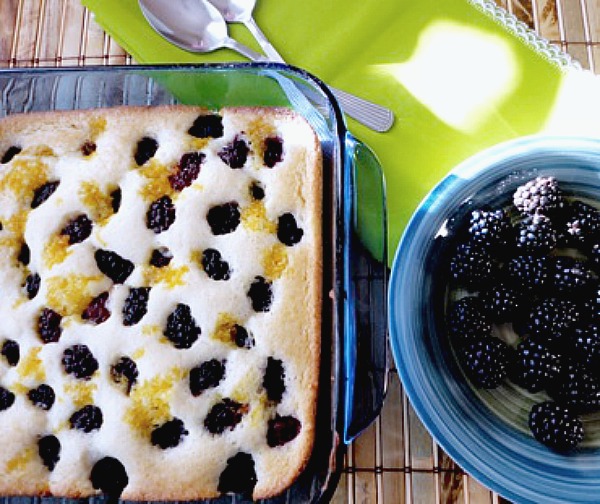 I tweaked the original recipe by cutting down on the butter and used Olive Oil instead in my batter and trust me it tasted delicious.I didn't miss the butter in my batter at all!I've made these using blackberries here,but you can use any seasonal fruit like apples, peaches,plums,mixed berries etc.The lemon sugar is the key in this recipe as it adds that sweet lemony touch to the Dessert!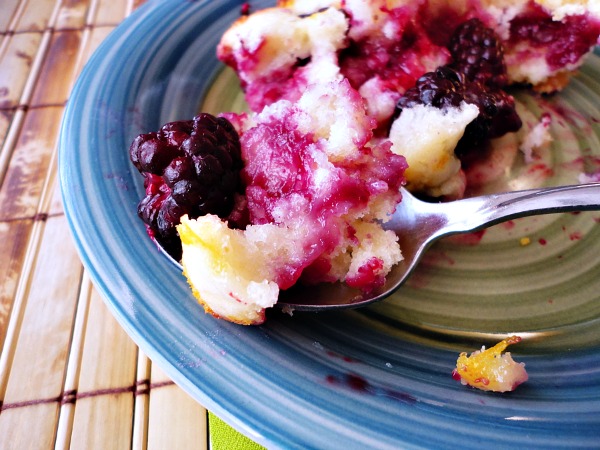 The batter rises and covers up the fruit and the berries oozing out their gorgeous juices intermingling with the chewy moist crust!Oh the simple pleasures of life~
Recipe Adapted from Scarletta Bakes 

Blackberry Cobbler #Berrylove Bloghop
Ingredients
Unsalted Butter-2 tbsp cut into 4 pieces
Olive Oil-1/2 cup
Sugar-1 1/2 cup
Lemon Zest-1 1/2 tsp
Blackberries-3 cups
All Purpose Flour-1 1/2 cups
Baking Powder- 2 1/2 tsp
Salt-1/4 tsp
Milk- 1 1/2 cups (I used 2%)
Instructions
Preheat the oven to 350 degrees.
Place 2 tbsp of cut-up butter into a baking dish and transfer into the oven.Heat until the butter is melted.
Meanwhile mix the lemon zest with 1/4 cup of sugar in a bowl.Keep aside.
Combine flour, remaining sugar, baking powder and salt in a bowl.
Whisk in the milk,olive oil into the flour mixture until smooth.
Take the baking dish out of the oven and make sure to spread the melted butter evenly so that it coats the entire bottom of the dish.
Transfer the batter into the dish.Arrange the blackberries evenly over the top.
Sprinkle the lemon sugar and bake until the golden brown edges are crisp about 40-45 mins.Serve warm.
http://www.sonisfood.com/2012/04/blackberry-cobbler-berry-love-bloghop.html
www.sonisfood.com
April is #Berry-love month!Please join in the Berry-love fun by linking up any Berry recipes from the month of April 2012.Don't forget to link back to this post so that your readers come stop by the Berry-love event!
Co-hosting this Blog-hop with my fabulous friends listed below.Please stop-by their pages as well while you're here 🙂
Alittlebitofeverything~ Roxana GreenGirl ~ @RoxanaGreenGirl,BakerStreet ~ Anuradha ~ @bakerstreet29,BakingandCooking, ATaleofTwoLoves ~ Becky Higgins,BigFatBaker ~ Erin Meyer ~ @bigfatbaker,Bonàcroquer~ Valerie ~ @valouth,CakeDuchess~ Lora ~ @cakeduchess,EasilyGoodEats~ Three Cookies,ElephantEats~ Amy,Georgie Cakes ~ Georgie ~ @GeorgieCakes,HobbyAndMore~ Richa ~ @betit19,JavaCupcake ~ Betsy Eves ~ @JavaCupcake,MisPensamientos~ Junia ~ @juniakk,NoOneLikesCrumbleyCookies~ T.R. ~ @TRCrumbley,OhCake~ Jessica ~ @jesshose,Queen'sNotebook~ Elizabeth  Quirino ~ @Mango_Queen,RicosinAzúcar~ Helena ~ @ricosinazucar,SimplyReem~  Reem ~ @Simplyreem,Soni'sFoodforThought~ Soni ~ @sonisfood,TeaspoonofSpice~ Deanna Segrave-Daly ~ @tspbasil,ThatSkinnyChickCanBake!!!~ Liz ~ @thatskinnychick,TheArtofCookingRealFood ~ Laura ~ @TAofCRF,VeganYackAttack~ Jackie S. ~ @veganyackattack,VegetarianMamma~ Cindy ~ @vegetarianmamma