Today I've got for you my most favorite appetizer in recent months.Each of these kebabs are a carnival of spicy deliciousness.The flavors just explode in your mouth.So succulent, so juicy, so moist,I'm telling you'll fall in love with this dish.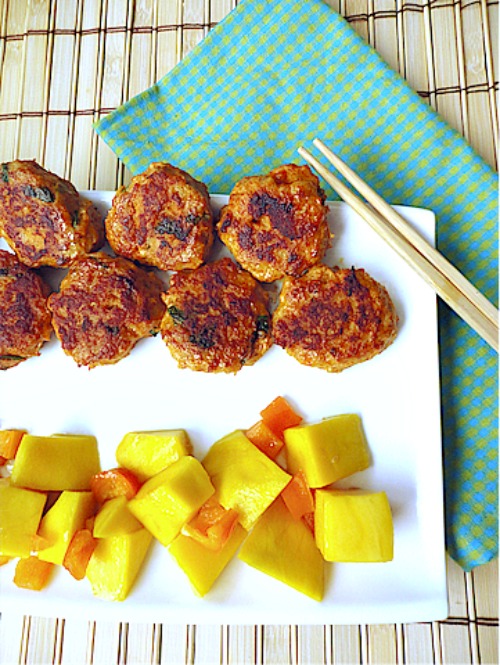 This recipe is the result of trying to use-up two items I had on hand, some Ground Chicken and with the abundance of mangoes in the stores,some big juicy mangoes!Thai cuisine came to mind and since I had Red Curry paste in my refrigerator, I thought of making these Red Curry Kebabs along with a delicious Mango Salad!I found this amazing recipe for the kebabs in a blog called Gourmet Getaways and the recipe was exactly what I was looking for!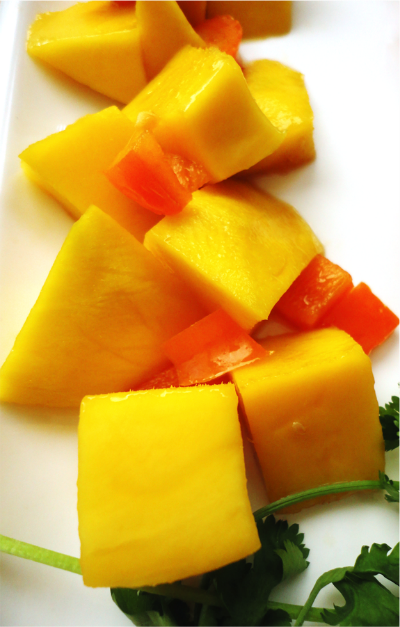 I've used ripe mangoes for the salad, although most Thai Mango salads call for unripe mangoes.Like I said I just used what I had available.If you want you can substitute unripe mangoes as well.This makes for a great party food and will appeal to both kids and adults.The salad is very easy to put together and goes very well with these kebabs!The earthy spices in the Red Curry combined with the ginger and garlic flavors the kebabs.The cilantro leaves add some freshness and the Mango Salad makes this combination complete!Earthy, sweet, tangy, exotic flavors at their best!
Red Curry Chicken Kebabs with Thai Mango Salad
Ingredients
For the Kebab

Chicken Mince-1 lb
Red Curry Paste-2 tbsp
Ginger crushed-1 tsp
Garlic Crushed-1 tsp
Green Chillies-2 chopped
lemon juice-1 tbsp
Coriander leaves-1/2 cup (chopped)
Cornflour-2 tbsp
Fish Sauce-1 tsp
Salt-to taste
Oil-2 tbsp

Thai Mango Salad

Firm Ripe Mango-1 large
Orange Pepper-1 cubed

Dressing

Soy Sauce-2 tbsp
Fish Sauce-1/2 tsp
Brown Sugar-1 tbsp
Lemon juice-2 tbsp
Instructions
Mix all the kebab ingredients except oil in a bowl and make small round shaped patties.
Heat the oil in a skillet and cook on both sides until they're golden brown.
Peel and cube the mangoes.
Whisk the dressing and pour over the mangoes and peppers.Your salad is ready.
Arrange the kebabs and the salad on a platter and serve!
http://www.sonisfood.com/2012/05/red-curry-chicken-kebabs-with-thai.html
www.sonisfood.com