I was introduced to Biryani at quite an early age thanks to Papa, who would religiously enter the kitchen every Sunday to cook something special! Since Papa loves Mutton, it had to be either his signature Mutton Curry/Shami Kebabs or my favorite Mutton Biryani!!It has been my most demanded dish since childhood and Papa has happily been cooking it for us all. Every-time I visit my parents in India I so look forward to the succulent taste of this delicacy that is devoured by so many!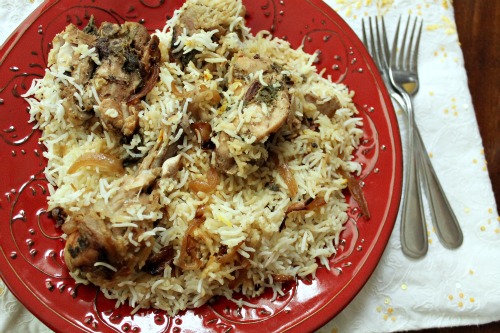 To me Papa's Mutton Biryani has been one of the best foods I ever ate! I remember the aroma wafting through the air, every time Papa was in the kitchen and I patiently waited, since it was a little time consuming. Every bite of that biryani was an explosion of delicate flavors that made it absolutely delectable! My interest in cooking developed just by watching Papa cook. The patience he has, the love for cooking that's so evident when he's in the kitchen has rubbed off on me quite a bit. So this Father's day I bring to you Papa's favorite Biryani using Chicken instead! I've adapted Papa's recipe to make my own healthier version using oil, but I'm sure he will love this one too 🙂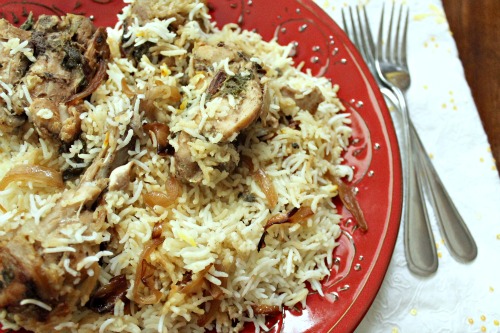 Cooking biryani is an art of perfection. The rice cannot be over or under cooked. If it's over cooked you'll get a sticky consistency and that's not what it should look like and if it's under cooked, you don't want to be eating that either.Every strand of rice should be flaky and separated and that's why its so important to use long grain Basmati rice. Believe me, I've had a few disasters where the rice was under-cooked! But now, I've perfected the art of making Biryani and there's nothing like a good home cooked version where YOU control the ingredients.Once its cooked the chicken is so juicy and tender, it just falls off the bone!Its also way healthier than the one's served in restaurants doused in Ghee and butter.
The delicate mix of herbs and the aromatic spices flavor the dish beautifully and the caramelized onions give their sweetness in every bite! Truly a royal dish~
Ingredients
Mix of Chicken Thighs and Drumsticks-1.5 lbs
Long grain Basmati rice-2 Cups
Onion -2 Large thinly sliced (separated)
Ginger/Garlic paste-1 tbsp + 1 tsp (separated)
Red Chilli Powder-1 tsp
Ground Cumin-1 tsp
Chopped Mint-1 cup
Chopped Coriander-1/2 cup
1 cup lukewarm milk
Saffron-1 tbsp
Oil- 2 tbsp
Salt to taste

Grind together:

Cloves - 6
Cinnamon - 1 inch
Cardamom-3
Instructions
In a bowl marinade the Chicken pieces in 1 tbsp of ginger/garlic paste, ground spices, red chilli, cumin and the herbs with some salt and refrigerate for a few hours or overnight.
Rice:
Soak the rice for about 30 minutes.In a large pot place the rice
and add about 5-6 cups of water along with a teaspoon of ginger garlic paste and a good
amount of salt. Bring it to a good boil until you see the rice roll over in the
boiling water. At this point drain all the liquid from the rice and it must be
¾ cooked.

Onions:

Slice one large onion and sauté it with a little bit of oil on
low to medium heat until its golden and caramelized. Keep aside.

Saffron:

Microwave the milk in a cup and add the Saffron. Mix and keep
aside.

You are now ready to layer the Biryani.

Take a large flat-bottomed pot and add the oil.
Once heated add the raw sliced onions and cook on high heat for about 2 minutes. Add the marinated Chicken and continue to cook on high for about 3-4 minutes stirring regularly.
Arrange half of the cooked rice over the chicken.
Pour half the Saffron infused milk all over and arrange half of the caramelized onions all over. You could also sauté some cashews in oil until golden and add that too
Repeat this step again Rice-milk-onions.
Cover the pot with a tight fitting lid. Add 2 layers of aluminum foil all over making sure there's no gap
from any side.
Seal it and cook on the lowest heat for about 35 minutes.
Switch off the heat and let it sit covered for another 10 minutes
before you open.
Your biryani is now ready! Serve hot with a raita and salad.
Enjoy!
http://www.sonisfood.com/2012/06/healthy-chicken-biryanifathers-day.html
www.sonisfood.com
I'm bringing this dish to our #Sunday Supper-Moments with Dad event! Check out the fabulous menu and recipes below!!This is a Special #SundaySupper you don't want to miss!!!
Father's Day Brunch:
Dad's Favorite Soup, Salads and Bread:
Father's Day Favorite Main Dishes:
Dad's Sweet Tooth:
Wine Pairings for Father's Day 
ENOFYLZ