I love the summer.The glistening sunshine peeking through the windows every morning, just brings a smile on my face :)!The days are so bright and beautiful!And during these hot days the one thing that everyone craves for is a nice cool bite of a frozen treat like an Ice Cream maybe? Incidentally that's the theme for this month's blog-hop!!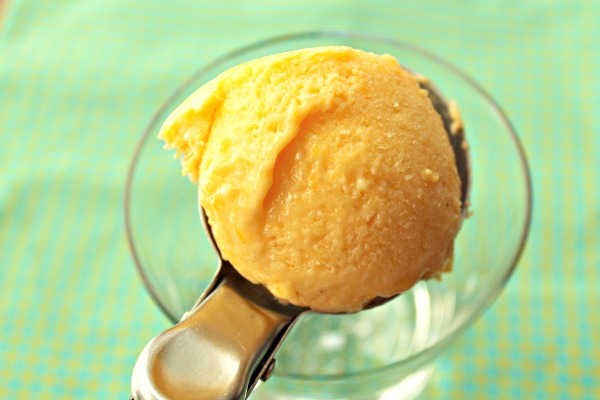 For somebody like me who's never ever made an Ice-Cream or any frozen treat for that matter, this surely was a challenge.So I came up with the most easiest thing to make EVER using just 4 ingredients!!I don't know what planet I was living on until now, that I never ever attempted to make a frozen yoghurt!I'm so glad I'm a part of this fabulous blog-hop because it forces me to venture out of my comfort zone and try things that I would never try otherwise 🙂
By now you  must know that I love mangoes!My two recent posts have included mango in some way and I couldn't stop at that.Since my family cannot get enough of Mango Lassi in the summer months, it was only natural that I went for the Mango Lassi Frozen Yoghurt.I was amazed at the pure mango flavor bursting through in every bite!I've  used full fat yoghurt just to make it creamier.The subtle hint of the cardamom just gives it a perfect spice hit and the honey makes it perfectly sweet!A creamy and delicious treat perfect for these hot summer months~
Mango Lassi Frozen Yoghurt
Ingredients
Large ripe Mangoes-2 (1 cup-pureed)
Thick Full fat Plain Yoghurt-1 cup
Honey-1/3 cup
Cardamom crushed finely-1/2 tsp
Instructions
Peel and chop the mangoes. Place along with all the other ingredients in a blender/hand mixer and blend until its smooth and creamy.Check for sweetness.If you want it more sweeter add more honey and mix again.
Pour the mixture in a container and freeze for about 4-5 hours.If its too hard,just microwave for 30 seconds and enjoy!
http://www.sonisfood.com/2012/06/mango-lassi-frozen-yoghurt-ice-cream.html
www.sonisfood.com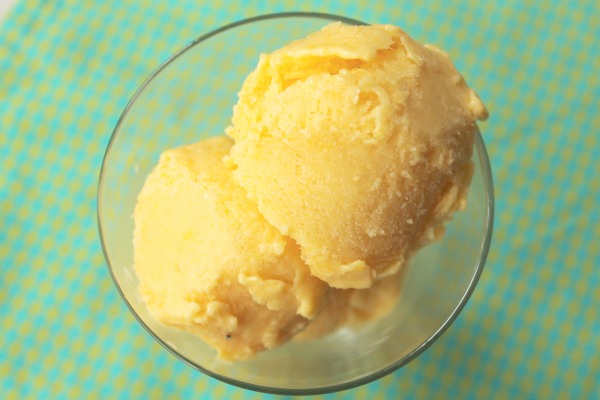 I'm co-hosting this bloghop with these fabulous friends!Please visit their pages to see other delectable Ice Creams!Don't forget to link back your Ice-Cream recipes from the month of June!
Astig Vegan
Baker Street
Baking and Cooking, a Tale of Two Loves
BigFatBaker
Bon à croquer
Cake balls, cookies and more
Cheap Ethnic Eatz
Georgiescakes
Hobby And More
Mis Pensamientos
No One Likes Crumbley Cookies
Pippi's in the Kitchen Again
Queen's Notebook
Rico sin Azúcar
Simply Reem
Soni's Food for Thought
That Skinny Chick Can Bake!!!
The Spicy RD
Vegetarian Mamma
You Made That?