Summer months are my favorite since I get to enjoy my favorite fruit, Mango!Yes, I love mangoes and cannot have enough of them all summer long.I use them in my smoothies,salads,salsa,pies and of course the dessert I have for you today.It's simple with pure flavors just the way I like my desserts in the summer.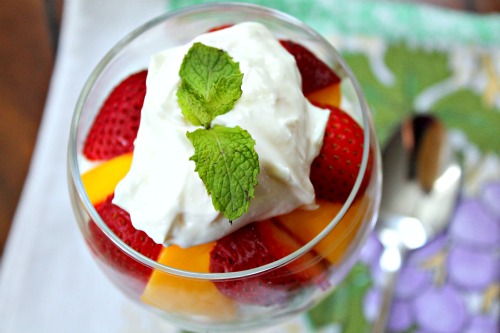 Its just my take on the good old Fruit Cream that I've enjoyed since childhood when Mom used heavy cream every time.Although it tasted delicious, I cannot imagine eating it for my dessert today due to the high fat content and the calories in there.But,I've made a healthier version of this family classic using mascarpone and greek yoghurt and it tastes delicious.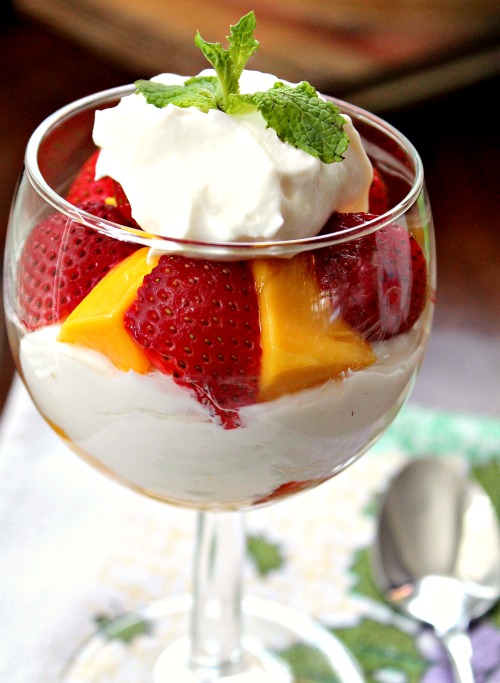 It can be whipped-up in no time and you can use any fruit on hand.Its an easy chilled dessert that can be made ahead especially when you're entertaining and also looks super cute.Garnish with a little mint for the finishing touch.Who says healthy cannot be delicious!Enjoy.
Mango and Strawberry Cream
Ingredients
Strawberries-1/2 cup hulled
Ripe Mangoes-1/2 cup peeled and chopped
Mascarpone Cheese-2/3 cup
Greek Yoghurt-1/2 cup
Honey-2-3 tbsp
Vanilla Extract-1 tsp
Instructions
Mix the mascarpone, greek yoghurt,honey and vanilla with an electric mixer until smooth and creamy.
Arrange the fruits and cream in any order that you prefer,into a serving dish.
Garnish with a little mint.
Serve chilled.
http://www.sonisfood.com/2012/08/mangoes-and-strawberry-creamhealthy-and.html
www.sonisfood.com