In the summer months a nice cool dessert after any meal is all we crave for.But if you've had a calorie loaded dessert you're bound to feel guilty after consuming it.What if, I gave you a dessert that not only makes you feel good after eating, but is also incredibly delicious and requires no cooking/baking!Thankyou 🙂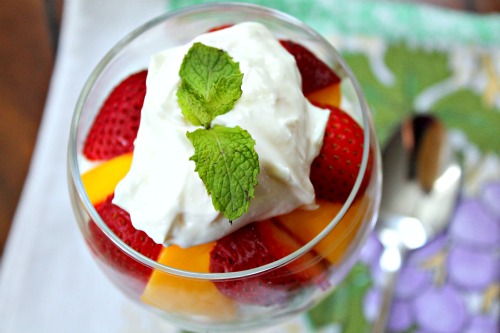 Its just my take on the good old Fruit Cream that I've had since childhood when Mom used heavy cream every time.Although it tasted delicious, I cannot imagine eating it for my dessert today due to the high fat content and the calories in there.But,I've made a healthier version of this family classic using
Mascarpone
and
Greek Yoghurt
!!Wait till you try it,you're going to love it 🙂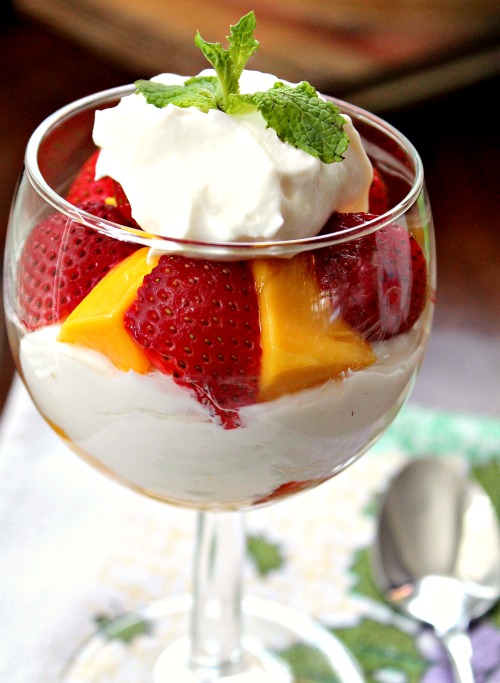 It can be whipped-up in no time and you can use any fruit on hand.I've used strawberry and mangoes here since they're in season.Who says healthy cannot be delicious!
Mango and Strawberry Cream
Ingredients
Strawberries-1/2 cup sliced
Ripe Mangoes-1/2 cup peeled and chopped
Mascarpone Cheese-2/3 cup
Greek Yoghurt (I used low fat)-1/2 cup
Honey-2-3 tbsp
Vanilla Extract-1 tsp
Instructions
Mix the mascarpone, greek yoghurt,honey and vanilla with an electric mixer until smooth and creamy.
Arrange the fruits and cream in any way you want in a serving dish.
www.sonisfood.com