You look to create complex dishes all the time, but sometimes its the simplest of things that surprise you!Simple pleasures that require no extra effort and yet bring you this immense joy.Joy in the form of a chocolatey delight that only takes 5 ingredients to make!Its soft, moist, chewy and decadent!This week our #SundaySupper group is contributing recipes featuring Dishes with 5 Ingredients or Less hosted by the lovely Amber Poole!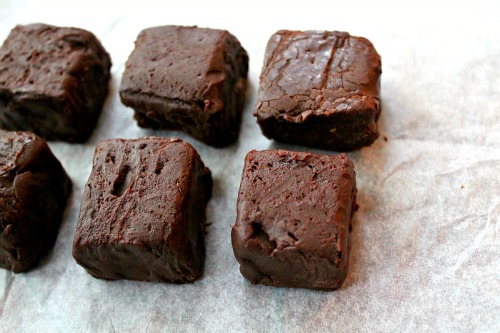 For somebody who's not much of a baker, this is my ideal kind of dessert, since it requires no baking and tastes delicious!This fudge is the easiest treat you could ask for with no effort and it comes out perfect every single time.Its a perfect treat for those night time cravings that creep-up after you had your dinner and the kids are tucked in bed!A perfect little bite of soft indulgence that melts in your mouth.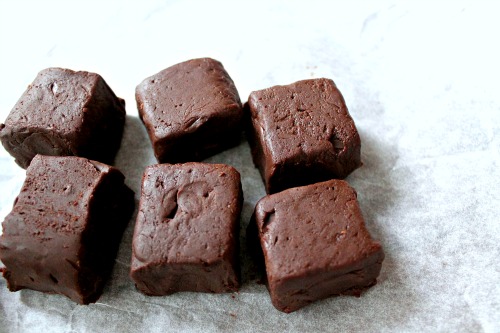 Once the mixture is in the baking pan, you should leave it for at least 2 hours, but my kids were not patient enough and forced me to take it out earlier.As a result they don't look perfect, but believe me if you leave it for the stipulated time, it will set properly and come out better looking 🙂 The chilli in this fudge gives just the right amount of heat in the background without disturbing the balance of flavors.Easy, rich, foolproof chocolatey treat for your sweet cravings~
Easy Chocolate Chilli Fudge
Ingredients
Semi Sweet Chocolate chips-12 oz packet
Sweetened Condensed Milk-14 oz can
Chilli Powder-1 tsp
Vanilla Extract-1 tsp
Butter-2 tbsp
Instructions
Line an 8 inch baking pan with parchment paper.In a saucepan on low heat mix all the ingredients and cook until well combined and smooth.
Pour into the prepared baking pan. Refrigerate for about 2 hours or until firm.Turn it upside down on a plate and peel off the parchment paper. Cut into squares and enjoy!
http://www.sonisfood.com/2012/09/easy-chocolate-chilli-fudge5.html
www.sonisfood.com
Here's a sneak peak at what everyone is bringing to our #SundaySupper table. Be sure to stay after dinner at 7pm EST as we share our recipes during our
#SundaySupper live chat
!
Breakfast, Starters, Butters and Jams: