Squash (any variety) is one of the few vegetables I strongly disliked growing up.But its funny how your tastes develop over the years!Many of the foods I didn't like earlier are now my favorites and I keep finding new ways to cook them :)Although, this preparation is not new.Its the way my mom makes it and you can use any squash instead of Butternut!Since squash is inherently sweet this dish has a sweet taste but the Five Spice used here just balances the sweetness perfectly.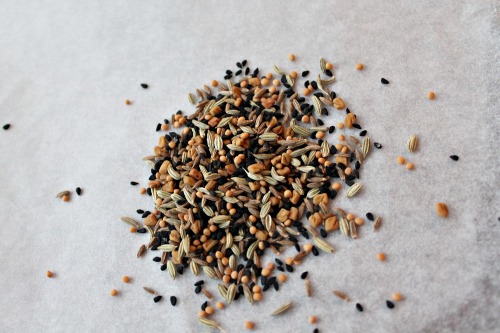 I've used the Bengali Five Spice also called Panch Phoran that consists of equal amounts of the following seeds,Cumin,Fennel,Mustard, Fenugreek and Nigella!You can make the combination at home or buy it from your Indian Grocer!Its an aromatic mix of spices that flavor almost any vegetable and all you need is a teaspoon or two.Little bit goes a long way and its used a lot in Bengali kitchens in a lot of preparations!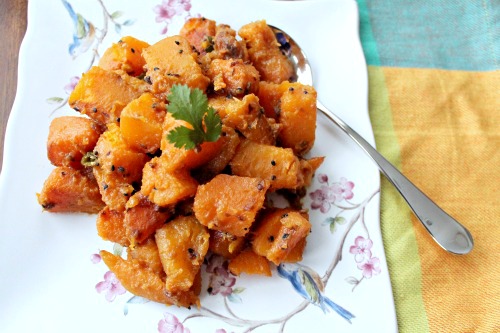 An easy and flavorful dish ideal for weeknights for an Indian Inspired dinner that's also vegan and healthy!You will be amazed at how good this is!
Easy Butternut Squash with Bengali Five Spice (Panch Phoran)
Butternut Squash stir fried using Bengali Five Spice (Panch Phoran) for an amazing and easy side dish!
Ingredients
Buttersquash peeled and cubed-2 cups
Panch Phoran(Bengali Five Spice)-2 tsp
Jalapeños (green chilli)-1 chopped
Oil-2 tbsp
Salt- to taste
Instructions
Heat oil in a skillet.
Once heated add the Panch Phoran followed by jalapeños until it splutters.Immediately add the squash and salt.
Lower the heat, cover and cook, stirring in between until done (about 10-12 minutes).
Serve with Rice or Roti.
http://www.sonisfood.com/2012/11/easy-butternut-squash-with-bengali-five-spice-panch-phoran.html
www.sonisfood.com