There's something magical about warm comforting desserts that makes them so special especially in these cooler days and nights.The way they stick to the back of your spoon, the thick, creamy , velvety texture that's just so inviting.That's the kind of dessert I crave for during this season.My Slow Cooker dessert embraces the flavor of the season 'Pumpkins' into a creamy pudding that's easy, delicious and aromatic!It just gets you in the spirit of the Holidays and its a perfect dessert to feed a crowd.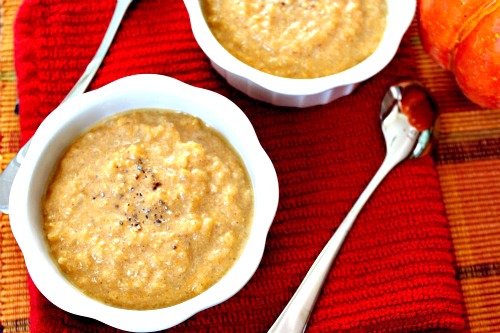 Just put everything into your slow cooker and let the magic begin!It all comes together beautifully and at the end you have one creamy, Pumpkin Rice Pudding.I've used Basmati rice here, but you could use Arborio or any other rice you prefer.Adding Pumpkin was a great idea since its gives a lovely flavor and a beautiful color to the pudding.Its a different variation of the Indian Rice Pudding/Kheer and the use of Cardamom is what distinguishes this from other Pumpkin desserts out there.Cardamom is very common in Indian desserts and imparts a unique fragrance with its spicy-sweet taste!I've used crushed Green Cardamom pods and add it at the end of the cooking process.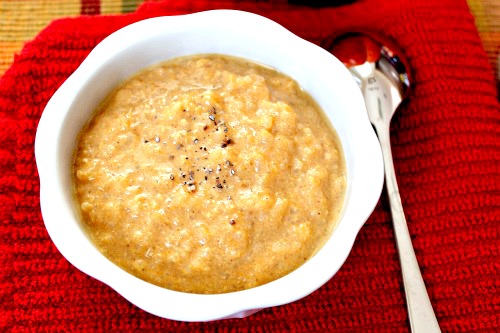 You can also add some nuts or raisins to the the mixture.I've kept it simple here.Also keep in mind that the longer you cook it, the thicker it gets and if you find it too thick you can add some whole milk and mix at the end.Top it with some whipped cream/topping for that pretty look!
Slow Cooker Pumpkin Rice Pudding/Kheer
A delicious Indian Inspired Slow Cooker Pumpkin Rice Pudding with Cardamom!
Ingredients
Basmati Rice (or any other)-1 cup uncooked
Whole Milk-3 1/2 cup
Canned Pumpkin Puree-1 1/2 cup
Sugar-3/4 cup sugar
Butter/Ghee-1 tbsp
Crushed Green Cardamom Pods-1 tbsp
Instructions
Spread the butter/ghee all over the bottom of your slow cooker.
Add all the ingredients except cardamom.
Mix well and cook on high for about 15 minutes and then on low heat for about 4-5 hours.
Add the cardamom at the end.Mix well and serve warm!
http://www.sonisfood.com/2012/11/slow-cooker-pumpkin-rice-puddingkheer.html
www.sonisfood.com