The party season is on full swing and everyone wants easy recipes that can feed a crowd.My recipe today is probably one of the easiest and my most favorite of all time.Hummus!Its great for entertaining,its packed with nutrition, it's easy to make and it tastes delicious.Hummus is a dip or a spread,made using cooked mashed Garbanzo Beans (Chickpeas) served alongside some toasted Pita or chips.It finds its origin in the Middle East and has now become an extremely popular appetizer in parties all across the globe.I love serving my Hummus with some Corn Tortilla Chips!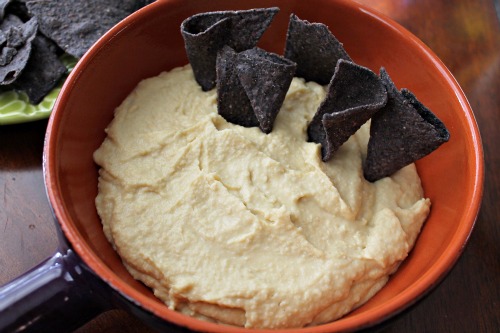 Apart from its delicious taste, Hummus is also very nutritious.Its high in Iron and Vitamin C,and a great source of protein for Vegans and Vegetarians.You can cook the Garbanzo Beans (Chickpeas) at home (the process begins by soaking the raw garbanzo beans overnight followed by pressure cooking them the next morning).In case you've forgotten to soak your Garbanzo Beans (like I invariably do :)), place about 2 cups of raw Garbanzo Beans in your slow cooker.Add 4-5 cups of water.Let it cook for 5-6 hours and you have your Cooked Garbanzos ready to be used!I've cooked mine from scratch in this instance and you cannot beat the fresh flavors!Or you can skip the above process and use a Can of Cooked Garbanzo Beans instead.
An easy dip or spread using Cooked Garbanzo Beans (Chickpeas)!
Ingredients
Cooked Garbanzo Beans (Chickpeas )-2 cups
Reserved cooking liquid-1/4 cup
Tahini (Sesame Paste)-1 1/2 tablespoon
Garlic-2-3 cloves
Lemon Juice-3 tablespoon
Olive Oil-2 tablespoon
Salt-to taste
Instructions
Place all the ingredients in your food processor or blender and blend until smooth and mixed thoroughly.
Add a little cooking liquid if its too thick.
Check the seasonings.
Serve chilled or at room temperature with some toasted pita or any other chips or veggies of your choice.
http://www.sonisfood.com/2012/12/easy-home-made-hummus.html
www.sonisfood.com
As with any home made stuff, its way healthier than store-bought ones, since You control the amount of sodium. I have to warn you though that its highly addictive and you just cannot stop eating once you've started 🙂