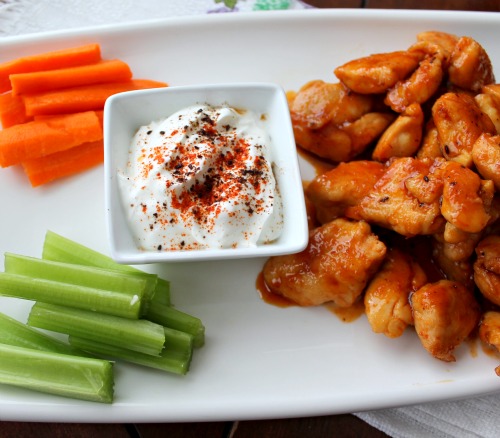 With Superbowl in sight, our Cooked in Translation team has chosen the perfect dish to try out this time!The theme of Cooked in Translation is to create your own adaptation of a recipe and that's what makes this so exciting!!The recipe for today is CHICKEN WINGS chosen by our host Azlin Bloor of LinsFood!I've used Chicken Tenders or Goujons here because the hubby doesn't like Chicken Wings with bones.I'm sure there are many people out there who prefer boneless wings like my husband does and why not, its more meaty and tastes absolutely delicious.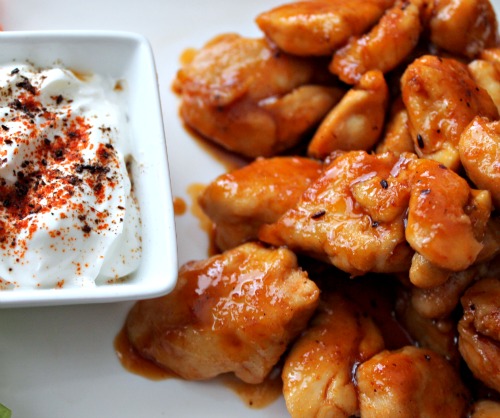 These make for the perfect little bites to enjoy while watching your favorite game and they couldn't be easier, since they're made in a skillet!The sauce is a sweet and spicy combination of honey and Sriracha with some toasted Cumin that gives it so much flavor and the lovely color.Talking about Sriracha, I have to admit I'm addicted to it and add it to everything I cook these days!But wait till you try this recipe, it all comes together on the stovetop and I serve these with a simple Greek Yoghurt Dip spiked with cayenne and cumin!Its hot, its sweet,its just perfect for any game night!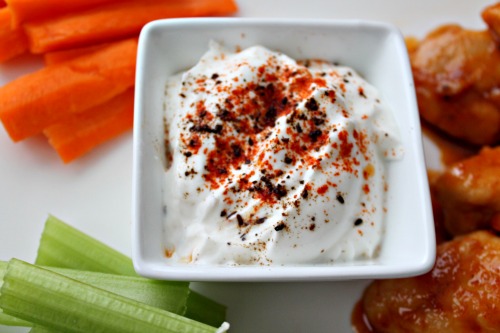 Honey Cumin Boneless Chicken Wings with Greek Yoghurt Dip
Ingredients
Chicken Tenders/Goujons-1 lb (apprx 8 pcs) cubed
Garlic Powder-1 tsp
Salt- 1 tsp
Pepper-1 tsp
Extra Virgin Olive Oil-2 tbsp

For the Sauce

Honey-1/4 cup
Sriracha-1/8 cup
Toasted Cumin-1 tbsp
Unsalted Butter-2 tsp

Greek Yoghurt Dip

Greek Yoghurt-1 cup
Cayenne-1/2 tsp
Toasted Cumin Powder-1 tsp
Salt-1/2 tsp
Instructions
Cut the Chicken into cubes or small pieces.
In a skillet, heat the oilve oil and add the chicken pieces with the garlic powder, salt and pepper.Saute unitl cooked through.

Sauce

Dry roast some about 2 tbsp of cumin seeds in a pan.Once it changes color and is all crispy transfer into a pestle and mortar or spice grinder and powder it.
In a saucepan mix all the sauce ingredients and gently bring to a boil and reduce on low heat.Once the sauce starts to thicken add the cooked chicken wings and mix it all together.
Arrange on a platter.Pour the remaining sauce all over.

Greek Yoghurt Dip

Mix 1/2 cup of Greek Yoghurt along with a some salt, 1/2 tsp of cayenne and 1/2 tsp of the toasted cumin powder.Serve alongside the chicken wings with some sliced carrots and celery!
http://www.sonisfood.com/2013/01/honey-cumin-boneless-chicken-wings.html
www.sonisfood.com
See all other yummy interpretations that my friends have come up with!!You can also add your own version of Chicken Wings!