Quinoa is one of my most favorite grains to cook with these days.I love the fact that it can be cooked on its own or combined with other products to create a variety of dishes!My recipe today is an Appetizer/Snack or even Breakfast combining Quinoa and Potatoes.If you're familiar with Indian Foods you must have heard of Aloo Tikkis that are these yummy potato cakes made with Indian Spices!If you've been to Delhi,you must have come across lots of street stalls selling Aloo Tikkis,Chaats,Chole, Pani Puri to name a few, cooked right in front of your eyes!The Street foods in India are to die for and just writing about them makes my mouth water 🙂 In an attempt to quench my insatiable appetite for Delhi Street Foods, I came up with this recipe that's both healthy and delicious!!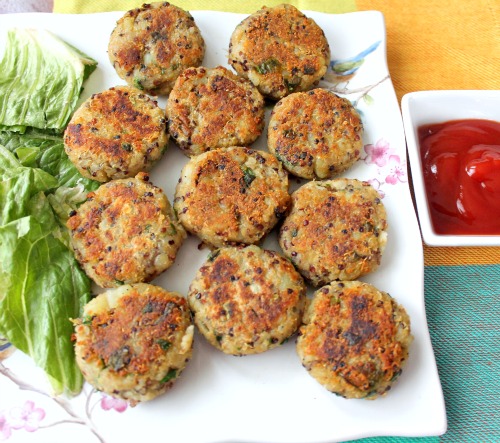 The process involves boiling the potatoes and cooking the Quinoa.Once they're cooked I mix them with some Indian Spices readily available at your grocery stores and pan fry the ready patties with a little oil until they're all nice and golden!If you're looking for a great Quinoa recipe that's a tad different from the usual but packed with flavor, then this is for you.It tastes just like a Aloo Tikki, but is healthier and has a nice texture!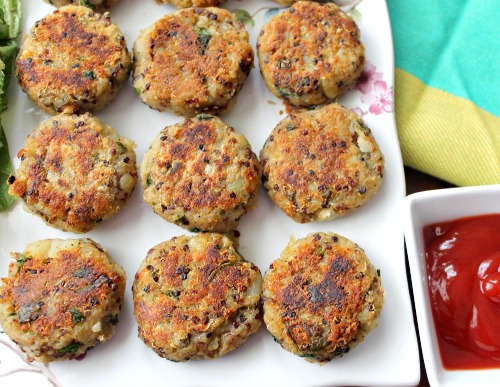 Quinoa Potato Cakes (Quinoa Aloo Tikkis)
Healthy and Delicious Quinoa Potato Cakes/Tikkis for a great Appetizer, snack or breakfast!
Ingredients
Quinoa (Cooked)-1 cup
Potatoes large-2 (boiled)
Fresh Crushed Ginger-1/2 inch
Ground Cumin-1 1/2 tsp
Garam Masala-1 tsp
Fresh Coriander-1/2 cup
Jalapeños (green chillies)-2 chopped
Salt- to taste
Oil-to pan fry
Instructions
Cook the Quinoa according to the instructions.
Boil the potatoes until tender.Drain and allow to cool and mash.
In a deep bottomed vessel, add the Quinoa, mashed potatoes,ginger, cumin, garam masala,japalenos,coriander and salt.Check the seasonings.
Made round patties with the mixture.
In a skillet heat about 2 tbsp of oil on medium heat and place the patties.Let it develop a golden color on one side before flipping over and repeat the process for the other side as well.
Arrange on a platter with some salad of your choice and some sauce or chutney!
http://www.sonisfood.com/2013/01/quinoa-potato-cakes-quinoa-aloo-tikkis.html
www.sonisfood.com