We absolutely love Thai food and anytime I feel like having a quick Thai Curry I get the Thai Kitchen Red or Green Curry Paste.All you need then is some Coconut Milk and you're good to go!Thai Green Curry paste is readily available everywhere and gives you an easy option for a delicious meal and also some variety!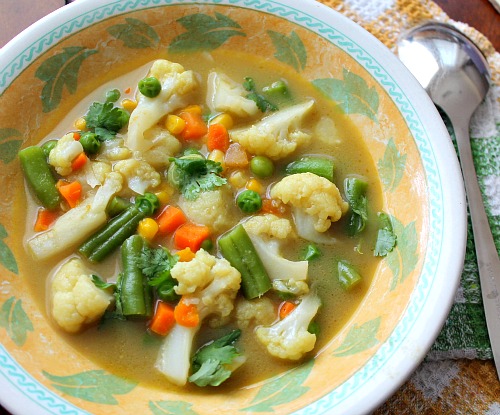 I've served mine with some Brown rice here to add some protein and fiber . I also like to add a little Cumin and Coriander just to add more flavor.You can omit them if you want.You can also use full fat Coconut milk for this preparation.I've used Light Coconut Milk since that's what I had on hand.A flavorful and easy meal that takes no time and is loaded with veggies.You can choose any vegetables of your choice.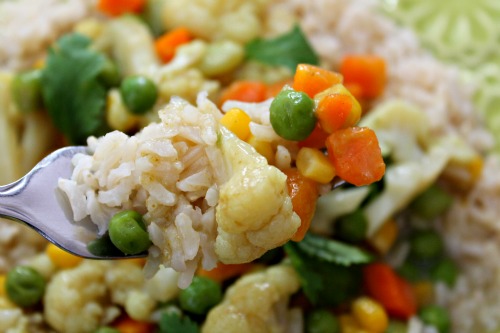 Thai Green Curry with Vegetables
Ingredients
Frozen Mixed Vegetables-2 cups
Cauliflower florets-1 cup
Thai Green Curry Paste-3 tbsp
Light Coconut Milk-1 14oz can
Ground Cumin-1/2 tsp
Ground Coriander-1/2 tsp
Salt-to taste
Oil-2 tbsp
Instructions
In a pot heat oil.Add the Green Curry paste along with cumin and coriander.
Sauté on low heat gently for about 2 minutes until fragrant.
Add the veggies and coconut milk.
Check seasonings and let it cook on medium until veggies are cooked. (7-10 mins)
Serve hot with Brown Rice.
http://www.sonisfood.com/2013/02/thai-green-curry-with-vegetables.html
www.sonisfood.com
Sending this recipe to