The sweet aroma of vegetables roasting in the oven just makes me hungry!The soft and tender insides, the crispy outsides,the caramelized flavors,the golden color is unbeatable and can easily convert the vegetable haters into vegetable lovers!They make for easy side dishes,warm salads or tasty sandwich fillings!The dish I have for you today is my take on a Bengali Classic Baingan (Eggplant) Bhaja. Mom made this often with Khichdi along with fried fish and pickles.Traditionally its made in a frying pan in India, but I've roasted it in the oven and it tastes absolutely delicious!!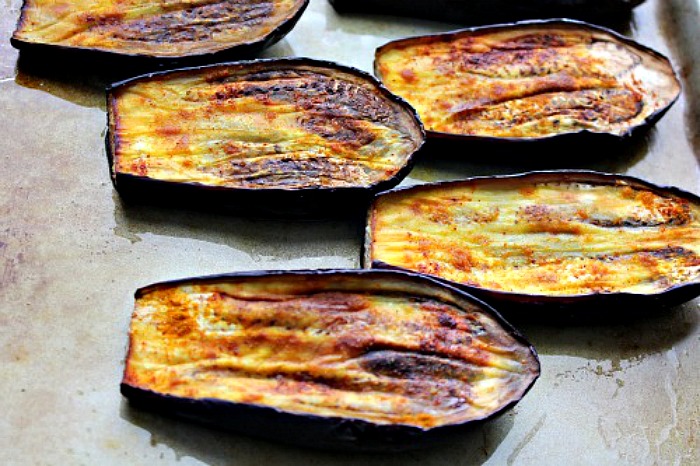 Growing up I was never fond of Eggplants and this was the only preparation that I enjoyed.And even after so many years its one of the few eggplant dishes that I still like.Its super easy and just involves adding turmeric,salt and red chili on the sliced eggplant and then roasting it in a preheated oven until all golden.You can serve this alongside some lentils and rice for an easy meal.I also ate some for my lunch with lettuce!So Yum!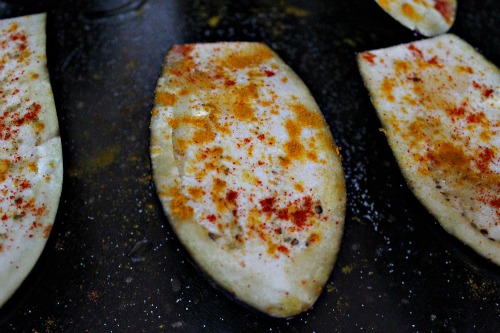 I've used the smaller version of the regular eggplant and sliced it through the middle.Its perfectly sized to fit in-between your bread slices if you're panning to make a sandwich!You can also use your outdoor grill and serve this for an Indian themed Barbecue along with my Chicken Burgers!Easy, delicious and a great way to use up your eggplant this is one recipe that will not disappoint!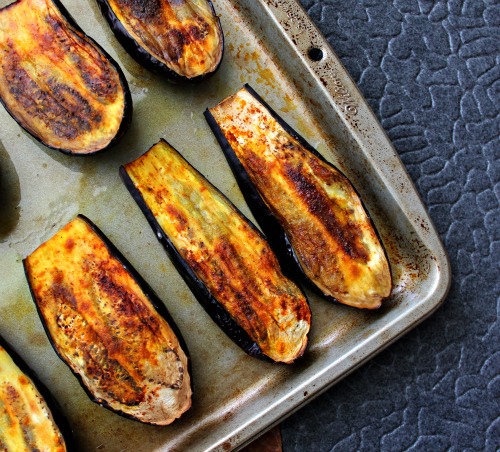 Indian Spiced Roasted Eggplant
Ingredients
Medium Eggplants-4
Turmeric-2 tsp
Red Chili/cayenne-1 tsp
Salt-to taste
Oil-2-3 tbsp
Instructions
Preheat the oven to 440 degrees.
Slice your Eggplants through the middle.
Mix Turmeric,salt and red chili in a bowl.
Sprinkle the mixture on to your eggplants generously.
Grease a baking sheet and place the Eggplants skin size down.
Drizzle about 2 tbsp of oil all over and bake in the oven until all golden for about 20-25 mins.Keep an eye making sure to not burn!
Serve warm!
http://www.sonisfood.com/2013/04/indian-spiced-roasted-eggplant.html
www.sonisfood.com