Today I've got for you a dish that's extremely popular all across the globe.A North Indian delicacy,its hard not to love the rich, thick creamy spinach with succulent almost melting Paneer chunks ready to be scooped with an Indian Flatbread!The fresh vibrant color just brightens up any plate and can make anybody hungry!Its a weekly staple in our house since my kids adore this dish so much!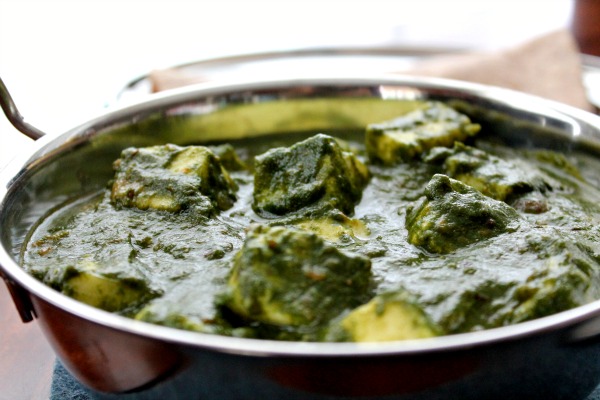 The flavors in Saag Paneer are mild compared to other curries and its a great way to get some Iron and Protein into your diet.You can use fresh or frozen spinach for this dish.I typically pick up fresh Baby Spinach from the salad section in grocery stores that's pre-washed.Saves time and effort!
The process starts with boiling the Spinach in hot water to just wilt it and then puree it.Once you have the pureed mixture you prepare the sauce that consists of onions, tomato puree and some spices.The pureed spinach and the Paneer is then added into the sauce and simmered.You can use some sour creme or heavy cream to finish off the dish if you like.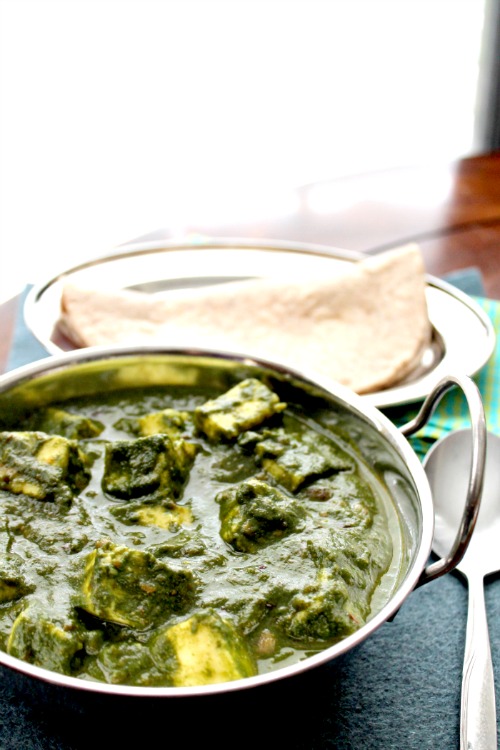 You don't have to visit an Indian Restaurant to enjoy 'Saag Paneer'.Enjoy it in the comfort of your own home 🙂 Delicious flavors and gorgeous color this is one amazing dish from the land of the exotic!
Ingredients
Fresh Spinach-2 Packets (6oz each)
Paneer- 250 gms
Cumin Seeds-1 tsp
2 medium Onions-chopped fine
Crushed Ginger- 2 tsp
Crushed Garlic-2 tsp
Tomato - 2
Ground Coriander-2 tsp
Ground Cumin- 1 tsp
Garam Masala-1/2 tsp
Red chili powder-1/2 tsp
Sour creme or heavy cream-1 tbsp
Oil-3 tbsp
Salt- to taste
Instructions
Boil the spinach for two minutes in a cup of water.Once its cool, puree until all smooth.
Puree the tomatoes.
Cube the paneer and keep aside.
Heat oil in a deep skillet and add the cumin seeds.
Once it splutters add onions and saute until slightly golden.
Add ginger and garlic and saute until raw smell disappears.
Add the tomato puree and spices,salt and cook on medium heat for about 5-6 minutes.
Add the pureed spinach and paneer and let it simmer on medium heat until paneer is soft.Add a little water if its too thick.
Add the sour creme or heavy cream.Turn off the heat.
Serve hot with Roti or Naan!
http://www.sonisfood.com/2013/05/easy-saag-paneer.html
www.sonisfood.com