I'm having a great time with my family in India as my holiday continues for a few more days.India is a land of vibrant colors,deafening sounds,beautiful sights and some of the most amazing foods you will ever eat in your lifetime!While I indulge in the most amazing Galouti Kebabs and Shami Kebabs with my family here in India,I've got for you an amazing Cosmopolitan that my brother made for me from his repertoire of cocktails that he loves to serve.The perfect women's drink,and a beautiful color it felt like the best thing to enjoy on hot and humid days like these!
The use of the Cointreau gives that subtle orange flavor and the lime juice adds the perfect tang resulting in a delicious drink that's not too sweet or tart and has a lovely bright pink color.Its the perfect drink for a crowd and super easy.Enjoy 🙂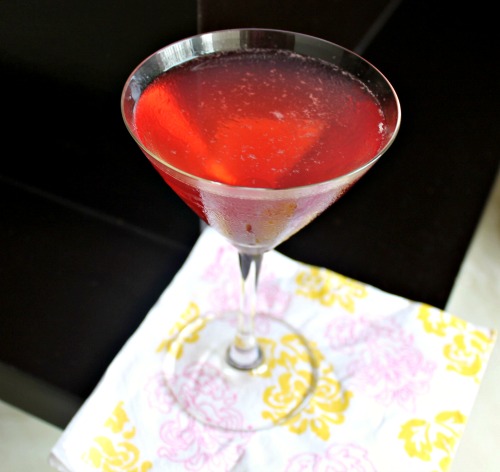 Ingredients
For 1 Serving

Vodka-1 oz
Cointreau Orange Liqueur-1 oz
Squeeze of fresh lime juice
Cranberry juice-1 oz
Ice
Instructions
Place all ingredients in a shaker and fill with ice.Shake hard.
Strain into a Martini Glass.
http://www.sonisfood.com/2013/07/cosmopolitan.html
www.sonisfood.com