Sold in every nook and corner of any street in Northern India,Samosas are the quintessential Indian street food!They're enjoyed by a multitude of people each day every day.If you're out on the streets in Delhi, you will always see vendors selling piping hot crispy samosas served with Tamarind Chutney to the people gathered around the stall eager to get a taste of it.The flaky crisp outer layer that leads into the delicious soft potatoes and peas spiced to perfection with some heat, some tang is one of the most well known foods from India.And its devoured by so many across the globe.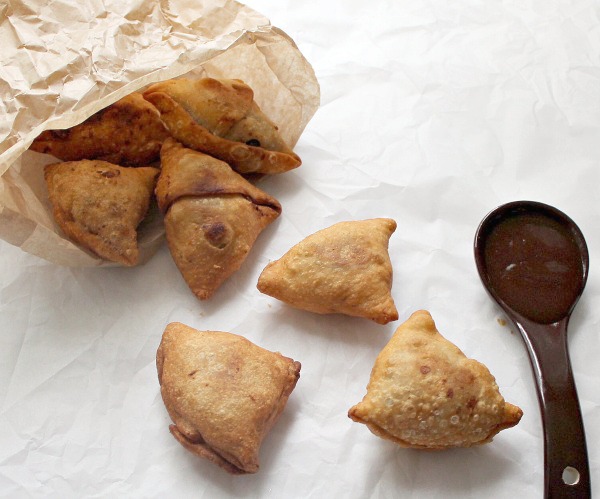 If you're in India you never really make Samosas at home since they're easily available everywhere.When you have unexpected guests Samosas are the quick fix snack since there will always be some vendor at the end of your street frying Samosas!When I first arrived in the UK we found this little Indian sweet shop that sold Samosas, but they were nowhere close to what I was accustomed to.But,I still bought them since I was craving them so badly.But that's always the story,somehow I've never had good samosas outside India.When our Sunday Supper group came up with the idea of Global Street Food I knew I had to make Samosas,but the problem was I'd never made them before!I called my most trusted Vegetarian Chef, my Mom for some tips and tried making these for the first time ever!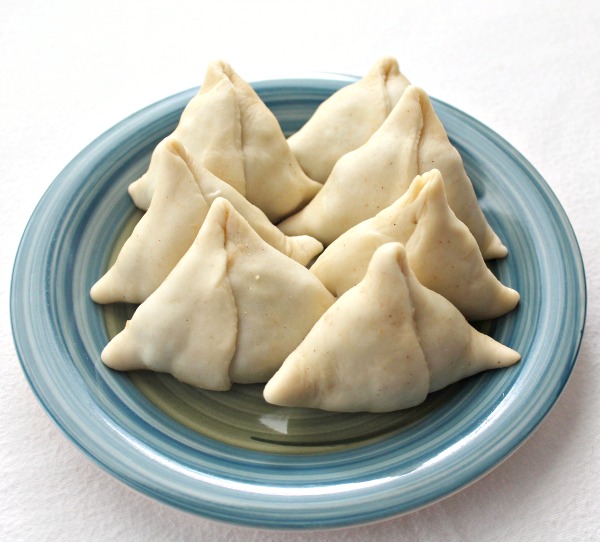 Mom also asked me to fry these in warm oil as opposed to hot oil, since they tend to become soggy otherwise.For the filling you can go with  either a vegetarian or meat option.The ones commonly sold on the streets are the Vegetarian version with potatoes and peas.The filling is delicious with all the spices and the chillies that add a slight heat in the background. I've also used Dried Mango powder (Amchur) along with Black Salt (Kala Namak) that is easily available at your Indian Grocer!The samosas came out perfectly crispy on the outside and the filling was spot-on!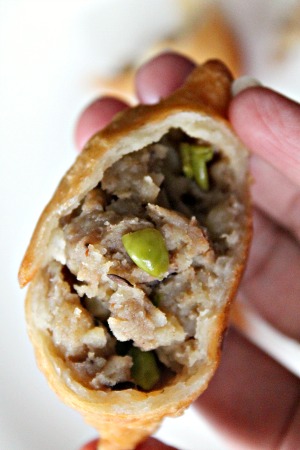 They're a little time consuming but the end result is worth the effort!These are best enjoyed right after they are fried to bite into that crisp pastry.You could also cheat by opting for Phyllo sheets if you wish to make the process easier and bake them instead of deep frying,but I went with the traditional method just the way they're sold on the streets in India!
Samosas #GlobalStreetFood
Ingredients
All Purpose Flour (maida)- 1 cup
Oil-2 tbsp
Salt-1/2 tsp
Water-1/4 cup plus a little more
Salt-to taste

For the Filling

Potatoes-3 large
Frozen peas-1/2 cup
Cumin Seeds-1 tsp
Green Chili or Jalapeno-2 seeded and chopped
Ginger-1/2 inch crushed or grated
Ground Coriander-1 tsp
Garam Masala-1/2 tsp
Dried Mango Powder (Amchur)-1 tsp
Black Salt-1/2 tsp
Oil-2 tbsp
Salt- to taste
Instructions
In a mixing bowl take the flour.Add the salt and oil.
Mix with your hand and start adding water little by little until and knead until it forms a soft pliable dough.The dough should be firm when you poke your finger.
Boil potatoes and mash it.
In a skillet heat oil and add cumin seeds.
Once it splutters add the green chili and ginger and saute for a minute.
Add the spices.Mix well and add the potatoes.
Mix and allow to cool.

To make samosas

Divide the dough into ten equal balls.
Take one ball at a time and roll out a 5" circle.
Cut through the middle so you have two semi circles.
Moisten your hands with a little water take one semi circle and form a cone shape.Seal the edge on the side and fill one tbsp of the filling into it.
Seal the outer edges.
Deep fry in warm oil until golden and crispy.
Enjoy with your favorite chutney!
http://www.sonisfood.com/2013/08/samosas-globalstreetfood-sundaysupper.html
www.sonisfood.com
This exciting event is co-hosted by the lovely Heather from Girl Chef and Bea from The Not So Cheesy Kitchen and we have some tantalizing Global Street Foods for you to enjoy!
Bread on the Boulevard
Hand-Held Savory Eats
To-Go Containers
Sweets on the Streets
Grab a Thermos 
Be sure to join us for the Global Street Food #SundaySupper chat at 7 PM EST this Sunday evening. The party starts at 7 pm EST; come join us by following the #SundaySupper hashtag or through 
TweetChat
.
Throughout the day on Sunday we will tweet our favorite recipes by using #SundaySupper hashtag. We are excited for you to join the fun. Be sure to also check out the  
#SundaySupper Pinterest Board
 for more recipes and ideas.