The thought of making dinner after a busy day can be quite daunting for anybody.Especially when you're trying to feed a family and looking for something fast and easy to cook.I'm constantly looking for shortcuts that help me on a busy day without compromising flavors and variety since we love to have different foods and flavors in our house.Not only in the good times but also in times when food is the last thing on your mind like it has been for me this past month,I love the ease and convenience of Campbell's Dinner Sauces that proved to be a life saver.
Apart from being so convenient they are also tasty and flavorful.All that is required is the addition of your favorite meats or veggies and you have one ready meal to go over a steaming hot bed of rice, noodles or pasta.The possibilities are endless and you have one less to worry about at the end of your busy day.For my family I tried a combination of different sauces for making different dishes using Chicken and Tofu and dinner time was a success.You could use anything that works for your family.Select from a range of Skillet Sauces or Slow Cooker Sauces.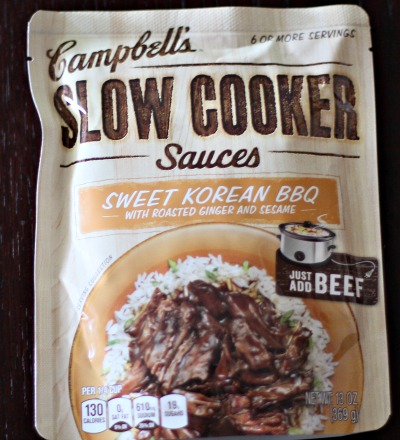 Let me start with the Sweet Korean Barbecue with Roasted Ginger and Sesame that has this sweet, savory barbecue flavors going on and since its cooked in the slow cooker it looks as though you've slogged all day to make a tasty dish,but really all you did was dumped your meat and the sauce into the slow cooker and forgot about it!I made this recipe using Boneless Chicken Thighs but you could use Roast Beef instead.The Chicken was tender and moist and tasted delicious!I shredded the chicken once they were cool enough to handle and made Korean Chicken Tacos for our dinner.I also topped them up with some store bought Kimchi to add some spice and heat!Delicious!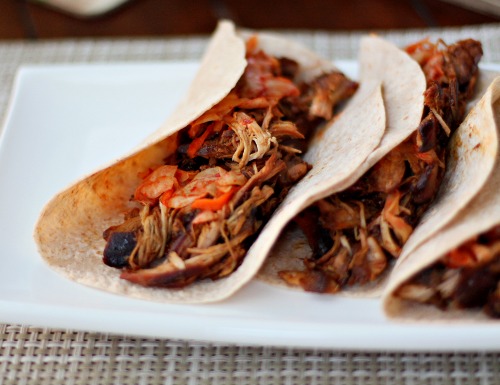 Slow Cooker Korean Chicken Tacos #CampbellSauces
Ingredients
Campbells Sweet Korean Barbecue Sauce with Roasted Ginger and Sesame-13 oz pack
Boneless Skinless Chicken Thighs-8-10 pcs
Whole Wheat Tortillas-6-8
Kimchi- 3/4 cup
Instructions
In a slow cooker,place the Chicken Pcs and pour the sauce all over.
Cook for 7-8 hours on low until Chicken is tender.Once cool to touch shred the chicken.

To Serve

Warm the Tortillas in a pan.
Place the Shredded Chicken and top with a tbsp of Kimchi.
Enjoy!
http://www.sonisfood.com/2013/10/easy-and-fast-dinners-with-campbells-dinner-sauces-campbellsauces.html
www.sonisfood.com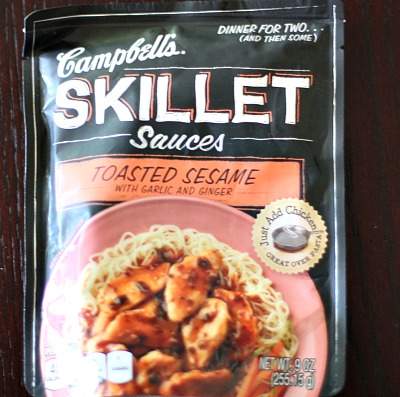 The next sauce I tried was one of their Skillet Sauces, Toasted Sesame with Garlic and Ginger that's meant to be a dinner for two but fed our family of four!I used Tofu this time along with some Shiitake Mushrooms and it was absolutely delicious and nutritious at the same time!You can taste ginger and garlic and the fact that I added some onions and extra garlic gave this dish tons of flavor.The Shiitake mushrooms elevated the taste and texture of this dish and I served it on a bed of rice for our dinner.A winner indeed.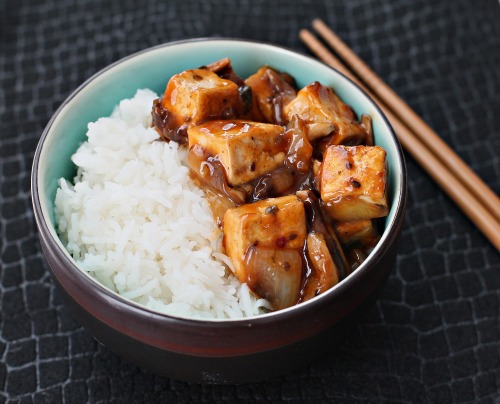 Stir fried Tofu and Shiitake Mushrooms #CampbellSauces
Ingredients
Campbell's Toasted Sesame with Garlic and Ginger Sauce- 9oz pck
Extra Firm Tofu-15 oz pck
Shiitake Mushrooms-2 cups
Onions-1 medium chopped
Garlic-2 cloves sliced thinly
Oil-3 tbsp
Instructions
Squeeze excess water from the Tofu and cube into about 2 inch cubes.
In a pan heat 2 tbsp of oil and add the cubed Tofu in a single layer.Brown on both sides.Keep aside.
Into the same pan add a tbsp of oil and add the onions.Saute for about a minute.
Add the garlic and the shiitake mushrooms.
Cook until the mushrooms change color.
Add the Tofu and the sauce.
Cook for about 2-3 minutes until well mixed.
Serve hot with rice.
http://www.sonisfood.com/2013/10/easy-and-fast-dinners-with-campbells-dinner-sauces-campbellsauces.html
www.sonisfood.com
Apart from these Campbell's also feature a range of Skillet Sauces in the following flavors:
and Slow Cooker Sauces in the following flavors:
Tavern Style Pot Roast
Apple Bourbon BBQ
Hawaiian Luau
Mexican Red Chile Taco
Moroccan Spiced Stew
A great dinner option that's fast,flavorful and super easy!
This post brought to you by Campbell's Dinner Sauces. Weekend-worthy dinners with only weekday-level effort needed! Learn more at http://www.campbellsauces.com/.
Disclosure: I was compensated for this post,but all thoughts are my own.