Happy Diwali to you all!
I hope you all are having a great day today.I'been busy in my kitchen trying to cook a few of our favorite dishes.The first one being my Aloo Gobi and how can you not have a dessert to celebrate a festival!Today, I've got for you a super easy and scrumptious Sweet Potato Kheer or Pudding that comes together in no time.All you need is a few ingredients from your pantry and you're all set.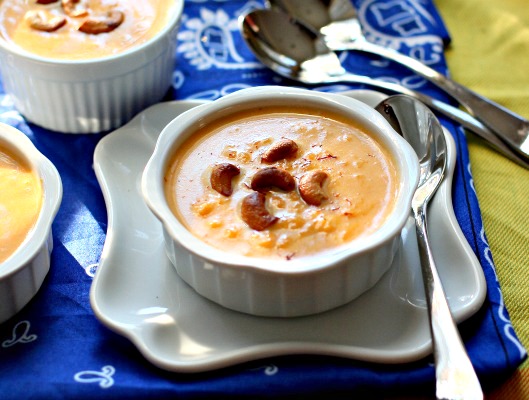 I have to admit though that I've never made this pudding before.It was just a result of having to use up some Sweet Potatoes that I recently bought.Since Sweet Potatoes are the flavor of the season, I thought to myself, 'why not use them in a Pudding?'.This pudding does not contain any eggs as do most Indian Puddings.It still comes out creamy and delicious.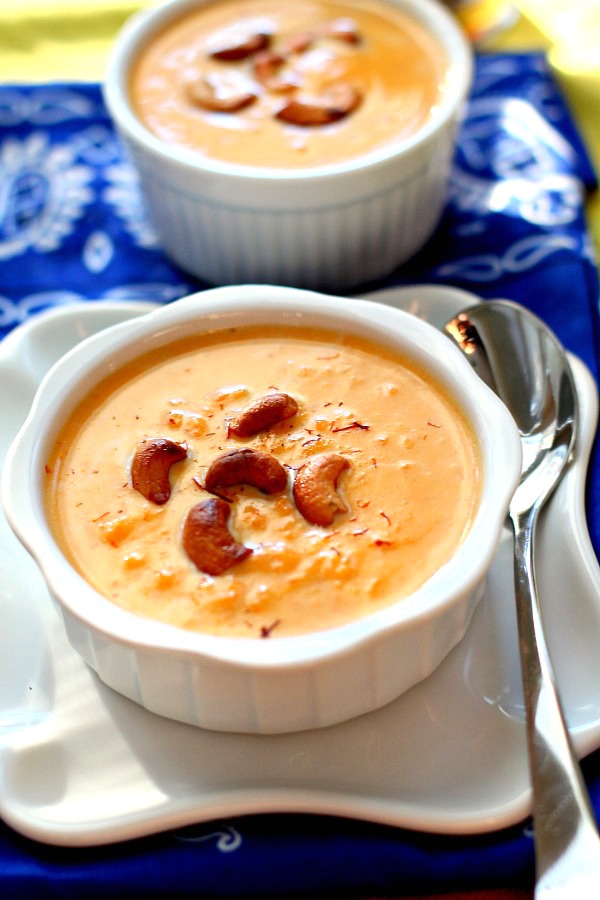 I have another confession to make.I love eating raw peeled Sweet Potatoes.
What?
You've never tried a raw Sweet Potato before?
Don't tell me.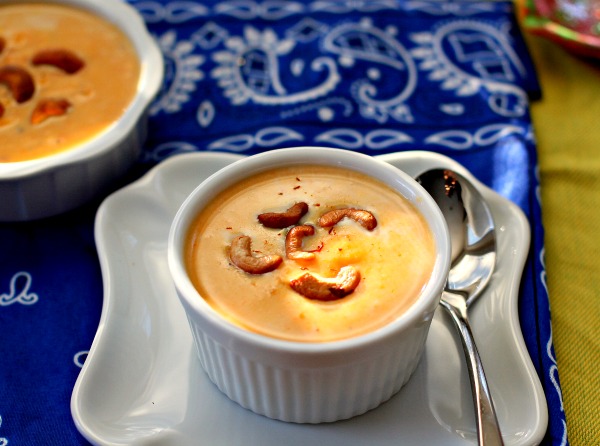 Just try it one time and if you're anything like me, you'll love it.I don't know how it all started.But all I remember is that I once had some teeny tiny extra bits that I was about to throw away, but they ended up in my mouth.
I know.I do things like that.There is this crunch,this sort of earthy sweetness, not too overpowering, but still enough for your tongue to taste it.I love it.
Anyway coming back to my dessert, all you need is some Saffron, some crushed Cardamoms and Cashews from your pantry.Its creamy, its sweet, it has this redolence so unique to Indian Desserts that comes from the Saffron and Cardamom and you taste them all in every bite.You could serve it warm or chilled.Enjoy!
Sweet Potato Kheer (Pudding)
Ingredients
Sweet Potatoes-2 large peeled
Whole Milk-1 1/2 cups
Sugar-1/4 cup plus 2 tbsp
Crushed Green Cardamom-1/2 tsp
Saffron strands-1/4 tsp
Cashews-to garnish
Instructions
Peel and cube the sweet potatoes.
Put them in a pot with some water just enough to cover them.
Bring to a boil and cook covered on low for about 10 minutes or until they're cooked.
Drain the water and mash the sweet potatoes in the same pot.
Add the milk, sugar and saffron and bring to a boil.
Reduce the heat and cook for about 10-15 minutes until its all creamy and the liquid has reduced.
Add the crushed Cardamom and turn off the heat.
In a small pan add a tbsp of ghee and fry some cashews until golden.
Serve the pudding in individual bowls and garnish with the cashews.Serve warm or chilled.
http://www.sonisfood.com/2013/11/sweet-potato-kheerpudding-indiandesserts-diwali.html
www.sonisfood.com