This is a Sponsored post written by me on behalf of Dean's Dip. All opinions are 100% mine.
I don't know about you, but I love to snack on chip and dip.It keeps me going throughout the day and I love to try different varieties.It's the one item that you'll always find in my refrigerator. From Ranch to Guacamole to Cheesy Dips I love them all.I love them as a snack, entertain with them and my kids have also picked up this habit of late. My six year old loves his Tortilla Chips with different dips for his snack too. Well then, imagine my excitement when Dean's Dip sent me their new Buffalo Ranch Dip a week ago!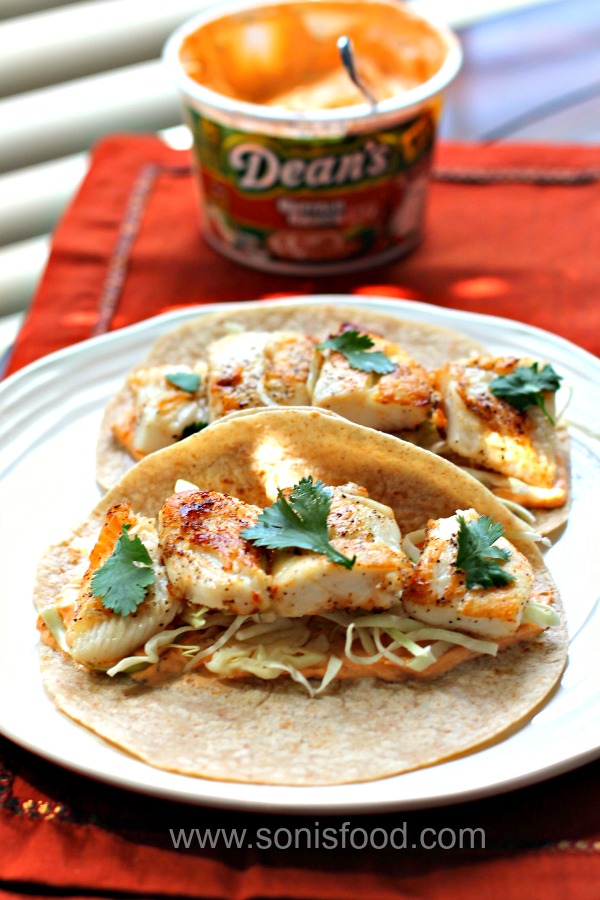 Dean's Dip has it all – taste, dairy-fresh texture, and variety of flavors! Their new Buffalo Ranch Dip is no exception.Who can resist the taste of spicy buffalo wings and creamy ranch on top of a potato chip? I have to tell you that we like spicy flavors round here and this totally hits the spot.Dean's Dip is located in the dairy dip section of your grocery store.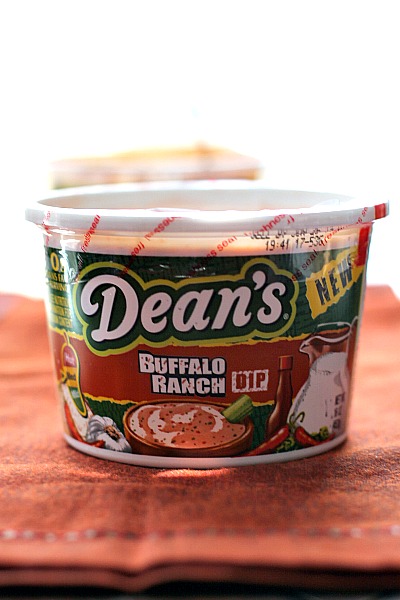 Dean's Dip is consistently cool and creamy every time and goes with just about everything. Potato chips and nachos are your standards, but also Dean's goes great with carrot sticks and broccoli florets. And that's not all. How about some amazing Fish Tacos? Yes, that's exactly what I have for you today.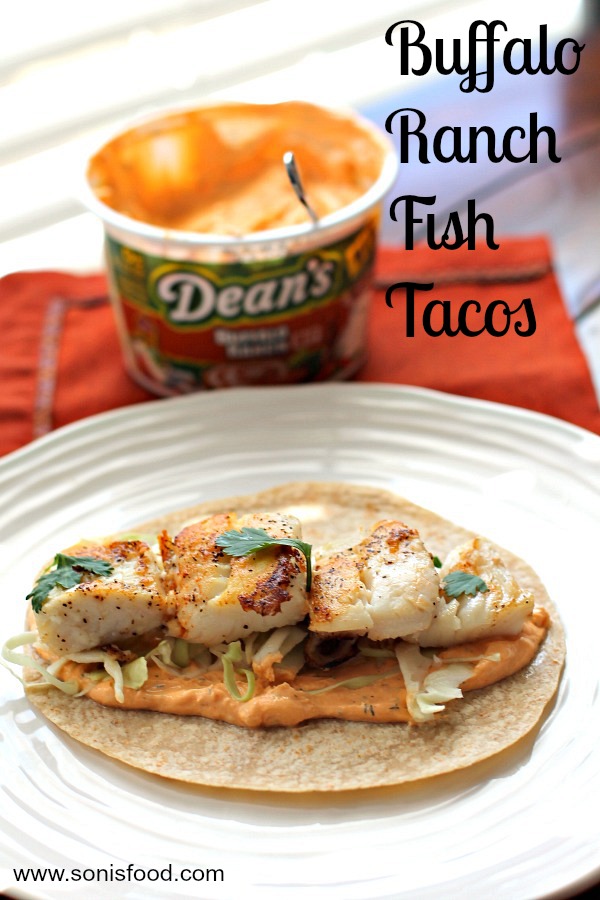 My Tacos are bursting with flavors from the delicious Buffalo Ranch Dip and combined with some shredded cabbage and lightly seasoned pan fried fish, they make a satisfying meal for your family or even your guests! They couldn't be any easier since all you really need is a pan to fry the fish. The different textures from smooth to crunchy all wrapped in a soft warm Tortilla is pure amazing and the dish comes together in no time at all. The creamy dip is spread at the bottom of each tortilla followed by the other layers and its out of this world.
#Sponsored Buffalo Ranch Fish Tacos using #deansdip
Ingredients
Turbot or any other White Fish-4 fillets (150 gms each) cubed
Salt and pepper
paprika-1 tbsp
Oil-2 tbsp
Dean's Dip Buffalo Ranch Dip-3/4 cup
Shredded Cabbage-1 cup
Whole Wheat Flour Tortillas-4
Cilantro-for garnish
Instructions
Mix salt,pepper and paprika over the fish.Heat oil and let it come to a smoking point.
Add the fish in single layer.
Let it develop color on one side (about 3 minutes) before flipping and cook for 3 minutes on the other side.
Transfer on to a tray.
Warm some flour tortillas and spread about 2-3 tbsp of Dean's Buffalo Ranch Dip followed by shredded cabbage followed by the cooked fish.(About 4 cubes in each)
Garnish with cilantro.
Enjoy!
http://www.sonisfood.com/2014/03/sponsored-buffalo-ranch-fish-tacos-deansdip-buffaloranch.html
www.sonisfood.com
Dean's Dip can make eantertaining super easy and with the wide variety of choices there's something for everyone.For more information visit their website Dean's Dip.You can also follow Dean's Dip on Facebook or on Dean's Dip Instagram.