"Time and again,
come joy, come pain
your smile, your words
of wisdom,
of life,
of the values
instilled in our minds
has taught me so much
that I can carry forward
your message
to my kids,
teach them
the values,
of living this life
with love,
with compassion,
with a purpose,
with passion"
One remarkable woman is on my mind today.A woman who has endured so much pain in the past few months..lost her husband,survived a life threatening health condition and still trying to recover,but yet she smiles in all her pain,yet she speaks of positivity,of happiness,of joy,of love.Yeah that's my Mom.And I'm so grateful that I'm her child.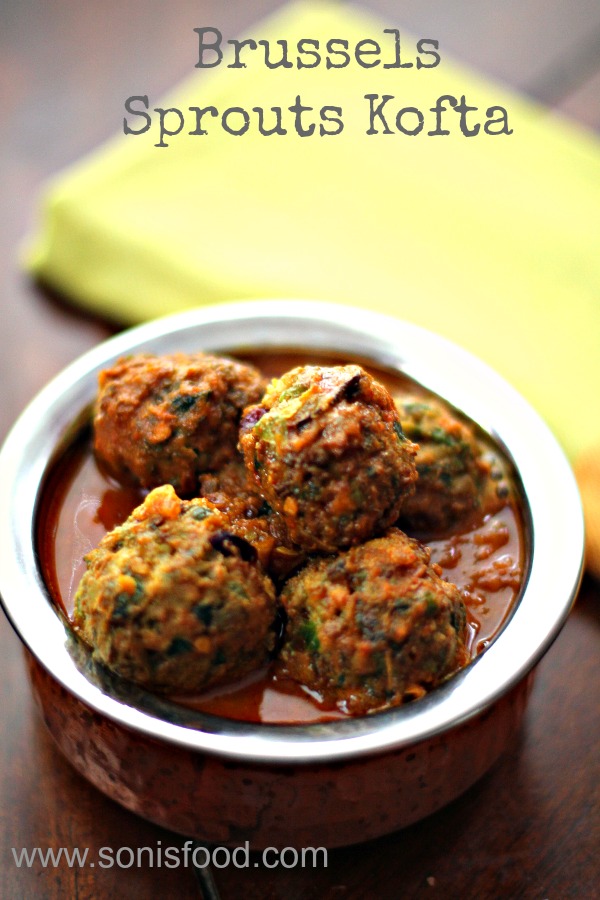 My mom makes the best Koftas ever.And today I thought of recreating her favorite recipe using Brussels Sprouts along with some dried sweetened cranberries and I'm elated that it turned out absolutely delicious.A new family favorite indeed!Its a special dish that requires a special occasion for it to be served.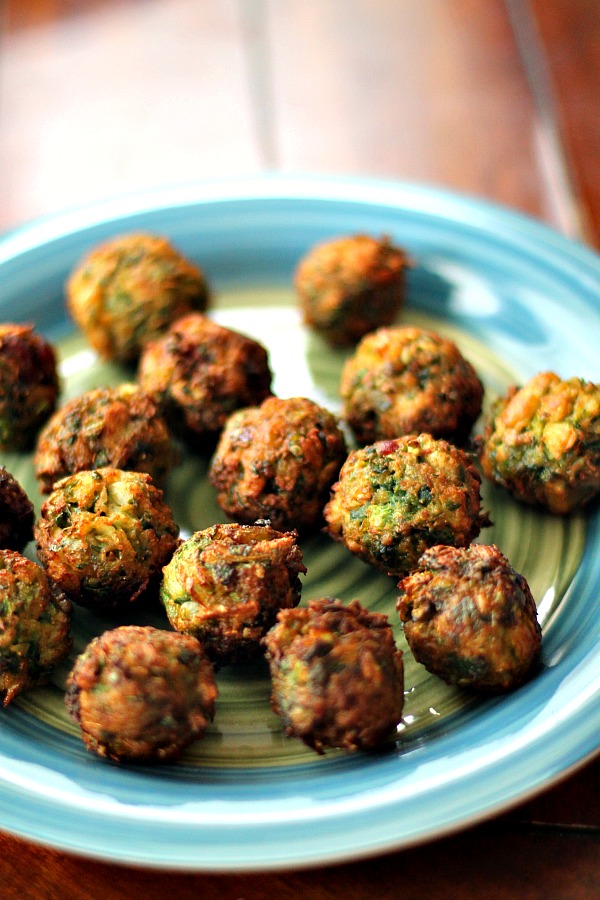 My Brussels Sprouts Kofta is one amazing dish with some exotic flavors and super simple for anyone to try.I recently spotted sliced Brussels Sprouts at Trader Joe's and couldn't resist buying one pack.Its a time saver.The koftas have some spices, ginger and dried cranberries and are bound together using some Gram Flour (Besan) easily available at your local Indian Grocers.The combination of the tart, sweet,spicy flavors is insanely good and will convert any Brussels Sprouts hater into a Brussels Sprouts lover.The only thing that you have to be careful about is to not cook the koftas for too long in the sauce.They might collapse.You can add the koftas just before serving and cook for a couple of minutes.They should be perfectly coated in the juices and taste delicious.Enjoy.
"Wishing all you Moms a Very Happy Mother's Day"
---
Brussels Sprouts Kofta
Brussels Sprouts Kofta for #MothersDay #SundaySupper
Ingredients
For the Koftas

Brussels Sprouts Shredded/sliced-2-3 cups
Gram Flour (Besan)-1/2 cup
Crushed Ginger-1 tsp
Dried Sweetened Cranberries-3/4 cup
Cashews chopped-1/2 cup
Ground Coriander-1 tsp
Ground Cumin- 1tsp
Salt-1 tsp
Oil-to deep fry

For the Sauce

Onion Medium-1 finely chopped
Crushed Ginger-1 tsp
Crushed Garlic-1 tsp
Medium Tomatoes-2 (pureed)
Ground Cumin-1 tsp
Ground Coriander-2 tsp
Garam Masala-1 tsp
Turmeric-1 tsp
Red chili powder-1 tsp
Salt- to taste
Sugar-1 tsp
water-1 1/2 cups
Oil 2-3 tbsp
Instructions
Koftas

In a microwave safe dish soften the shredded brussels sprouts for about 3-4 minutes.
Mix all Kofta Ingredients and roll into small balls.
Deep fry the balls in the oil in batches until golden on all sides and keep aside.

Sauce

In a deep skillet heat the oil and add onions.
Fry for about 4-5 minutes until golden and add the ginger and garlic.
Add the tomatoes and spices and cook until oil starts to separate from the sides.
Add the water, bring to a boil.Lower the heat and cook for about 8-10 minutes.
Adjust the seasonings.Your sauce is ready.
When its time to serve, add the balls into the sauce and cook for about 2-3 minutes until the sauce bubbles.Serve hot with Naan, Roti or Rice.
http://www.sonisfood.com/2014/05/brussels-sprouts-kofta-for-mothersday-sundaysupper.html
www.sonisfood.com
---
Sunday Supper is celebrating Mother's Day and my friend Liz from That Skinny Chick can Bake is hosting this exciting event.Scroll down for some mouthwatering breakfasts,appetizers,entrees and desserts for Mother's Day!
Mother's Day Breakfast:
Mother's Day Appetizers, Soups and Salads:
 Mother's Day Main Dishes:
Mother's Day Desserts:
Would you like to join the Sunday Supper Movement? It's easy. You can sign up by clicking here—>Sunday Supper Movement.