Welcome to the new year!As promised I'm on my task for the new year and have some exciting recipes lined up for you.During the winter break we visited our family in the UK.We met some old friends in London and had a lovely time with my in-laws near Birmingham.The kids got to meet their cousins and I also got to meet my sister in Wales and spent some quality time with her sans hubby and kids.We chatted our hearts out, watched movies, went shopping, you know..all the good stuff that sisters do!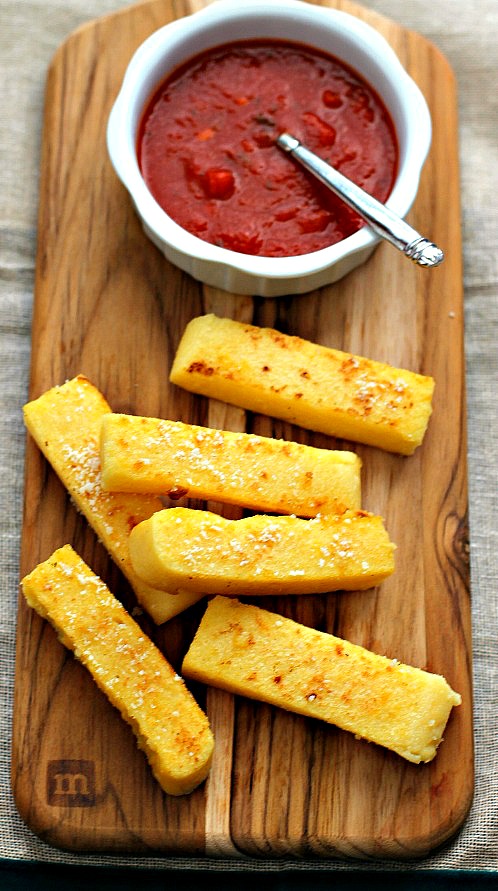 We went out for a drive around the country side one morning and was hungry after a while.We spotted this lovely restaurant and decided to have lunch there.The menu consisted of some pretty good options and after much deliberation we settled on Fried Polenta with Asparagus that sounded amazing.Believe it or not I'd never had fried polenta before!I was always intrigued looking at the pics on the web or when somebody mentioned it but never tried it until this point.When the dish arrived it just looked stunning!The polenta was topped with pan fried asparagus,a poached egg and shavings of parmesan cheese.It looked divine and I couldn't wait to dig in.It tasted amazing.Slightly crispy on the outside along with the contrasting textures of the asparagus and the egg.We enjoyed our lunch and ever since I came back I've been wanting to try them at home.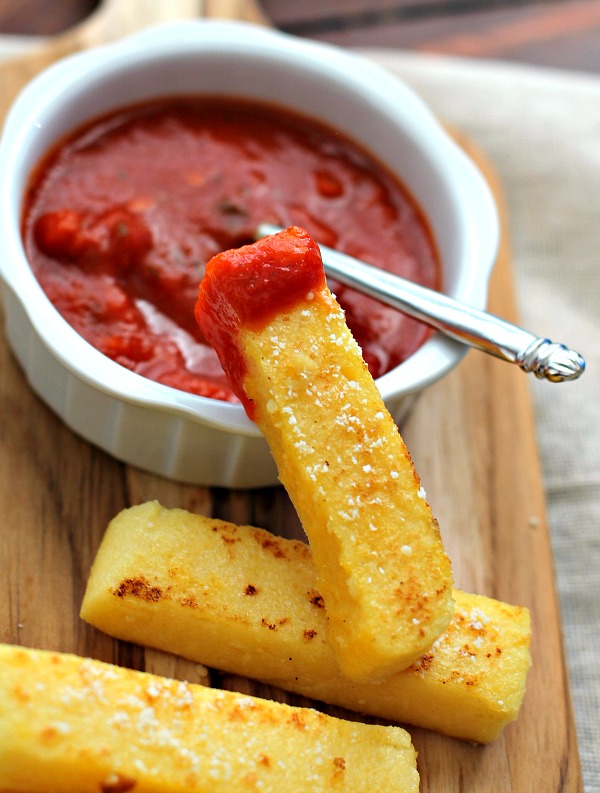 Hence today, Fried Polenta is on the menu for you.I had some cornmeal sitting in the pantry waiting to be used and this seemed like the perfect opportunity!I loved how easy the process is and it also makes for a great party appetizer served along with some marinara sauce.I searched the web for a good recipe and found this one from Giada De Laurentiis.I was delighted that they turned out so good in the first try !My kids ate them for their after school snack with a thumbs-up!Will be making them again and again!Enjoy!
Ingredients
For Polenta

6 cups water
2 teaspoons salt
1 3/4 cups yellow cornmeal
3 tablespoons unsalted butter

For Fried Polenta

3 cups Basic Polenta
6tbsp olive oil, for frying
1/4 cup grated Parmesan
Salt
1 cup purchased marinara sauce
Instructions
Polenta recipe

Bring 6 cups of water to a boil in a saucepan.
Add 2 teaspoons of salt. Gradually whisk in the cornmeal.
Reduce the heat to low and cook until the mixture thickens and the cornmeal is tender, stirring constantly, about 10 minutes. Turn off the heat.
Add the butter, and stir until melted.

Fried Polenta

Cut the polenta into thin long pieces.
Heat the oil in a heavy large skillet over medium-high heat.
Working in batches, fry the polenta pieces until golden brown on all sides, about 3 minutes per side. Using tongs, transfer the polenta pieces to paper towels and drain.Serve warm along with some store bought marinara.
http://www.sonisfood.com/2015/01/fried-polenta.html
www.sonisfood.com