Busy weeknights call for easy recipes that are ready in minutes and also appeal to the hungry stomachs after a long day. In our house Wednesdays are Pasta days since my kids love pasta.This recipe I have for you is one of the most adored by my kids and they go for seconds.A pasta dish with chunks of tender flavorful chicken and asparagus coated in the creamy sour cream sauce is my idea of a perfectly delicious and satisfying weeknight dinner.You could easily make this a vegetarian meal by omitting the chicken and adding mushrooms instead.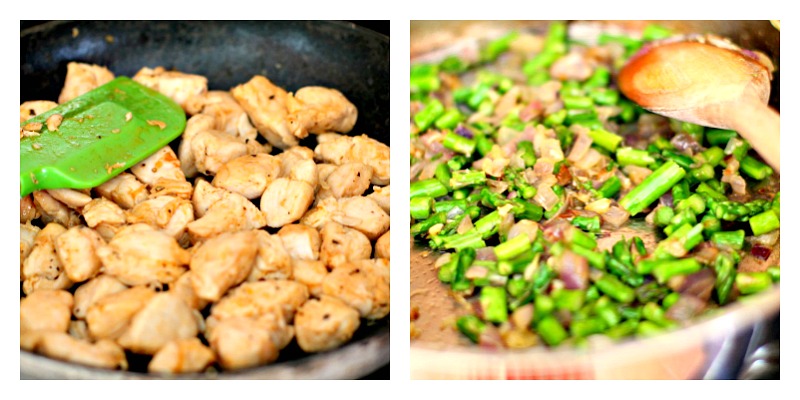 The dish takes just a few minutes and yet turns out amazing. It's filling, healthy and nutritious with the addition of asparagus that works beautifully. I've used chicken tenders and sautéed them with a little salt, pepper and paprika but you could also use rotisserie chicken instead. The sour cream adds a rich creamy consistency and the freshly grated Parmesan completes the dish.Enjoy!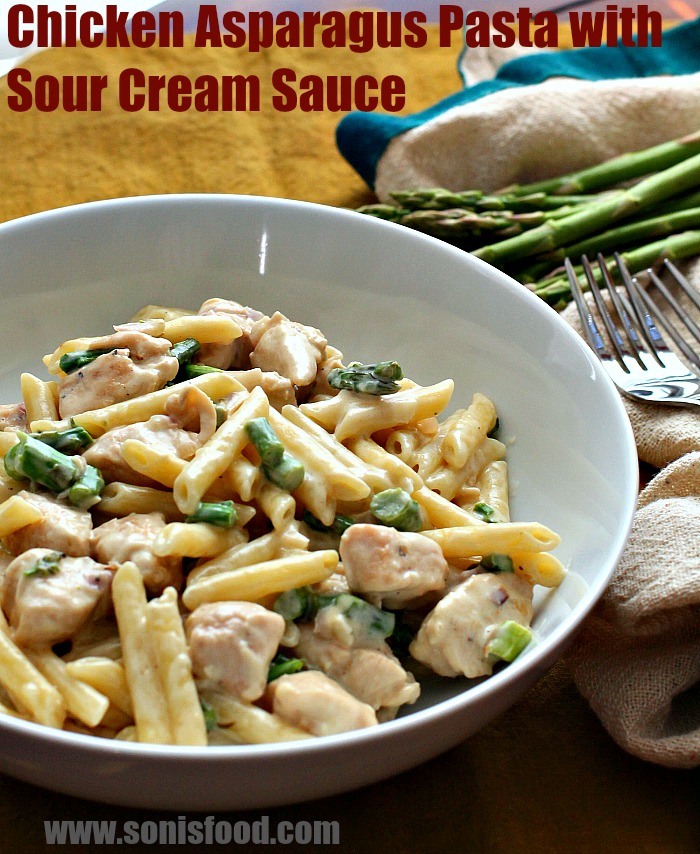 Chicken Asparagus Pasta with Sour Cream Sauce
Ingredients
For the chicken

1 lb chicken tenders
salt, pepper and paprika
Olive oil- 1 tbsp

Sour Cream Sauce

Any pasta of your choice-1 lb
1 large Onion-chopped
2 cloves of garlic crushed
2 cups Asparagus-chopped
Cooked chicken-1 lb
Chicken broth-1/2 cup
Sour Cream-1 cup
Freshly grated parmesan cheese.
Instructions
Cook the pasta according to the instructions.
In a deep skillet sauté the chicken with some salt, pepper and paprika.Cook until done.
In another pan heat some olive oil and butter and add the onions.
Sauté for about a minute or two until translucent and add the garlic.
Add the chopped asparagus and cook for a minute or two and add the cooked chicken pieces.
Add the broth and sour cream and mix well.Check the seasonings.
Add the boiled pasta and mix well.
Top with some freshly grated parmesan cheese.Serve hot.
http://www.sonisfood.com/2016/03/chicken-asparagus-pasta-with-sour-cream-sauce.html
www.sonisfood.com