I'm not much of a dessert person, but there are certain favorites especially few Bengali sweets that I've devoured since childhood and have very fond memories of. Spongy melt-in-your-mouth cheese dumplings called Rasgullas served in earthen clay pots were the highlights of many evenings at home growing-up. Sold at Bengali sweet shops, these delicious dumplings were often served along with another classic Mishti Doi (sweetened yoghurt with jaggery set in a clay pot).I gorged on them and still do whenever I get the chance!With Diwali round the corner, this amazing dessert seems just perfect to be shared on my blog today.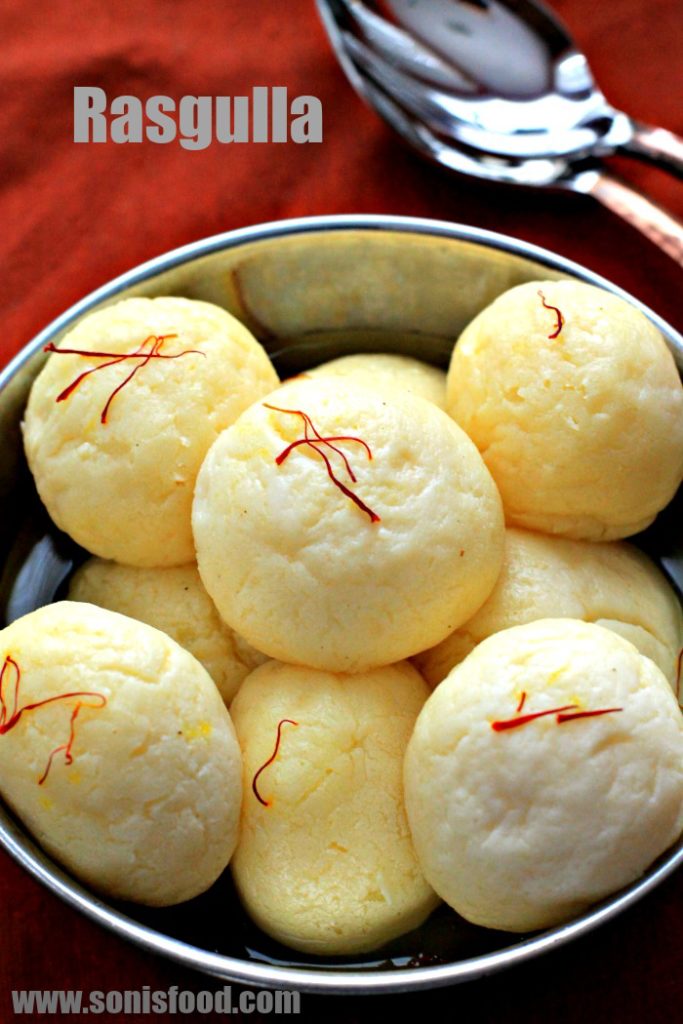 Rasgullas are spongy sweet cheese dumplings in sugar syrup that are incredibly delicious.The sugar syrup is flavored with rose water and saffron. They're not overly sweet like most Indian desserts and the excess syrup can be squeezed out if too sweet is not your thing. In India these desserts are easily available at any Bengali sweet shop and you can enjoy them to your heart's content.Abroad, not so much!You make your own when those cravings become unbearable and even more so in the festive season when you miss all those delicacies.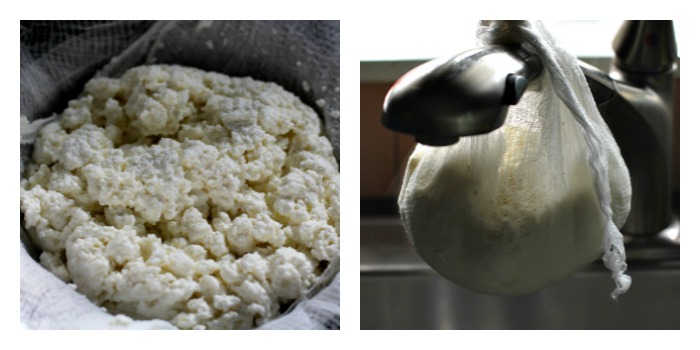 They're not that difficult albeit a bit time consuming, since you first make the chena/paneer and then proceed with the next steps.Once you have the chena ready, its only a matter of making the dumplings and the sugar syrup.The most important part in the process is massaging the chena until it releases the fat and your palms become oily.That tells you that its ready to be shaped into balls.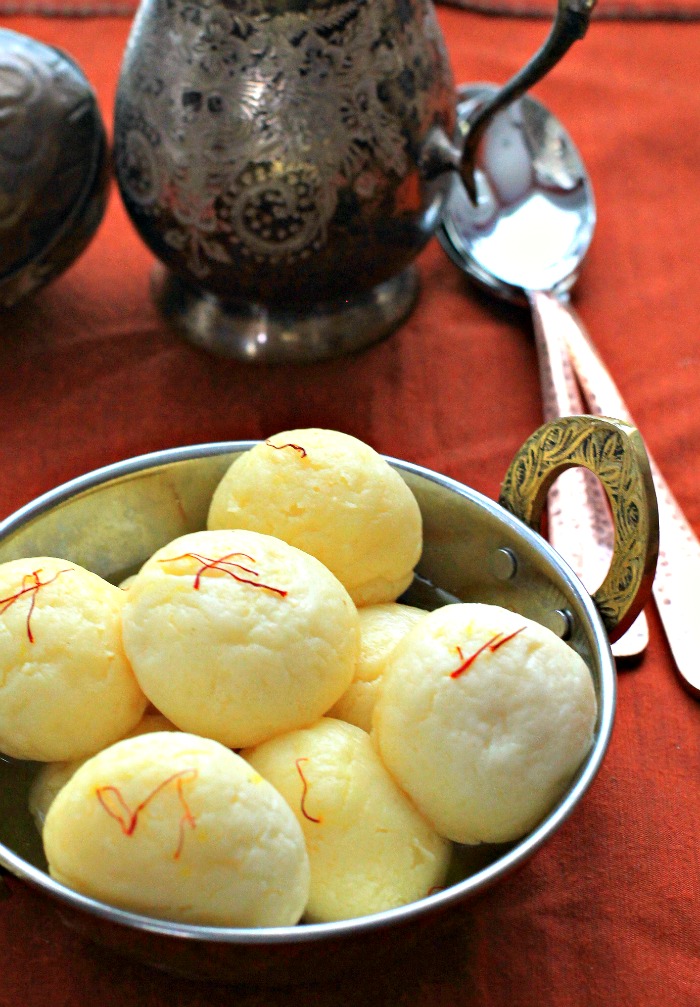 The balls are then dropped into the sugar syrup to soak up all the delicious flavors from the saffron and the rose water.These can be made a day ahead, so they're perfect for a crowd.Serve them chilled garnished with some saffron strands and see them disappear!
'Wishing you all a very Happy Diwali and may it illuminate your life with good health and all the joys of the world'
You can also try other festive recipes below:
Aloo Gobi
Gobhi Mussallam (Whole Roasted Cauliflower)
Ricotta Cardamom Fudge
Easy Cardamom Coconut Balls 
Rasgulla-Cheese Dumplings in Sugar Syrup for #Diwali
Ingredients
1 ltr whole milk
3 tbsp lemon juice mixed with a little water
2 cups sugar
4 cups water
1/2 tsp rose water
few saffron strands
Instructions
Making the paneer/chena

Heat the milk in a deep bottomed pot on medium heat stirring every few mins so that it doesn't stick to the bottom.
Line a strainer with a cheese/muslin cloth.
Once the milk comes to a boiling point add 2 tbsp of lemon juice.The milk should start to curdle.If it doesn't, add a little bit more lemon juice.Turn off the heat and let it sit for 5 mins.
Pour the milk through the cheese/muslin cloth.
Now gather the muslin cloth from the sides and rinse the chena under running water.This helps get rid of the taste of lemon.
Tie the ends of the muslin cloth and squeeze the excess water out and hang it for about 30 mins until all the liquid has drained out.

To make the balls

The chena shouldn't have too much moisture or be too dry.
Now transfer the chena on to a tray and start massaging (this is the most important step to get soft spongy dumplings) with your palms for about 10 mins until your palms start to become moist with the fat from the chena.
Alternatively you can blend the chena in your food processor for just one minute and continue massaging by hand for abt 6-7 mins until it releases oil.
Once it reaches that point start making small balls making sure there are no cracks in them.Keep the sizes small since they puff up while boiling.
Heat the sugar water solution in a large pot with enough space for the balls to double up and add rose water and saffron.Bring to a boil and cook for about 5 minutes on medium heat.
Drop the balls gently into the syrup while its still boiling and cover it with a lid.Lower the heat to your lowest setting and cook for about 15 mins until they're all puffed up (they double in size).
Let it cool and transfer the rasgullas into the fridge to chill.
Serve chilled garnished with a few saffron strands.
http://www.sonisfood.com/2017/10/rasgulla-cheese-dumplings-in-sugar-syrup-for-diwali.html
www.sonisfood.com