Soba noodles has made its way into my favorite food items list!What is Soba, you might ask?Its a Japanese noodles made with buckwheat flour.Its roughly as thick as Spaghetti and has a nutty taste.Its high in Vitamin B1, B2, minerals and protein!It has huge health benefits not limited to decreasing cholesterol, lowering blood pressure, reducing fat accumulation amongst others.{Source-
health hokkaido
}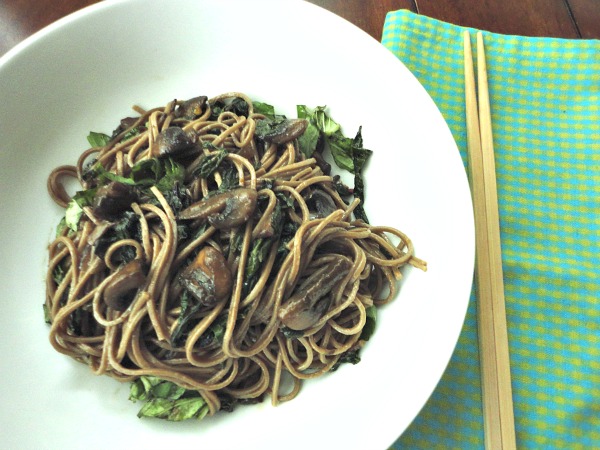 I love the fact that's its a quick cooking noodles [takes about 4-5 minutes to cook] and this dish is very easy to put together.Ideal for busy nights or days when you're looking to cook-up something fast! I'm very excited to bring my dish to our #Sunday Supper this Memorial Day Weekend!If you thought the noodles itself was healthy, my addition of Swiss Chard and Mushrooms make it even more healthier and give it so much flavor and a dark color, that makes for a nutrition packed supper for the whole family.The garlic, ginger and chilli flakes spice up the noodles and the combination of Soy,Oyster and lemon juice flavors the whole dish.You can add your favorite meat or seafood for a Non-Vegetarian version.Its a meal that's well balanced, wholesome and delicious!

Soba Noodles with Swiss Chard and Mushrooms
Ingredients
Soba Noodles-1 pck (8oz)
Swiss Chard-1 bunch (6 leaves)-chopped
Baby Bella Mushrooms (or any of your choice)-2 small pck (8oz each) cut into chunks
White/Yellow Onion-1 medium sliced
Crushed Ginger-1 tbsp
Crushed Garlic-1 tbsp
Red chili flakes-1 tsp
Soy Sauce-2 tbsp
Oyster Sauce-1 tbsp
Lemon juice-2 tbsp
Oil-2 tbsp
Basil-for garnish
Instructions
Boil the noodles according to the instructions.Keep aside.
In a small bowl mix together Soy Sauce, Oyster Sauce and Lemon Juice.
In the meantime heat oil in a wok and add the onions.
Saute for about a minute and add the ginger, garlic and chilli flakes.
Cook for about a minute and add mushrooms.Let the mushrooms and get nice and golden brown and all the water has evaporated(do not add salt).
Once the mushrooms are golden add the Swiss Chard and the sauces.
Let the Swiss Chard wilt and cook for about 4-5 minutes.
Add the Soba noodles and mix together.Check the seasonings and add salt if required.Garnish with some chopped basil and serve!
http://www.sonisfood.com/2012/05/soba-noodles-with-swiss-chard-and.html
www.sonisfood.com
(Sunday Supper is on a Mission to Bring Back Sunday Supper Around the Family Table in every home. Join us every Sunday with great recipes and inspiration. Please contact Isabel of Family Foodie for more information.)
This week our #SundaySupper Group is hosting their favorite Memorial Day Menu.  From the drinks to the desserts, they all sound amazing!  
Cocktails:
What are you cooking/eating this Memorial Day ?