I'm just loving the days with the kids at home and the fact that I don't have to wake them up, get them ready, deal with the crankiness of my 4 year old while making breakfast for my 8 year old. All the chaos that's part of a school day is now gone replaced by calm serene mornings, where I can enjoy an extra cup of tea and relax! Summer how I love you J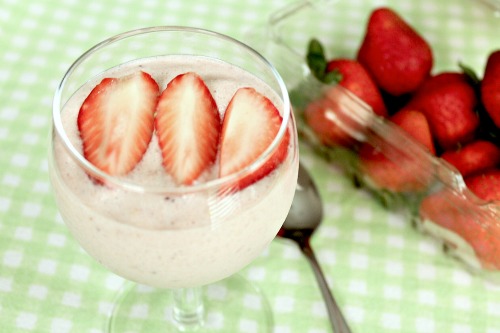 I'm also enjoying the various blog events that I'm a part of beginning with Blue Ribbon Challenge initiated by Anna of Crunchy Creamy Sweet

!!A challenge where all of us make the same dish with our own twists and vote for our favorite.This event will be followed by another exciting one on Sunday!Will keep you posted on that too 

J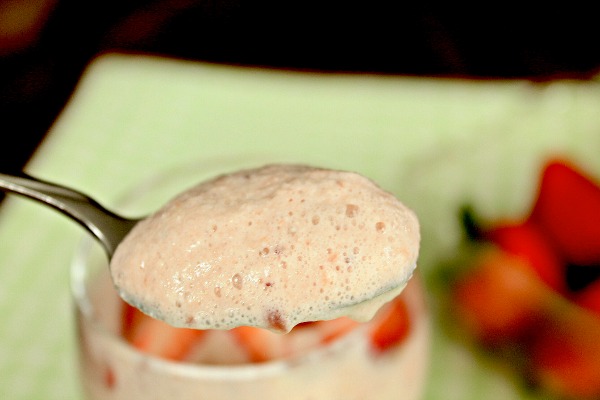 I looked all over the web for inspiration for my mousse recipe and incorporated all my favorite flavors to create a healthy Mousse that I'm sure you're going to love 
J
The light airy texture of the mousse, with the sweet strawberries 
and creaminess of the Lemony Ricotta and Greek Yoghurt just makes it a delectable indulgence. The 
fact that its healthy makes it even more enjoyable 
J
Strawberry Ricotta Yoghurt Mousse
Ingredients
Strawberry Jam-1/2 cup
Greek Yoghurt-1 cup
Powdered Sugar-4 tbsp
Low fat Ricotta –1/2 Cup
Egg White-1/2 cup
Lemon Zest-1 tbsp
Instructions
In a food processor blend together ricotta and the
strawberry jam until smooth. Mix the lemon zest and keep aside in a bowl.
Using a hand mixer whip together the Greek Yoghurt with 3
tbsp of sugar until creamy.
In another bowl using the hand mixer whip the egg white
until foamy and beginning to hold shape.
Sprinkle in a tbsp of sugar and whip
until soft peaks begin to form.
Now take the ricotta mixture and gently fold in half of the
Greek Yoghurt.
Fold in half of the egg whites into the mix. Gently fold in
the rest of the Greek yoghurt followed by the rest of the egg whites until
nicely combined.
Your strawberry mousse is ready! Pour the mixture into
serving cups or glasses and chill in the refrigerator. Garnish with sliced
strawberries and serve!
http://www.sonisfood.com/2012/06/strawberry-ricotta-yoghurt-mousse-blue.html
www.sonisfood.com