In the scorching heat reminiscent of an Indian Summer, one drink that promises to bring relief is a good old lassi. Lassi is a yoghurt drink mixed with either milk or water along with spices, sometimes fruits, sugar or salt. But growing up I've had more Salty Lassi than the sweet ones mainly because I didn't have much of a sweet tooth back then! Now its a different story because now, I have a sweet tooth like no other
J
Salty Lassi is relatively unknown outside India unlike its cousin, the Sweet Lassi or the ubiquitous Mango Lassi! In my opinion, all versions are equally delicious though! So when my friend Jen from 
Junaita's Cocina
suggested 'Beat the heat' as the theme for this #SundaySupper, I knew it had to be Salty Lassi for me! 🙂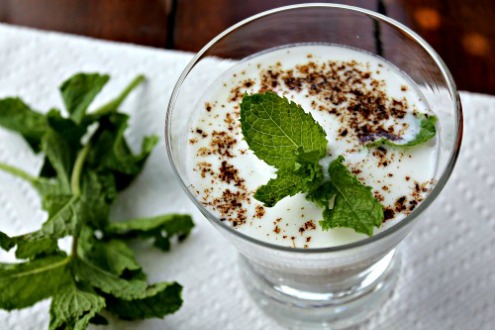 Salty Lassi has a cooling effect on your body with unique digestive and health benefits. It's also a great alternative to the alcoholic beverages during the summer and you can flavor it with any spice you want. Traditionally Salty Lassi is flavored with roasted cumin seeds and mint, sometimes ginger.You could also add a little bit of sugar.
The roasted nutty cumin adds a smoky flavor to the lassi. The mint is a perfect garnish to contrast the color and imparts a clean, crisp, minty flavor!
Cool, delicious and spicy! Perfect to 'beat the heat'~
Ingredients
Plain Yoghurt (any)-1 cup
Water-2 ¼ cup
Roasted and ground Cumin-1 tsp
Salt-1 tsp or to taste
Mint-to garnish
Instructions
Cumin-Dry roast some cumin seeds in a pan on medium heat until its golden brown and aromatic.
Allow to cool and then just crush using a pestle and mortar.
Blend all the ingredients except the Mint until smooth.
Pour into servings glasses and garnish with mint. Serve chilled!
http://www.sonisfood.com/2012/07/salty-lassi-beat-heat-sundaysupper.html
www.sonisfood.com
See what my friends are serving this #SundaySupper to "beat the heat"!
Scroll down for the fab menu 
J
#BeatTheHeat Appetizers:
#BeatTheHeat Salads, Soups, & Sides:
#BeatTheHeat Main Dishes:
#BeatTheHeat Drinks & Cocktails: