I'm very excited to be hosting this month's "Cooked In Translation" where we interpret a recipe with our own culinary lens.I chose something that has been a family favorite for years. Its my Indian Inspired Fish Cakes that bring back memories of big gatherings at my parents'.I vividly remember how amongst the multifarious foods being prepared these fish cakes were one of the 'appetizers' that had become a staple in our house.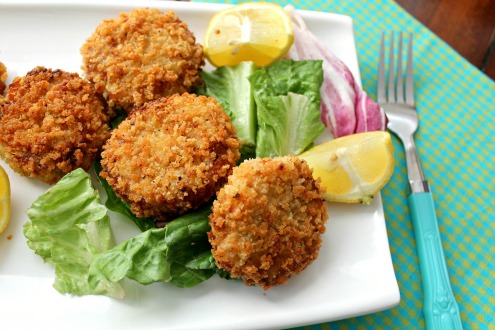 The process begins with boiling some potatoes in one pot and poaching the fish in another.You can use any fish of your choice.In this case I've used Arctic Char sold at my local Whole Foods, but I've also made these using Haddock, Cod and Salmon. Once they're cooked the actual fun begins.The spices go in and the flavors begin to develop.The whole mixture comes together with three main spices cumin, coriander and garam masala.The fresh coriander leaves further elevate the flavors.The patties are then dipped in a flour batter and rolled in bread crumbs in this case panko for that crisp outer coating.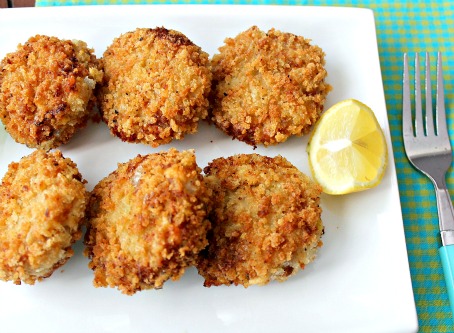 These are great for a light lunch/dinner with salad or as an appetizer!Crispy, flavorful and super easy these are a big hit with adults and kids!
Indian Inspired Fish Cakes
Ingredients
Arctic Char-4 small fillets
Potatoes-2 medium
Onions-1 small
Crushed Ginger-1 tsp
Crushed Garlic-1 tsp
Ground Cumin-1 tsp
Ground Coriander-1 tsp
Garam Masala-1 tsp
Fresh Coriander-1/2 cup chopped
Salt-2 tsp
Oil- 3-4 tbsp
Panko- 2 cups

For the batter:

All purpose Flour-1/2 cup
Water-1 1/4 cups
Instructions
Place the fish fillets in a pot with 2 cups of water and bring to a boil.
Lower the heat and cook until the fish is cooked.Once done drain out the liquid and transfer into a bowl.Mash it with a fork.
Boil the potatoes until cooked.Peel and mash the potatoes and mix it with the fish.
In a pan heat 1 tbsp of oil and add the chopped onions.
Saute for about a minute or two and add the ginger and garlic.Saute for a minute and add the spices along with salt.Cook for another 2 minutes.
Turn off the heat and pour the mixture into the fish/potato mix.Mix well, check the seasonings and make round shaped patties.
Dip the patties in the four batter and cover with panko.
Heat 3 tbsp of oil and shallow fry the cakes until golden on both sides.
http://www.sonisfood.com/2012/08/indian-inspired-fish-cakes-cooked-in.html
www.sonisfood.com