Come autumn and the crisp cool air just feels so good in the mornings.I'm enjoying this transition of the weather and the lovely warm and comforting foods that come along with it!Talking about autumn, its also the season of Apples!.This lovely fruit is one of my most favorite things to cook/bake with and I can think of so many ways to use them in my sweet and savory creations.So when my friend Cindy from Cindy's Recipes and Writings suggested 'Autumn Apple Party' as the title for this #SundaySupper I jumped with excitement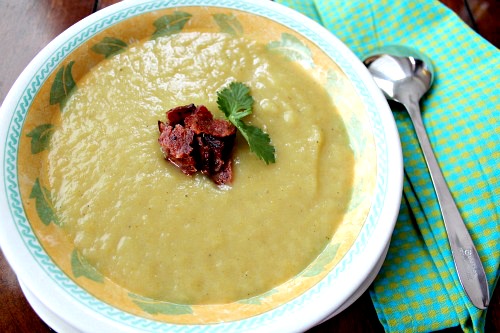 I'm bringing a savory item for this event and its already becoming a family favorite, going by the verdict of my 4 and 9 year olds :)Its my creamy Curried Apple and Leek Soup that has so many varied flavors that tickle your tastebuds in just the right way.I found the original recipe at All Recipes and added my own twist with the bacon and paprika! The soup is slightly acidic from the Granny Smith Apples,with a slight hint and heat of the spices combined with the creaminess of the potatoes. The flavors further elevate with the garnish of the salty, crisp bacon!One bowl full of goodness for this Fall~
Curried Apple and Leek Soup
Ingredients
Granny Smith Apples-2 peeled, cored and chopped
Leeks-2 stalks cleaned and chopped
Potato-1 medium peeled and chopped
Curry Powder-2 tsp
Paprika-1 tsp
Salt-to taste
Pepper-2 tsp
Water-2 cups
Bacon-2 slices
Butter-2 tbsp
Instructions
Heat butter in a sauce pan and add the chopped leeks.Saute for about a minute until translucent.Add the curry powder and saute for another minute.Add the potatoes,apples,all the other spices and water.Bring to a boil.Reduce the heat, cover and cook for 15 minutes.Adjust the seasonings.
Crisp up the bacon in a pan and break it by hand.
Once cooked blend the soup until all smooth and creamy.Garnish with the bacon bits and serve hot with crusty bread!
www.sonisfood.com
Check out the scrumptious creations of my blogger friends using Apples and don't forget to join our twitter chat at 7pm est!
Soups, Salads, Starters and Breads
Beverages
If you enjoyed this article,why not sign up to get email updates (It's Free)!