Its the beginning of the Holiday season and for us Hindus our biggest festival Diwali is round the corner too!That makes for double celebrations this month!We also exchange gifts and sweets with friends and family during this time and nothing says it better than a home made gift from your kitchen.Who doesn't like edible gifts?Its fun, its tasty, its personal and it comes from the heart!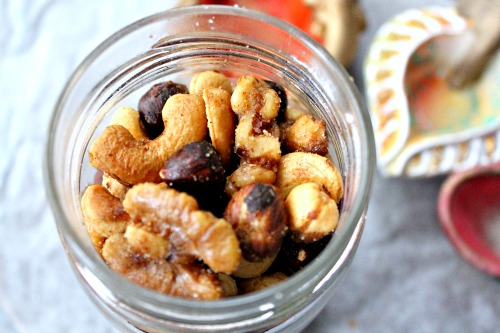 I love munching on nuts and there's something about the sweet and spicy ones that I find hard to resist!My Sweet and Spicy Curried Nuts make for an ideal holiday gift!I have to warn you though that these are highly addictive!I've used a combination of Cashews, Walnuts and Hazelnuts, but you could use any nut of your choice.I've used Extra Virgin Coconut Oil that gives it more depth of flavor and works beautifully with the curry powder!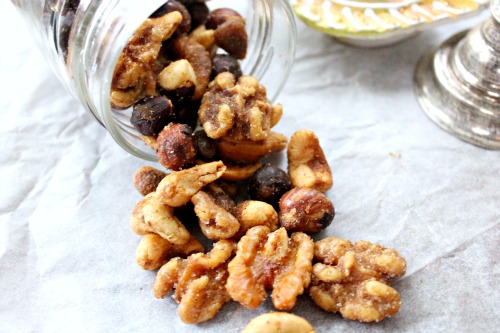 When you first bite into it there's this hint of sweet, followed by the spices and the coconut in the background and then the ginger hits the palate and somehow you find yourself, craving for more and more!
Sweet and Spicy Curried Nuts- Gifts for the Holidays #SundaySupper
A combination of nuts roasted with Indian spices for a sweet, spicy,crunchy healthy snack or a holiday gift!
Ingredients
Cashews,Walnut halves,and Hazelnuts-2 cups
Ground Cumin-1 1/2 tsp
Ginger Powder-1/2 tsp
Curry Powder-1/2 tsp
Cayenne-1/2 tsp
Sugar-2 tbsp
Salt-1 tsp
Extra Virgin Coconut Oil-2 tbsp
Instructions
Preheat the oven to 300 degrees.
Line a baking sheet with parchment paper.
In a pan heat the Coconut Oil and with all the spices on low heat and stir for about 5-6 seconds until they're aromatic.
Pour the mixture over the nuts and add the sugar and salt.Mix well.
Spread the nuts in a single layer on the baking sheet and bake for 20 minutes.
Cool completely.Pack them in small air tight jars!
http://www.sonisfood.com/2012/11/sweet-and-spicy-curried-nuts-gifts-for-the-holidays-sundaysupper.html
www.sonisfood.com
Our host for this event is the lovely Susan Pridmore from
The Wimpy Vegetarian 
.We have 
50 recipe ideas
 from our group for holiday gifts, hostess gifts, or just something you might want to gift yourself with 
 .
 Breads/Breakfast
Condiments/Ingredients
Soups and Snacks
Sweets
Drinks
Please join on us on Twitter throughout the day during #SundaySupper on November 11.  In the evening we will meet at 7pm EST for our weekly #SundaySupper live chat.
All you have to do is follow the #SundaySupper hashtag or you can follow us through TweetChat.
We'd also love to feature your own posts for Gifts From the Kitchen on our #SundaySupper Pinterest board to share them with all of our followers, too.