Its the Holiday season and the one thing we cannot get enough of are cookies! The food world is teeming with thousand of cookie recipes every day .I also jumped into the bandwagon and decided to try something different 🙂
Of late I've been using Coconut Oil a lot in my desserts and ever since I laid my eye on a recipe at My Recipes, I've been thinking of giving it a try.I finally did that yesterday and put my own spin by substituting Coconut Oil for Butter and boy was it good!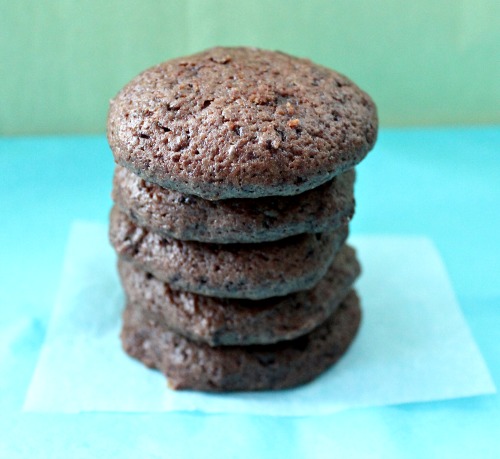 We've all been eating away the cookies and I'm worried we'll be running out of these too soon 🙂 The coconut oil and the yoghurt gives these cookies a very chewy almost cake-like texture that makes them very indulgent.Who knew healthy could be so so good!The recipe suggested that these were crisp on the edges, but mine were chewy all over and I think the coconut oil made that happen.It makes baked stuff really moist and chewy, just the way I like them :)These also have a longer shelf life since there are no eggs.I couldn't have asked for a better, healthier , holiday cookie~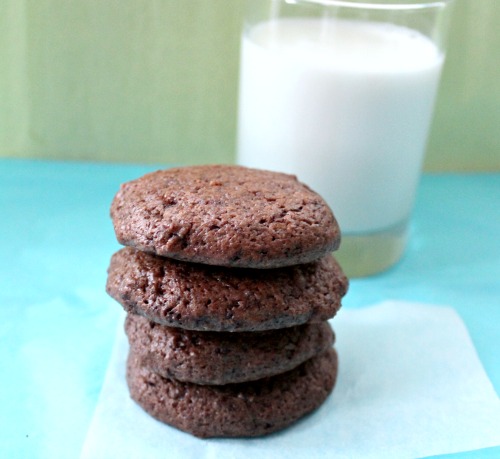 Chewy Cocoa Fudge Cookies
Delicious and healthy, these Cocoa Fudge Cookies use Coconut Oil and Yoghurt!
Ingredients
1 cup all-purpose flour
1/4 teaspoon baking soda
1/8 teaspoon salt
3 tablespoons Coconut Oil
7 tablespoons unsweetened cocoa
2/3 cup granulated sugar
1/3 cup packed brown sugar
1/3 cup plain low-fat yogurt
1 teaspoon vanilla extract
Cooking spray
Instructions
Preheat oven to 350°.
Combine flour, soda, and salt,set aside.
Melt coconut oil for about 20 seconds in a microwave.Remove .
Stir in cocoa powder and sugars
Add yogurt and vanilla, stirring to combine.
Add flour mixture, stirring until moist.
Drop by level tablespoons 2 inches apart onto baking sheet lined with parchment paper.
Bake at 350° for 10 minutes or until almost set.
Cool on pans 2 to 3 minutes or until firm.
http://www.sonisfood.com/2012/12/chewy-cocoa-fudge-cookies.html
www.sonisfood.com