The horrific shooting in Connecticut has left us shaken and saddened. Beautiful, innocent little kids,their lives so inhumanely cut short.My heart goes out to the families and loved ones of these beautiful kids and teachers who were targeted for no fault of theirs.While we've all hugged our children a little tighter,embraced them a little longer, enjoyed our family time a little better, let's not forget that these are the things that matter the most.These little moments of love with our families are priceless and a blessing.
As a Mom, I feel greatful for my life with my kids,my family,the time we spend each day, the little joys, silly laughs,funny antics all of them.The time spent in the kitchen together cooking and baking.Nothing is more pleasing to the eye, than my kids happily enjoying the food I cook for them.In the wake of this incident,these moments feel so precious. I'm praying for the families of those who lost their lives and I hope they find the strength to cope with this tragedy.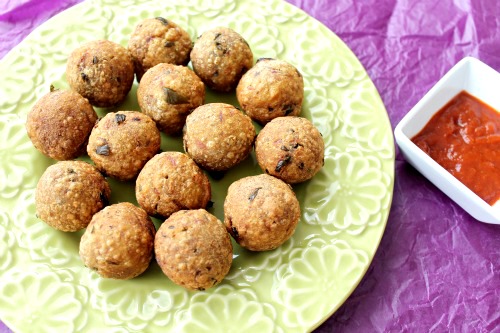 My dish for today is a easy appetizer, that is also a family favorite!My Tuna Balls are easy, bursting with flavor and stuffed with a surprise, Cranberries!Yes, the sweet and tart Cranberries are hidden in the center of each ball and give it so much body.My Tuna Balls have been quite popular with my friends and I think they make a perfect party starter!You can make these ahead and fry at the last minute.The balls are crispy on the outside but very soft and moist on the inside.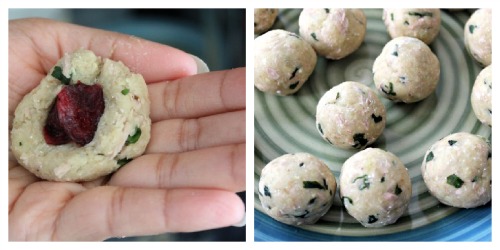 Indian Spiced Tuna Balls (Tuna Chop) #SundaySupper
Delicious Indian Spiced Tuna Balls with a surprise!
Ingredients
Albacore Tuna in Water-2 5oz Cans
Potatoes-3 medium
Crushed Ginger-1 tbsp
Ground Cumin-1 tsp
Ground Coriander-1 tsp
Garam Masala-1/2 tsp
Fresh Coriander- 1/2 cup chopped
Jalapeño-1 chopped
Cornstarch-3 tbsp
Dried Sweetened Cranberries-3/4 cup
Salt-to taste
Oil- to deep fry
Instructions
Boil the potatoes.Peel and mash using a potato masher.
In the same bowl mash the canned tuna and all the other spices,salt, cornstarch and coriander.
Take a small amount in your hand and stuff 2-3 cranberries in the center.Cover from all the sides and roll into small balls.Repeat for the whole mixture.
In a deep pan heat oil and deep fry the balls until golden.
Serve with Sriracha on the side!Serve hot or at room temperature.
http://www.sonisfood.com/2012/12/indian-spiced-tuna-balls-tuna-chop.html
www.sonisfood.com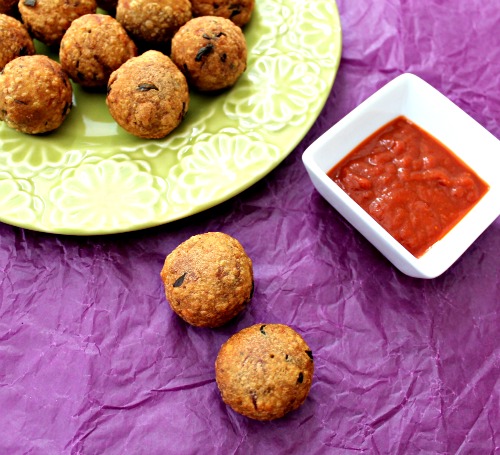 Our host this #SundaySupper is the lovely Connie Smith from The Foodie Army Wife and we're sharing Drinks and Appetizers!Look at the menu for some inspiration for the Holidays.
Holiday Cocktails
Holiday Appetizers or Hors d'oeuvres
Do you have a favorite dish or beverage to take to a party?   We'd love to feature your recipe for holiday parties on our#SundaySupper Pinterest board to share them with all of our followers, too.
---
Please note – out of respect for those in Connecticut who are suffering from the tragedy that occurred this week, we have suspended the regular twitter chat this week. The posts will be here for you to enjoy, and for future plans. Hug your loved ones a little tighter, and please continue to keep those impacted in your thoughts and prayers