If you ever stepped into my kitchen on a weekend, you'd find me making these gorgeous Crepes for breakfast for my kids!Its their most favorite breakfast of all time and they really look forward to it on the weekends.And why not!Nothing says it better than a soft delicate Crepe filled with a luscious creamy filling and vibrant Red Strawberries peeking out from the edges!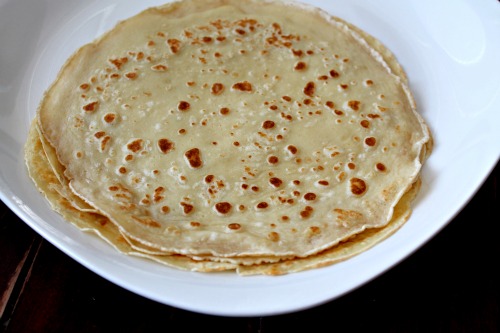 Crepes are easily available in stores everywhere, but why would you buy something that's so easy to make at home and I personally prefer the home-made texture better than store bought ones!I just whisk all the ingredients and let it sit in the fridge for a few minutes before the process begins.Growing up I never had a Crepe but instantly fell in love with it in this quaint little French restaurant in London.Since then I've been making Crepes, but mostly with a savory Mushroom filling!But that's for another time 🙂 I started making the sweet fillings after my kids were born, and they've always enjoyed it with a LOT of drizzle of Chocolate Sauce 🙂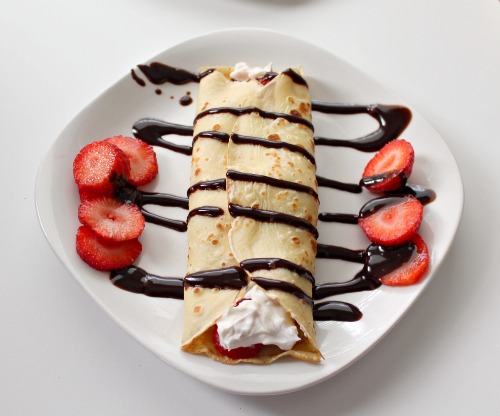 My filling here is a healthy mix of the creamy Mascarpone and Greek Yoghurt whisked together with some Honey!You can add any fruits of your choice and it tastes absolutely delicious!The perfect breakfast or dessert for any day or night 🙂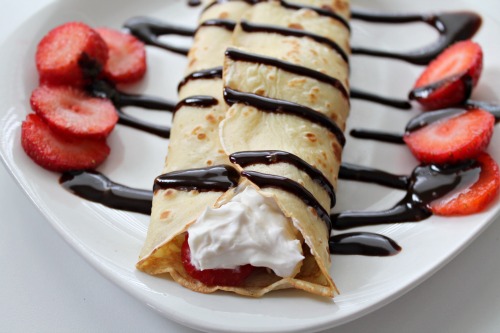 Crepes with Strawberry Mascarpone Cream
Ingredients
For the Crepe-Makes about 8

All Purpose Flour-1 Cup
Eggs-2
Milk- 1/2 cup
Water- 1/2 cup or a bit more
Salt-1/4 tsp
Sugar-1 tbsp
Butter-2 tbsp melted and cooled

For the Filling

Mascarpone Cheese-3/4 cup
Greek Yoghurt-1/2 Cup
Honey-2-3 tbsp
Strawberries-3/4 cup sliced
Instructions
Mix the flour and salt in a bowl.Keep aside.
In a mixing bowl mix all the liquid ingredients and add the sugar,flour salt mixture.Whisk until well combined.If you feel the batter is too thick add a little more milk just to get a pourable consistency.
Heat some butter or oil in a pan.
Pour 1/4 cup of the batter into the pan and tilt the pan in a circular motion so its spreads evenly.
Look for small bubbles underneath and a lovely golden color.
Flip the Crepe and cook on the other side too.
Mix the filling ingredients.
Place about 2-3 tbsp of the filing on the inside of a Crepe and roll in any shape you prefer.Drizzle some Chocolate sauce all over!
http://www.sonisfood.com/2013/03/crepes-with-strawberry-mascarpone-cream-sundaysupper-healthy.html
www.sonisfood.com
My Crepes are my entry for our #SundaySupper theme Cheese,Cakes and Cheesecake!Our host is the lovely Angie of Big Bear's Wife!Please scroll down to see some amazing recipes in each category!
Cheese –
Cakes –
& Cheesecakes
Join the #SundaySupper conversation on twitter each Sunday. 
We tweet throughout the day and share recipes from all over the world. This week we will be sharing our love of Cheese, Cakes AND Cheesecakes!  Our weekly chat starts at 7:00 pm EST!
Join us Around the Family Table this Sunday at 7PM Eastern Time and share your favorite Cheese, Cake and Cheesecake Recipes with us!