The weather is finally warming up and the days are absolutely gorgeous! The fresh produce during Spring is such a welcome sight with vibrant fruits and vegetables all around!Its also the time when citrus fruits are in abundance.Today being 'Lemon and Oranges Day' our Sunday Supper has teamed up to bring you some great citrus recipe ideas!I love citrus in my foods and desserts and the recipe I've got for you today is a tangy,easy and super quick chicken dish that tastes like spring in every bite!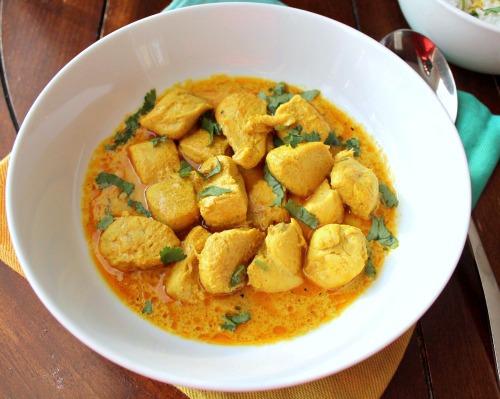 Its ideal for this weather when you feel like having fresh and light meals.It takes no time to cook since we're using Chicken Breasts.The process is fairly simple and starts off with sautéing the chicken pieces rubbed with a little salt and turmeric until slightly brown.The spices and yoghurt are then added to create a lovely sauce that you can scoop up with roti or rice!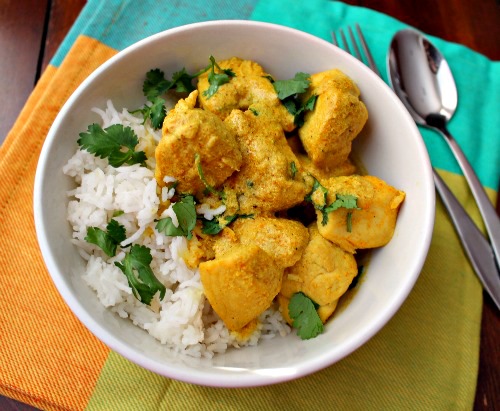 This is a recipe developed especially for this #SundaySupper and it was a hit with the taste testers aka hubby and kids!I've tried to keep it very simple yet flavorful and I'm very glad it turned out this good 🙂
Easy Indian Lemon Chicken #SundaySupper
Ingredients
Boneless Chicken Breasts-2 pieces (6-8oz each)
Crushed Ginger-2 tsp
Crushed Garlic-2 tsp
Turmeric-1 tsp
Grund Cumin-2 tsp
Ground Coriander-2 tsp
Garam Masala-1 tsp
Red chili(paprika)-1 tsp
Lemon Juice-2 tbsp
Salt-to taste
Yoghurt-1 cup (beaten)
Oil-2 tbsp
Instructions
Cut the Chicken into bite sized pieces and rub some turmeric and salt.Keep aside.
Heat oil in a skillet and add the chicken pieces.
Saute until slightly golden and almost cooked.
Add the crushed ginger and garlic.Saute for about a minute.
Add turmeric,cumin,coriander,garam masala and red chili.Saute on medium heat until oil separates from the sides.Add the lemon juice.
Beat the yoghurt in a bowl.Take the skillet off the heat and mix the yoghurt into the chicken.
Bring it back on the heat and keep stirring the whole mixture until it comes to a boil.Reduce the heat and continue to cook for about 2 minutes.Garnish with coriander.
Serve hot with rice or roti!
http://www.sonisfood.com/2013/03/easy-indian-lemon-chicken-sundaysupper.html
www.sonisfood.com
This event is hosted by our lovely Jen from Juanita's Cocina !Scroll down for some amazing Citrus recipes and ideas and get inspired!
Better with Citrus Breakfasts:
Big On Citrus Breads & Condiments:
Make You Pucker Salads, Sides, & Main Dishes:
Sour Citrusy Sweets & Desserts:
Sour Sips & Drinks:
Join the #SundaySupper conversation on Twitter today to talk all about citrus recipes! We'll tweet throughout the day and share recipes from all over the world. Our weekly chat starts at 7:00 pm EST. Follow the #SundaySupper hashtag, and remember to include it in your tweets to join in the chat. Check out our #SundaySupper Pinterest board for more delicious recipes and food photos.