So many times you come across recipes that look and taste really good, but you've never tried making them yourself.Either its the technique or the process or for whatever reason, you're scared to give it a try.You've drooled over them on the web, you've ordered them in restaurants and you've always wanted to try making them in your kitchen.Well, Sunday Supper is tackling exactly those kinds of recipes today and I'm so excited

For me the Risotto is one such recipe that I've always admired from afar.I order it in the Italian Restaurants,I've had it with so many different combinations asparagus,shrimp,mushrooms, but I've never attempted to cook it myself!Well today I did it!I made RISOTTO!!Please bear with my craziness but I'm just so so happy that it turned out lip-smackingly delicious!!!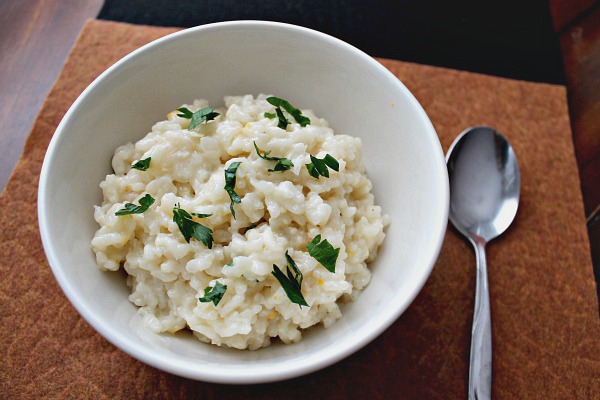 Although technically its not the perfect way of cooking a Risotto since its baked not cooked on the stove-top by slowly adding the stock ladle by ladle,I found this baked version so much easier without any of that effort!I tweaked the original recipe by using Coconut Milk and Lemon that gives this dish so much flavor and richness.The subtle hint of coconut in the background combined with the tang from the lemon is just incredible!Its so light and refreshing with the grated parmesan and fresh parsley!I'm in love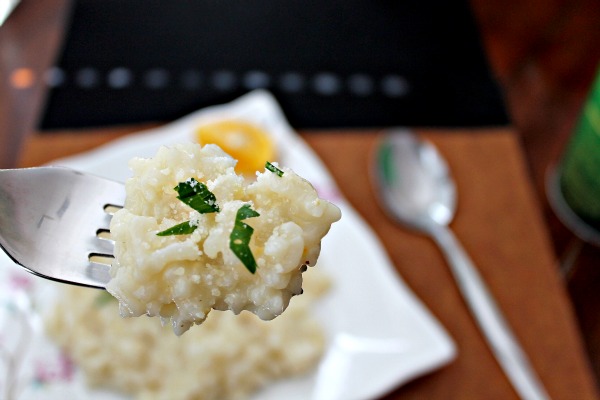 Baked Lemon Coconut Risotto
Ingredients
Arborio Rice- 3/4 Cup
Extra Virgin Olive Oil-1 tbsp
Onion-1 chopped finely
Dry White Wine-1/4 Cup
Coconut Milk-1 1/2 Cups
Low Sodium Chicken Broth-1/2 cup
Salt- to taste
Pepper-1/8 tsp
Lemon Juice-2 tbsp
Lemon Zest-1 tbsp
Butter-1 tbsp
Fresh Parsley- for garnish
Grated Parmesan Cheese-1/4 cup
Instructions
Preheat the oven to 425 degrees.
In an Oven proof sauce pan or dutch oven heat the olive oil.
Add the onions and saute until translucent for about 5-6 minutes.
Add the Rice and stir for about a minute.
Add the White Wine and cook until all of the wine has evaporated.
Add the coconut milk, chicken broth, salt and pepper.
Bring it to a boil, cover and transfer into the oven.Bake for about 25 minutes.
Remove from the oven and stir the lemon juice, lemon zest,butter and parsley.Add a little more broth if you want it more creamy. Sprinkle freshly grated parmesan all over.
Serve immediately!
www.sonisfood.com
Thanks to our SundaySupper host Conni Smith from The Foodie Army Wife, who chose this wonderful theme!We're sharing with you our culinary conquests in our kitchens!!Please scroll down for the amazing menu we have for your today!
New Expeditions (Sides, Starters & Staples)

Homemade Corn Tortillas from Pescetarian Journal

Easy Oven Polenta from Shockingly Delicious

Homemade Spiced Flour Tortillas from Chocolate Moosey

Naan from Hezzi-D's Books and Cooks

Homemade Tofu from Kimchi MOM

Indian Moong Beans from Magnolia Days

Baked Lemon Coconut Risotto from Soni's Food

Homemade Peanut Butter from Home Cooking Memories

Homemade Ricotta Cheese from Webicurean

Portuguese Chorizo Bread from Family Foodie

Grand Quests (Main Dishes)

Traditional Pork Tamales from Gourmet Drizzles

Braised Lamb Brisket with Lemon Oregano Yogurt Sauce from The Girl In The Little Red Kitchen

Rice Burger from The Urban Mrs.

Pan-fried Scallops with Garlic Chili Linguine from Food Lust People Love

Miso-Glazed Salmon from The Foodie Patootie

Penne with Mustard and Chives from My Other City By The Bay

Arepas Rellenas (Stuffed Arepas) from The Wimpy Vegetarian

Spanish Baked Scallops from Momma's Meals

Black Beans and Cheese Empanadas from Basic N Delicious

Pork Dim Sum from Small Wallet, Big Appetite

Venison Steak Gyros from Curious Cuisiniere

Baked Tilapia with Parmesan Basil Sauce from Growing Up Gabel

Vegetarian Hortobagyi Pancakes from Happy Baking Days

Caribou & Andouille Chili from The Foodie Army Wife

Escapades (Sweet Treats & Spirited Companions)

Vegan Chocolate Mousse from The Not So Cheesy Kitchen

Zebra Cake from That Skinny Chick Can Bake

Multilayer Bars from What Smells So Good?

Rut-Busting Wines For New Cooking Adventures from ENOFYLZ Wine Blog

Homemade Vanilla Marshmallows from Vintage Kitchen

Strawberry Raspberry Fruit Leather from Juanita's Cocina

Making Macarons – FAIL! from girlichef

Macaroons from Noshing With The Nolands

Fresh Strawberry Frozen Yogurt from The Messy Baker

Bircher Muesli from Peanut Butter and Peppers

Hello Kitty Rice Krispies from The Ninja Baker

Homemade Cinnamon Rolls from In The Kitchen With KP

Dorie Greenspan's Orange Almond Tart from Hip Foodie Mom

Ombre Mini Cakes from Daily Dish Recipes

Chocolate Dipped Madeleines from Big Bear's Wife

Join the #SundaySupper conversation on Twitter on Sunday, April 28th to talk all about our foodie fears! We'll tweet throughout the day and share recipes from all over the world. Our weekly chat starts at 3:00 pm AKST/7:00 pm EST. Follow the #SundaySupper hashtag, and remember to include it in your tweets to join in the chat. Check out our #SundaySupper Pinterest board for more delicious recipes and food photos.

Check out the Food & Wine Conference sponsored by Sunday Supper! Being held July 19th – 21st in beautiful, sunny Orlando, FL. It's a must for food bloggers. Find out more here → Food & Wine Conference
If you enjoyed this article,why not sign up to get email updates (It's Free)!