Making these Laddoos was more than just a process.It brought back memories of fun filled times in the kitchen with Mom as she sautéed the semolina ever so gently making sure to not burn it.The sweet aroma of the semolina in the Ghee wafted through every corner of the house.I patiently watched her mix all the other ingredients and waited for her to ask me to help her roll them at the end.The laughter,the mess,the rolling of these balls,the taste testing all have their own little importance in this vastness of life.I'm thankful to my Mom for teaching me the importance of these little tiny moments that have stayed with me till today.I also believe that food plays such an important role in all this.Mom's cooking has always been amazing and even though I try to recreate her recipes in my own kitchen, they always lack the same depth of flavor.Maybe its just her love that makes foods taste so good!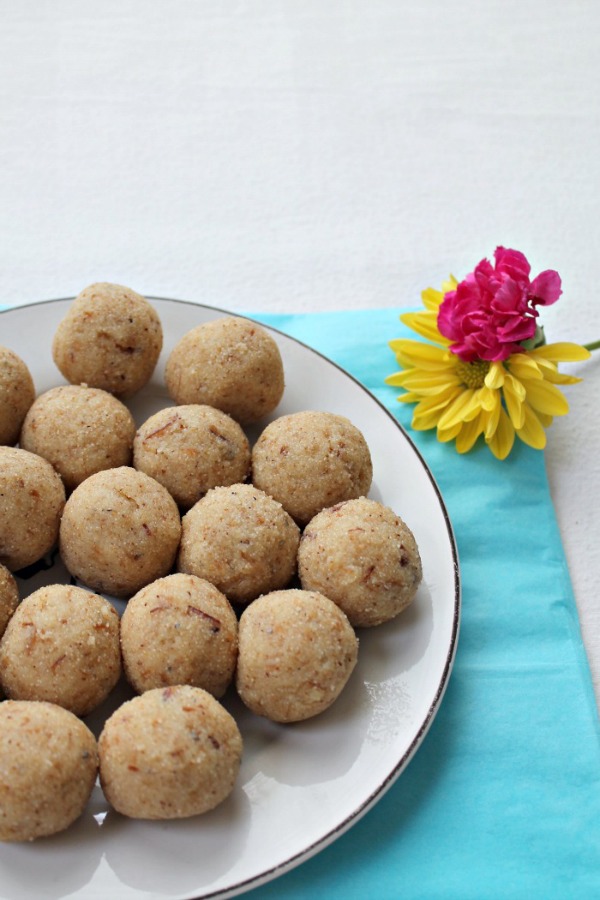 As a Mom to two kids myself, I can see my kids' memories shaping up around food too.We spend a fair amount of time in the kitchen during the weekends where they like to step in and help me in whatever I do and I love to surprise them by making their favorite foods and see their happy faces light up!These Semolina Balls were quite the surprise since I don't make Indian Desserts that often and I know they're not going to last long!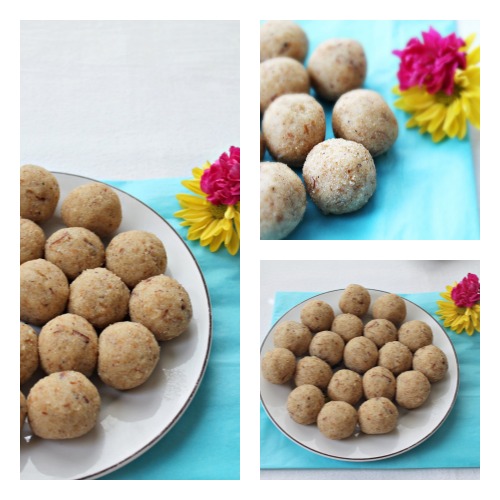 The use of coconut oil is what's unique about this recipe and I can't seem to get enough of it lately!Traditionally you would use Ghee to make any Indian Dessert, but if you're using Coconut the use of Coconut Oil makes sense.
Soft,moist and delicious these Laddoos are healthier and a perfect dessert to satisfy your sweet tooth!I love the crunch from the almonds and the toasted coconut along with the nutty semolina and I think this would make any Mom happy 🙂
Semolina Balls (Suji Laddoo)
Ingredients
Fine Semolina-1 1/2 cups
Sliced Almonds-2 tbsp
Shredded Coconut-3 tbsp
Coconut Oil-3 tbsp
Crushed Cardamom-1 tsp
Sweetened Condensed Milk-1 cup
Water-1/2 cup (or more if required)
Instructions
In a pan heat the Coconut Oil and saute the almonds until slightly golden.Keep aside.
In the same pan add the shredded coconut and toast until slightly golden.Keep aside.
Add the semolina and saute on medium heat until slightly golden and a nice aroma develops.Keep stirring constantly to avoid burning at the bottom.
Mix the almonds and the coconut into the semolina.
Transfer into a mixing bowl and add the condensed milk.Mix together and check for sweetness.Add the water while still warm and start shaping the mixture into small balls.
Cool and store in airtight container.
http://www.sonisfood.com/2013/05/semolina-balls-suji-laddoo-for-mothers-day-sundaysupper.html
www.sonisfood.com
Happy Mother's Day to all the wonderful Moms out there!Our Mother's Day event is organized by the lovely Heather from Hezzi-D's Books and Cooks and you've got to see the wonderful menu we have!
Mother's Day Brunch:
Mother's Day Entrees:
Mother's Day Sides:
Mother's Day Desserts and Drinks:
Don't forget to join the #SundaySupper chat on Twitter today to celebrate Mother's Day! We'll tweet throughout the day and share our delicious recipes. Our weekly chat starts at 7:00 pm EST. Follow the #SundaySupper hashtag, and remember to include it in your tweets to join in the chat. Check out our #SundaySupper Pinterest board for more delicious recipes and food photos.
Do you have your ticket to the Food and Wine Conference yet? If not, there will be a special $100 discount available tonight only on the full conference pass if you participate in the #SundaySupper twitter chat from 7 to 8pm Eastern Time, and purchase your ticket during the chat. The discount code is: SundaySupper.  We hope to see you there!